Emerging Voices on Asia Blog - Author Archive
The Emerging Voices on Asia blog is for young Canadians' perspectives on our linkages with a changing Asia.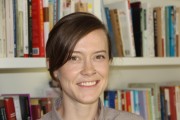 About Angela Merriam
Posted on September 19, 2012 10:41 / Author:
Angela Merriam
/ Tags: Asian Century, education, exchange programs, international exchange, language studies, professional development, university
If you're now in university, your career will just be getting underway when China's GDP overtakes that of the US—our biggest trading partner and economic lifeline.Even before that, China will likely join the US as a global leader in high-tech innovation. Indeed, China has been increasing its R&D spending by around 20% per year for the past 15 years, and has begun to develop world-class research facilities.As global commerce and research continues to pivot toward Asia (especially China), graduates with a basic knowledge of the region will...