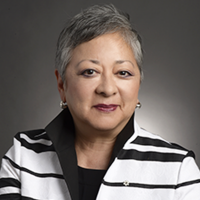 Constance Sugiyama
President, ConMark Strategy lnc.
Constance Sugiyama is the president of ConMark Strategy lnc., providing high-level strategy advice and solutions to the public and private sectors. Prior to retiring, she had a long and distinguished career in law, specializing in corporate finance and mergers and acquisitions. 
Ms. Sugiyama has served on many boards and advisory committees and currently serves on the boards of the Ontario Financing Authority (Vice Chair), the Mount Pleasant Group, the Gairdner Foundation and is a member of Health Canada's Scientific Advisory Committee on Health Products for Women. Formerly, she was the Chair of the Board of Trustees of The Hospital for Sick Children and also served on the boards of, among others, the Toronto International Film Festival, The Nikko Securities Co. Canada Ltd., the Japan Society and, the Japanese Canadian Cultural Centre. She has been a member of the Order of Canada since 2014 and is based in Toronto.