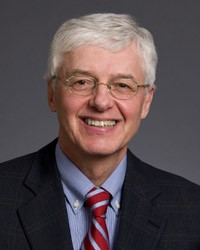 Kevin Lynch
Former Vice-Chair, BMO Financial Group
The Honourable Kevin Lynch served as the Vice Chairman of BMO Financial Group from 2010 to 2020. Prior to that, he was a distinguished former public servant with 33 years of service with the Government of Canada, serving as Clerk of the Privy Council, Secretary to the Cabinet, Deputy Minister of Finance, Deputy Minister of Industry, as well as Executive Director for Canada at the International Monetary Fund.
Dr. Lynch is the past Chancellor of the University of King's College, the past Chair of the Board of Governors of the University of Waterloo, a Senior Fellow of Massey College, and a Trustee of the Killam Trusts. Since retiring from government, he has written more than 160 policy Op Ed's and articles and speaks frequently at conferences in Canada and abroad.
Dr. Lynch is a director of CN Railway and Communitech, Director Emeritus of the Governor General's Rideau Hall Foundation, as well as a Member of the Bretton Woods Committee.
Previously, Dr. Lynch served on the boards of SNC Lavalin (Chair) and CNOOC (China National Overseas Oil Company), the Ditchley Foundation of Canada (Chair), the Accounting Standards Oversight Council (ASOC), the Ontario Rhodes Scholarship Selection Committee, the Princess Margaret Hospital Foundation, the Gairdner Foundation, the Perimeter Institute, the Bank of Canada, Empire (Sobeys), Canadian Deposit Insurance Corporation (CDIC), the Business Development Bank of Canada (BDC), BMO China, and the Cape Breton Development Corporation.
Dr. Lynch earned his BA from Mount Allison University, a Master's in Economics from the University of Manchester, and a doctorate in Economics from McMaster University. He was made a Member of the Queen's Privy Council for Canada in 2009, was appointed an Officer of the Order of Canada in 2011, has received 11 honorary doctorates from Canadian Universities, and was awarded the Queen's Golden and Diamond Jubilee Medals for public service.