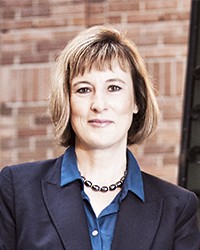 Alison Nankivell
Vice President, Venture Capital Action Plan (VCAP), Business Development Bank of Canada
Alison Nankivell was appointed Vice President, Venture Capital Action Plan (VCAP), in August 2013. In this role, she leads BDC's efforts as the key execution agent for the Government of Canada's $400 million commitment to VCAP which involves a number of investment initiatives to help create a vibrant private sector led venture capital system in Canada.

Alison has over 20 years of corporate financing and investment experience in Canada and Asia. Most recently, she served as Director, Funds Asia with Teachers' Private Capital, the private investment arm of the Ontario Teachers' Pension Plan.

Prior to this, she was Head of Funds at Export Development Canada (EDC), where over a seven year period she built out the Canadian and Asian private equity and venture capital fund investment platform for EDC's Investments Team. During her 15-year tenure with EDC, Alison served in a number of financing and investment roles and spent seven years over two postings based in Beijing, first as Chief Representative for Greater China, and then as Principal and Head of Asia Fund Investments.

Alison also lived in Beijing and Hong Kong from 1990 to 1995, where she served as a China economic analyst and editor for the Economist Intelligence Unit. Fluent in Mandarin, she has also served as an independent economist undertaking consulting work for the International Labour Organization, the United Nations Development Program and CIDA in both Beijing and Ottawa.

Alison holds a Bachelor of Arts in Commerce and Economics from the University of Toronto and a Master's degree in Public Administration and Public Policy from the London School of Economics and Political Science. She also holds the Chartered Financial Analyst (CFA) designation.