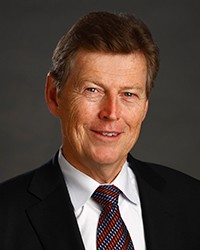 Doug Horswill
Director
Until he retired in 2014, Doug Horswill was Senior Vice President with responsibility for the development of Teck Resources Limited's Zinc and Health program, as well as external initiatives related to water and Asia. He joined Cominco Ltd. as Vice President, Environment and Corporate Affairs in September 1992 and was appointed Senior Vice President, Environment and Corporate Affairs for Teck Cominco Ltd. in January 2002 and Senior Vice President, Sustainability and External Affairs, Teck in August 2008. He stepped down from this role in January 2012 to begin a staged process towards retirement.
Prior to joining Teck, Mr. Horswill spent almost 20 years in the Public Service, culminating in the positions of Deputy Minister of Finance and Corporate Relations and Deputy Minister of Energy, Mines and Petroleum Resources for British Columbia. Before entering government he was employed at Utah International (BHP) and at INCO.
Mr. Horswill holds a Bachelor of Applied Science degree in Mineral Engineering and a Master of Arts degree in Economics from the University of British Columbia.
Mr. Horswill is currently Chairman of the Mining Association of Canada, Chairman of the Management Committee of the Red Dog Mine, Director of Sunny Hill Health Care Centre for Children, and Director of the British Columbia Innovation Council and Director of the Insurance Corporation of British Columbia.