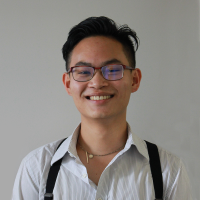 Arthur Liao
Co-Director of Arts and Culture Programming
What are your academic or professional interests in relation to the Asia Pacific region?

My academic interest in the Asia Pacific region intersects between religiosity, politics, social movements, and national/regional identities.
Is there a special place in Asia that you feel most connected to (whether through travels, family, or another experience)?

The coastline in Taitung, Taiwan, is something I miss, as this is the scenic route I get to enjoy every time I visited my grandparents.
Why do you believe Canadian students and young professionals should take an interest in Asia?

As Asian markets mature, the potential for professional and personal growth through visiting and living in Asia is tremendous.
What do you hope to accomplish this year as part of the Vancouver Asia Pacific Youth Council?

I am hoping to learn alongside fellow youths on different expressions of Asian Pacific cultures.
Do you have any recommended books about Asia?

Double Cup Love by Eddie Huang.
What is one interesting/fun experience you had while travelling through Asia?

Even though Kyoto was extremely hot in August, I enjoyed walking through Fushimi Inari-taisha while getting bitten by mosquitoes!
Where would you go next in Asia and why?

I would like to visit Singapore and see some of the film locations for "Crazy Rich Asians."
What is your favourite Asian snack?

Guava juice!