Anything is "Pozible". This is what a small China-based company called Shanghai Transee Design might have you believe. The group of entrepreneurs recently aimed to raise US$8,134 to expand manufacturing of its compact, portable hi-def camera through the online Australian crowd funding site, Pozible. At the end of their campaign, they more than quadrupled their funding needs with US$34,338 pledged by 241 individual supporters from across the Asia Pacific region (primarily China and Australia).
This is but one of millions of entrepreneurial companies across the Asia Pacific who are increasingly turning towards alternative financing channels. Platforms such as Australia's Pozible, US's Kickstarter, Hong Kong's WeLend or China's DHgate micro loans, among many others, are helping small businesses and entrepreneurs deal with the perennial challenge of access to financing.
SMME Credit Gap Concerns
In 2010, the International Financial Corporation (IFC) estimated that almost 70 percent of the 445 million Small, Medium, and Micro Enterprises (SMMEs) in the developing world are not able to access external financing from banks. In Asia, where banks dominate the financial system, small businesses face even greater challenges to access loans and meet collateral requirements. In East Asia, the credit gap is estimated between US$900 billion to US$1.1 trillion (IFC).
This credit gap is concerning.  Small businesses are the lifeblood of economies across the Asia Pacific, accounting for over 97% of all enterprises in the Asia Pacific Economic Cooperation (APEC) region.  They are the mom and pop store owners, family-run factories, tech entrepreneurs, farmers, writers and artists that keep the engines of creativity, innovation, growth and job creation running.
Small businesses create opportunities for many underserved members of the community, especially women, to gain livelihoods that they may not otherwise have access to through traditional employment channels.  With sizeable populations in Asia continuing to survive on the bare minimum, supporting the growth of small businesses by expanding access to financing will be vital to create new growth opportunities and equalizing access to opportunities. In a recent report, ADB suggested that the rates of 'extremely poor' in the Asia Pacific ought to be revised from earlier estimates of 733 million to 1.75 billion (that's nearly 50 times Canada's entire population!).
For Canada, this matters for the following reason: Canada's future prosperity increasingly depends on Asia's growth. For Asia to continue to grow sustainably, it will need to confront the growing inequalities and accelerate poverty reduction efforts to build on important strides made over the past few decades. A part of that effort will be to ensure a sustainable and healthy environment for small businesses to grow, including by expanding channels of financing.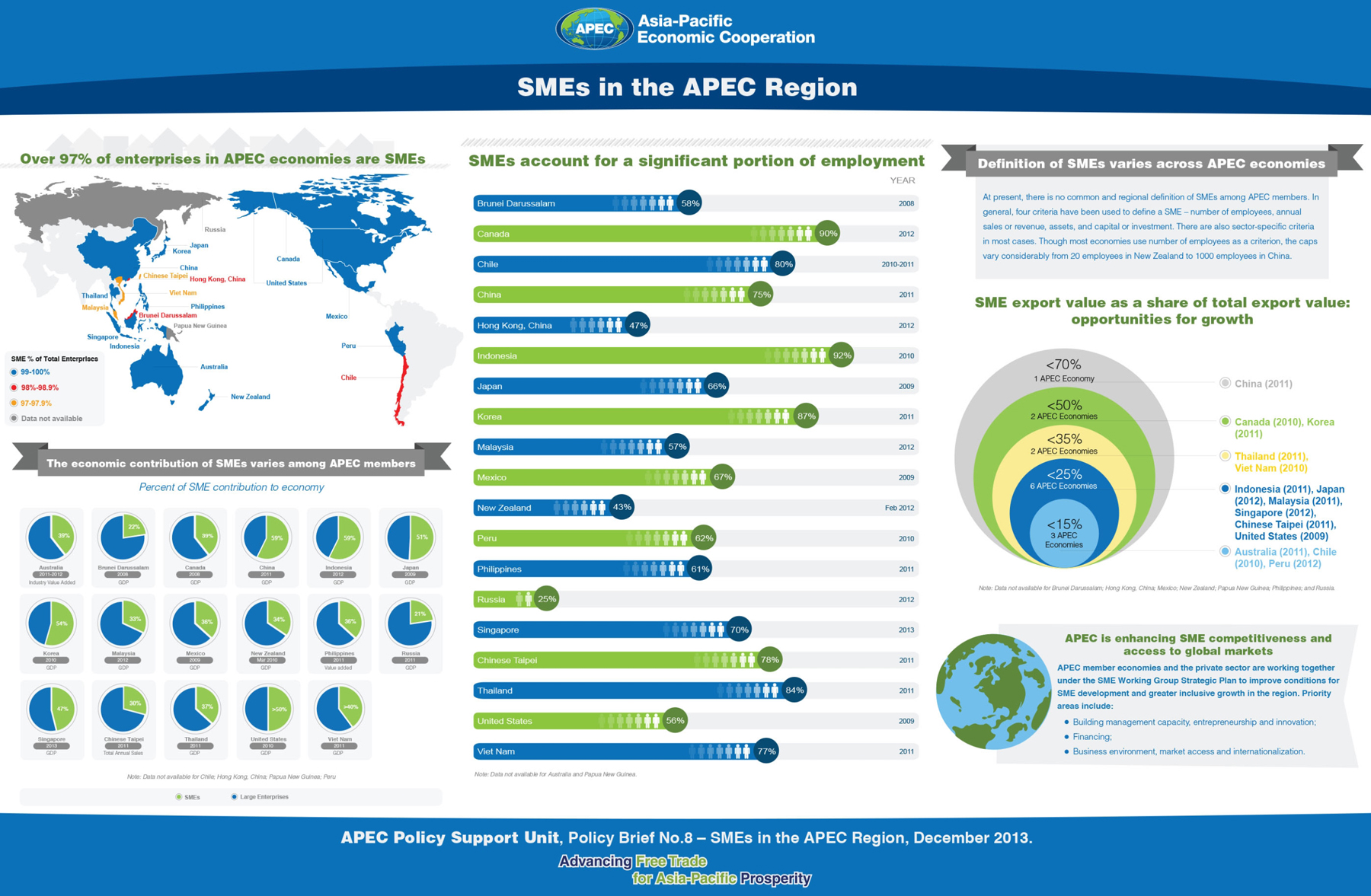 Expanding Alternative Innovative Financing Options
With the rapidly evolving internet technologies, innovative market-based financing mechanisms are poised to gain more traction in the region. A recent World Bank report highlighted that crowd funding investments alone had the potential to grow to US$96 billion a year by 2025 with China accounting for over half of that. While these mechanisms represent only a small fraction of the market in Asia now, governments would be wise to look more carefully at how to better to support the growth of these mechanisms, and also how to mitigate potential risks.
The Philippines, host of APEC 2015, an economic forum of 21 Asia Pacific economies, has made the mainstreaming of SMMEs in regional and global markets a priority for 2015. A key aspect of that vision is boosting support for SMME financing. Last October, APEC Finance Ministers, including Canada, endorsed the recommendations of a  report published by the SME Finance Forum and the APEC Business Advisory Council (ABAC) examining the emerging innovative financing options that offer promise to expand small business financing landscape.* 
The report provides a comprehensive review of alternative models of financing such as seed/angel funding, venture capital, crowd funding, supply chain financing, internet financing, and junior stock exchange/venture exchange.   (If these terms seem daunting, the report provides some useful basic explanations of what they are.)
Some recommendations include:
 a regulatory government review to remove unintended barriers to emerging innovative financing options such as internet-based trade and supply chain financing; 
creating country-specific frameworks for crowd funding investments; blended public-private financing vehicles;
government action to equity-based financing mechanisms such as support for business angels, seed capital and venture capital;
a regulatory review to ensure major financial participants such as pension funds and insurance companies are not discouraged from participating in investments vehicles based on well-documented SME loans and other pooled SME finance assets.
The report calls on government leaders to take a serious look at innovations happening within the SME financing landscape and see what can be done in their own economies to create an enabling environment to help these models to grow successfully.
Baby Steps Forward
By necessity, Canadian regulators have already started to embrace some of these alternative mechanisms and responded accordingly.  For example, Canada announced a Venture Capital Action Plan in 2013 to attract institutional and other private sector investors to venture capital asset classes by providing $400 million in new capital over the next seven to ten years.
Other countries have also made strides, but a more collective effort is needed if these mechanisms are to flourish throughout the region. For example, the US signed the JOBS Act in 2012 to loosen regulations on small businesses wanting to raise capital including through crowd funding.  In September 2014, Malaysia's Securities Commission released a proposed framework for equity crowd funding.
Access to finance appears to be less of a barrier in Canada than in Asia.  Given the knowledge and expertise that Canada demonstrates in the financial sector, Canada has the opportunity to share best practices, support development assistance, and encourage collaborative and innovative financing opportunities. 
There is growing recognition that financing alternatives can help level out the playing field for more people to participate in capital markets. Helping small businesses find new avenues to connect with partners, investors and access capital is a big part of creating more sustainable and equitable growth throughout the Asia Pacific region.  
*SME Finance Forum is a knowledge platform on SMEs managed by the International Financial Corporation (IFC). ABAC is a forum of business leaders from 21 economies of the Asia Pacific region providing advice to Leaders in the APEC region.