Introduction
Noah Holdings Limited, a China-based wealth and asset management company serving clients in Mainland China, Taiwan, and the United States, hosted its first cohort of Canadian interns at its Hong Kong office in the summer of 2018.
The internship with Noah Canada is part of the Asia Pacific Foundation of Canada's Asia Connect program, which focuses on building the Asia competence of Canadian youth. Asia competence is the knowledge, skills, and experiences required for effective engagement with Asia. We believe this helps Canada build a foundation for a strong and thriving Canada-Asia relationship.
Our Experts
Amir Hemani
Bio

+

−
Amir Hemani is currently in the final term of his International Economics degree at the Vancouver School of Economics, University of British Columbia.
Michelle Lau
Bio

+

−
Michelle Lau is a second-year student at the University of British Columbia's Sauder School of Business, where she is focusing on finance.
Annie Liu
Bio

+

−
Annie Liu is a third-year student at the Smith School of Business at Queen's University.
Angela Yan
Bio

+

−
Angela Yan is a recent graduate from the Rotman School of Management at the University of Toronto, with a specialization in finance and economics.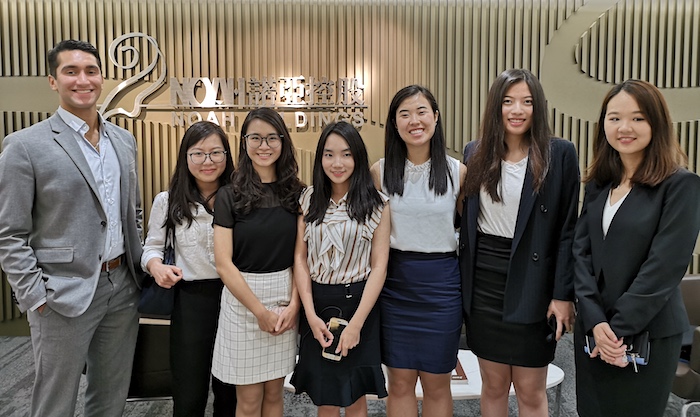 Noah Canada's Hong Kong interns, including Amir Hemani (far left), Michelle Lau (second from right), Annie Liu (third from right), and Angela Yan (third from left).
The Asia Pacific Foundation of Canada interviewed four members of the Summer 2018 Noah Canada/Hong Kong cohort, including:
Amir Hemani, who chatted with us about differences he noticed between the Hong Kong and Chinese work cultures, and how he made the most of his time in Hong Kong.
Michelle Lau, who discussed what she learned from her Hong Kong peers and the colour-coding of chopsticks.
Annie Liu, who chatted with us about what she learned from her internship, and why she's not yet done with Hong Kong.
Angela Yan, who told us about learning to be agile in switching languages and how Hong Kong's energy and work ethic rubbed off on her.
Here are their stories:
Interview with Amir Hemani
Tell us about the office environment at Noah – what was that like?
Noah's Hong Kong office is located in the Central Business District, right in the heart of Hong Kong Island. I discovered that although that part of the city is quite crowded, it was nonetheless important for Noah to keep its office there. The Hong Kong office is very client-facing, and sometimes clients want to physically visit the office, s a way to build trust in the company. The placement and visibility of our Hong Kong office is quite deliberate: transparency is especially important in the Asia wealth management market to foster strong trust between client and firm.
One thing I noticed is that every team at the Hong Kong office seems to have a slightly different mix of foreign, Mainland Chinese, and local Hong Kong Chinese colleagues. My team was mostly local Hong Kong Chinese. But from what I could see, the company really put a premium on hiring global citizens – people who were born and grew up in Hong Kong or China, but got their education and maybe some work experience somewhere else.
What kind of work did you do there?
I worked on the asset management service line, mostly in private equity. My role was to assist in executing the due diligence required to make a decision about investing in a company. I really liked this work. It involves formalizing the models and projecting the valuation of a company. Such work might seem rote and repetitive, but it's work that needs to be done. Firms that take shortcuts aren't the best bet because there's no substitute for putting in the hard work.
I also developed my skills in using Microsoft Excel, which is essential for anyone considering a career in finance.
Equally valuable but more difficult to describe is the "soft skills" benefit – simply being in the environment and figuring out who to talk to, and learning different ways of pitching or selling things. For example, I observed how our team prioritized and negotiated its interests with various stakeholders. I also learned how to view a given investment or deal from varying perspectives, such as that of a client, a fund manager, and an investor.
What were some of the highlights from your time there?
I had the opportunity to take two work-related trips: one to the city of Shenzhen, just across the border in China, and the other to Noah's office in Shanghai, the company's "command centre." The trip to Shenzhen was quite eye-opening because I could do an on-the-ground comparison of the two cities and cultures (Hong Kong and Shenzhen). One thing I noticed right away was the infrastructure in Shenzhen and how new everything looked. In fact, in that sense it looked like any modern western city. In some ways, though, it seemed like a place that was in a rush to modernize, because some of the infrastructure looked a little unplanned, like the approach was, "Let's just start building and figure it out as we go along."
The trip to Shanghai was great. The Noah office there looked and felt like working at a place like Google – there was a gym, a cafeteria, nap rooms, libraries, and open space. Plus, I got to do a presentation to the colleagues there on my various work projects throughout my internship. I enjoyed bringing my North American perspective on business and life to the table.
Hong Kong is famous for having a rather punishing work ethic, with people putting in very long hours at the office. Was that your experience?
Generally, anyone wanting to work in Hong Kong should be prepared to work long hours. But Noah is a Chinese company, not a Hong Kong company, and my impression of Chinese companies is that they're a little closer to North American companies in terms of work-life balance. There are obviously exceptions, but generally, the professional and financial service industries are quite demanding in terms of work hours.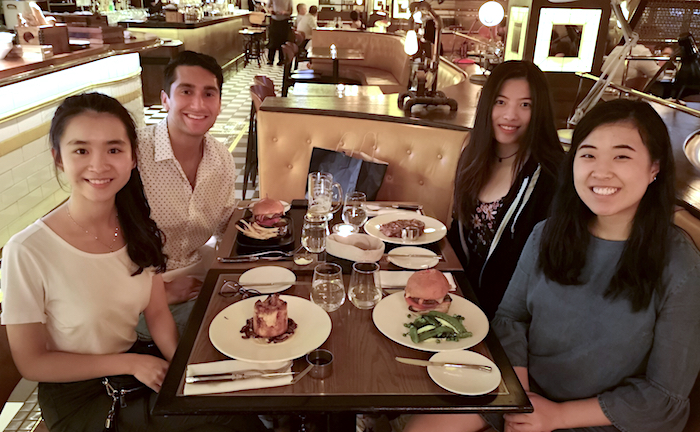 You made a couple of conscious decisions about how to spend your time there. What were they?
That's right. One conscious decision was to make as many friends as possible, with everyone and anyone who was interested. As a result, I got to do all kinds of things – with local Hong Kong Chinese, Mainland Chinese, and other expats, like playing tennis or basketball and finding restaurants off the beaten path. I got invited to go on a yacht ride that took us about two hours away from the city, which looked completely different from the high-density urban space I was used to seeing.
My other conscious decision was to minimize the time I spent alone in my room so that I could experience as much of the city as possible. Fortunately, Hong Kong is one of those places where there's always something going on; you just need to reach out and dive in.
This interview has been edited for brevity and clarity.
Interview with Michelle Lau
You spent time in Hong Kong as a child. Did that experience prepare you to work there as an intern? How much of the experience felt new?
I lived in Hong Kong until I was in kindergarten. Since then, my experience with the city has been mostly through family trips. During my internship last summer, I really felt like I was experiencing the culture and the city in a new way, especially how fast-faced and busy the city was.
Another new aspect for me was experiencing the city at a professional level, including learning to use my language skills in new ways. I speak both Cantonese and Mandarin, but had never had to function professionally in either of those languages. At Noah's Hong Kong office, people generally speak a combination of Cantonese, Mandarin, and English. I felt this challenge most in the first few weeks. But after listening and practising, I quickly picked up certain industry vocabulary and formalities used in the workplace.
What can you tell us about the work you did there?
I worked with the public market investment team. The team manages funds that engage in equity, bonds, and foreign exchange investments. I also summarized and provided analysis of meeting minutes. Those opportunities helped me develop my individual investment mindset and professional growth. I even got to go along on some of the company visits – I thought it was unusual, but great, that an intern would have the opportunity to do this.
Another task I worked on was creating a one-page profile for every fund Noah has invested in thus far. To do this, I had to put a lot of thought into which data to select in producing the summaries, and to make both qualitative and quantitative observations in English and Chinese. I also conducted market research to draft a white paper for the launch of a new fixed-income fund.
Is there anything you learned in Hong Kong that you can connect to what you're learning and doing at UBC?
I'm taking finance classes at UBC, and am getting the chance to apply my internship experience to my classroom learning. Also, I am the president of the UBC BizChina Club, which is the only club of its kind recognized by the Sauder School of Business that acts as a bridge between Canadian and Chinese business cultures. The club puts on informational events, workshops, and internship and networking opportunities, in addition to hosting the UBC China Forum. I expect that I will have new insights that will come in handy when we organize these events.
What kind of business etiquette tips do you have for people doing internships in Hong Kong?
Business etiquette in Hong Kong is similar to business etiquette in Canada, though with a few interesting cultural facts. For one thing, at a gathering where tea is served, it is polite for younger people to pour tea for older people. And when someone taps the table, it is a way to say "thank you."
At some formal dinners, there are two sets of chopsticks – a black pair for the communal food (the dishes from which everyone helps themselves) and a white pair for personal food (the food you move from the plate in front of you to your mouth).
You worked with several local (Hong Kong Chinese) interns. What did you learn from them?
I hosted some of them in my apartment for dinners, and talked with them a lot about their futures and what they were doing to prepare for jobs or their next internships. In some ways, Hong Kong is very competitive, which is why they focus heavily on getting top grades; they believe they can differentiate themselves that way.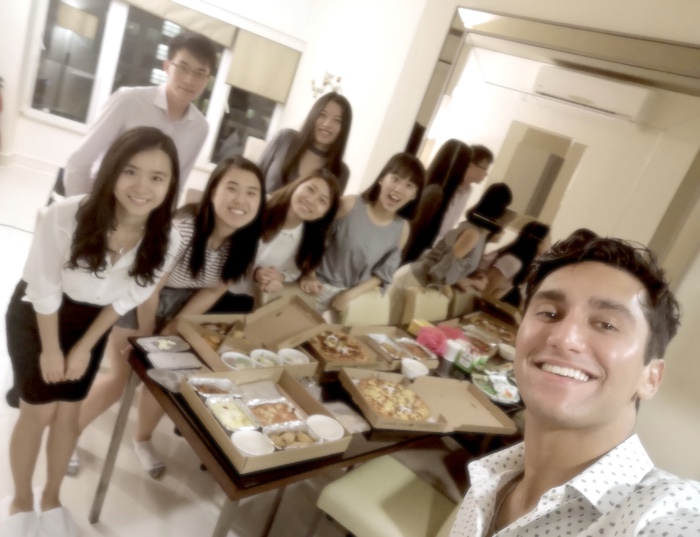 In other ways, though, I found the Hong Kong interns had less experience with things beyond textbook learning. For example, in Canadian business schools we are expected to join student clubs and attend workshops on recruiting very early in our university careers. There are even courses on improving our understanding of things like communication, networking, and recruitment. In Hong Kong, this is not so much required or expected.
Are there any other highlights of your experience?
The Noah office was an extremely diverse workplace – meeting people from different backgrounds was one of the greatest highlights for me. We were lucky to have opportunities to interact with many different departments at the office and to attend global networking events. Noah really helped us immerse ourselves into the city's culture, and our colleagues recommended things we could do during our time in Hong Kong. We felt very welcomed there.
This interview has been edited for brevity and clarity.
Interview with Annie Liu
Prior to this internship, what knowledge did you have of Hong Kong, China, and working in the investment field?
My family is from China, but I had only been to Mainland China twice and Hong Kong – for just a few days – when I was younger. My internship experience was by far the longest time I've spent there.
At Queen's University, investment management is a popular career path for students. I've always been fascinated by the markets, but, specifically, my interest in the field of investments was sparked after my first year, when I completed a stock pitch for a finance club at the school.
How did your internship with Noah build on that knowledge? What kind of work did you do there?
I worked with the sales team in the wealth management division, primarily supporting the investment consultants. Part of my role was preparing PowerPoint presentations and report-style briefings on new industries, which of course required me to conduct a lot of industry research. One of the benefits was that it gave me the opportunity to learn a lot about new technologies. In Canada, our big industries are services, energy, mining, and agriculture. Looking at investment opportunities in China, where the market is far more populous, I feel that I was able to see a wider range of industries than I would have if I'd been conducting research on the Canadian market. In addition, I sat in on meetings with clients – some of them in person and some through Skype with overseas Chinese – taking notes and summarizing the main points for my supervisor.
On top of the industry knowledge you gained, what kinds of skills did you build through your internship?
Noah's Hong Kong office is a very multilingual environment, with much of the team speaking a mix of English, Mandarin, and Cantonese. I grew up speaking Mandarin at home, but sitting in on the meetings and having to produce the summaries was a good opportunity to strengthen my Mandarin language skills by learning professional vocabulary, like "annualized return" and "market capitalization."
I didn't just build my listening and speaking skills; I also helped out on occasion with Chinese-to-English written translations. I worked with another one of the Canadian interns on this – her reading level was quite strong, so she'd get started by producing a rough draft, and then I'd polish up the English at the end.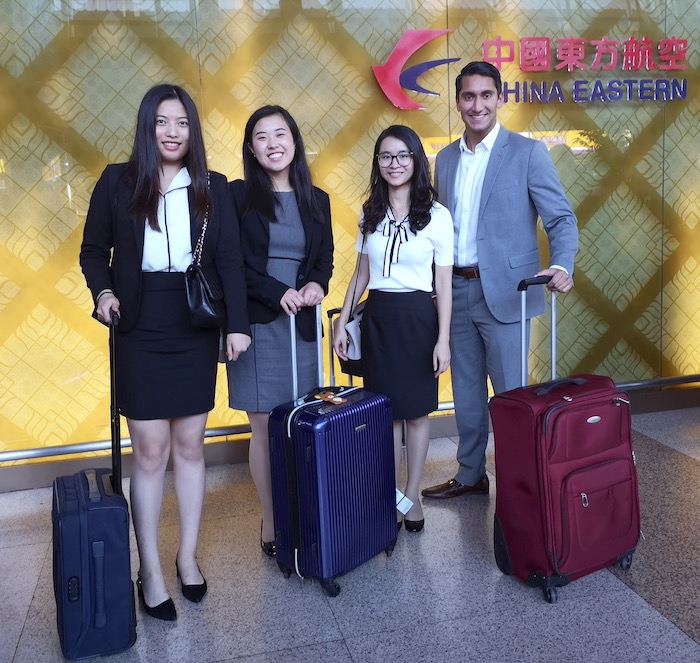 What were some of the more nuanced things you learned in terms of cultural awareness and personal growth?
This internship taught me to be comfortable with being uncomfortable. This was especially true at the beginning, when it felt like there was so much to learn. As I mentioned, the team I was on was very client-facing, and I was worried I wouldn't be able to understand everything being discussed in meetings. Fortunately, the team at Noah was very supportive of our learning and each of us was paired with a mentor. Also, I discovered that if you want to connect with people but the words just aren't there, it helps to smile a lot and project a sense of enthusiasm.
I did have some cultural moments when I didn't feel as Chinese as I thought I was. Although I grew up speaking Mandarin at home, at times my internship context was quite different; unlike in a home environment, at work I had to pay close attention to speaking in a more formal way that showed I recognized the other person's seniority. There are also a lot of Chinese cultural norms around sharing a meal or a drink. For example, younger people are expected to pour tea for older people, and sometimes you're expected to stand up and make a toast.
Hong Kong must have rubbed off on you because we hear you're headed back there soon.
Yes, I'll be going on an exchange semester to Hong Kong in January–specifically, to the Chinese University of Hong Kong (CUHK). It's the alma mater of many of my former co-workers at Noah, so I feel like I've had a preview of CUHK's campus life. It's a way to continue satisfying my curiosity about China and Hong Kong. Growing up in Canada, I don't think I really appreciated how many opportunities there are there. Plus, Hong Kong is a great place for young people – it's more outdoorsy than many people realize. You can go hiking and play tennis, and there's great food and something to do at all times of the day. I'm definitely looking forward to being back there soon.
This interview has been edited for brevity and clarity.
Interview with Angela Yan
You had some exposure to Asia prior to your internship with Noah. In what ways that did that help you?
Up until the age of 12, I lived in Guangzhou province in China. Even though it is a neighbour of Hong Kong, I felt like I didn't actually know much about Hong Kong before last summer. One thing that did help me was my language background – my family spoke both Mandarin and Cantonese at home, so I have a comfort level in both of those languages. This came in handy because Noah's Hong Kong office is very international, with most people speaking at least two languages. I was not as fluent as some people might have expected, but this internship was a great opportunity for me to get professional-level practice in the office environment.
Why did you want to go back to Asia for your internship? What did you experience this time that was new?
As a student, I had participated in a youth finance summit in Shanghai, and that motivated me to learn more about the finance environment in Asia. Hong Kong was simply a great place to start the experience.
In terms of surprises, the moment I landed in Hong Kong, I noticed right away that it was a city full of energy. Everything in Hong Kong was very fast-paced. The energy rubbed off on me and pushed me to work hard and to learn as much as I could. For some reason, being in that environment gave me the urge to be more interpersonal and to ask people for little pieces of advice here and there.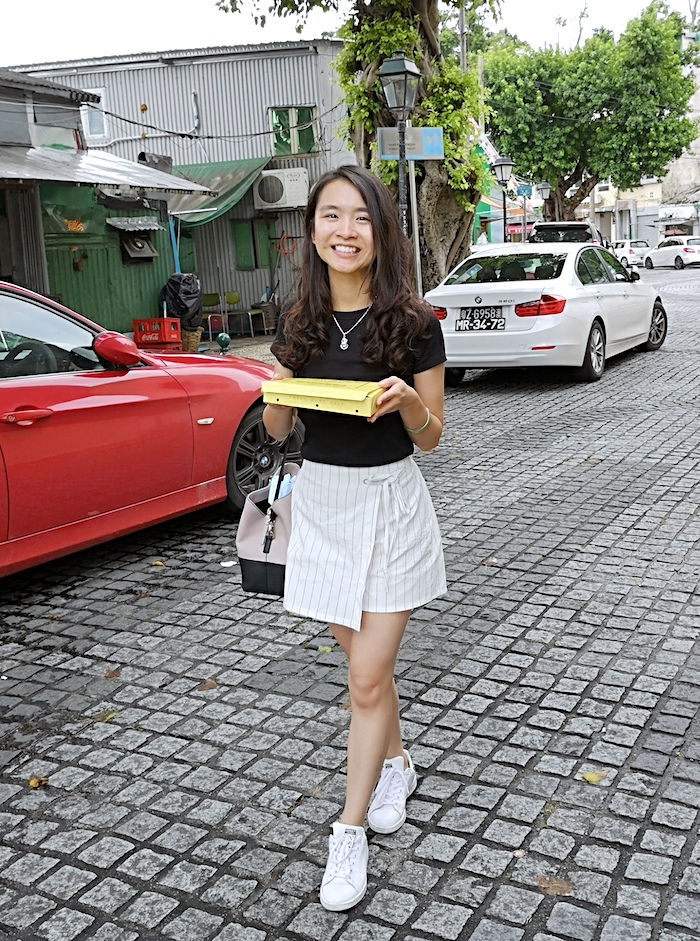 What knowledge and skills did you gain from your internship, and how do you think these will help you in your next job?
Before this internship, I had worked in banking, mostly in the area of credit risk. But I hadn't worked in the area of wealth management. My team at Noah was very supportive and encouraging of my learning. For example, I had the opportunity to speak with several senior members of the team, some of whom – like me – graduated from the Rotman School at the University of Toronto. They gave me helpful advice for planning a meaningful learning and working experience at Noah. Based on my personal career goals and learning needs, we designed a work plan for me that focused on learning about two of the company's product lines: private equity and secondary market (buying and selling of pre-existing investor commitments to private equity and other alternative investment funds).
Besides getting industry exposure, I also strengthened my technical skills in using Excel and Bloomberg. I have learned that they are essential for industrial analysis in this field. Before my internship, I knew only the basics; but after the experience at Noah, I have learned to use these tools to explore various industries and make comparisons among companies and their financial products.
What about the more intangible, but no less important, "soft skills"?
I definitely improved my communication skills. I worked with multiple senior staff members on the product team, and they all had quite different communication styles. In fact, they even spoke different languages. Because of that, I had to learn to be quite agile and adaptable, especially when I needed to be sure that I understood their objectives and the directions for different projects.
Because I came into the job with some ability to speak both Mandarin and Cantonese, I was a little concerned about expectations, especially when my colleagues might have assumed that I already had a well-honed sense of what was (and was not) culturally appropriate in a professional setting. Fortunately, they were quite understanding of the fact that I was also there to learn about the working culture in Asia.
It sounds like your interactions with colleagues were a significant part of your experience.
They were. I had plenty of relaxing opportunities to connect with my colleagues, such as during lunch breaks or even some birthday celebrations. I had the impression that young people who worked at Noah were very open-minded and many of them had even studied abroad previously. I also had close interactions with the local (Hong Kong) interns and learned that they were all keen to learn and to push themselves to their limits. That was definitely another thing that gave me the determination to make the best out of my time at Noah.
This interview has been edited for brevity and clarity.
Useful Links
The views expressed here are those of the author, and do not necessarily represent the views of the Asia Pacific Foundation of Canada.