Immigrants play an important role in the economic and cultural growth of Canada's Atlantic provinces. Since 2006, the number of immigrants coming from Asia to Atlantic Canada has risen faster than immigrants arriving from other regions. Adjusting for a spike in 2010, an average of 2,738 immigrants per year arrived from Asia to Atlantic Canada during this period. In 2013 immigration from Asia accounted for 49 per cent of Atlantic Canada's total immigration, with the vast majority of immigrants from Asia arriving as economic migrants seeking a better standard of living than they could expect to find in their home country.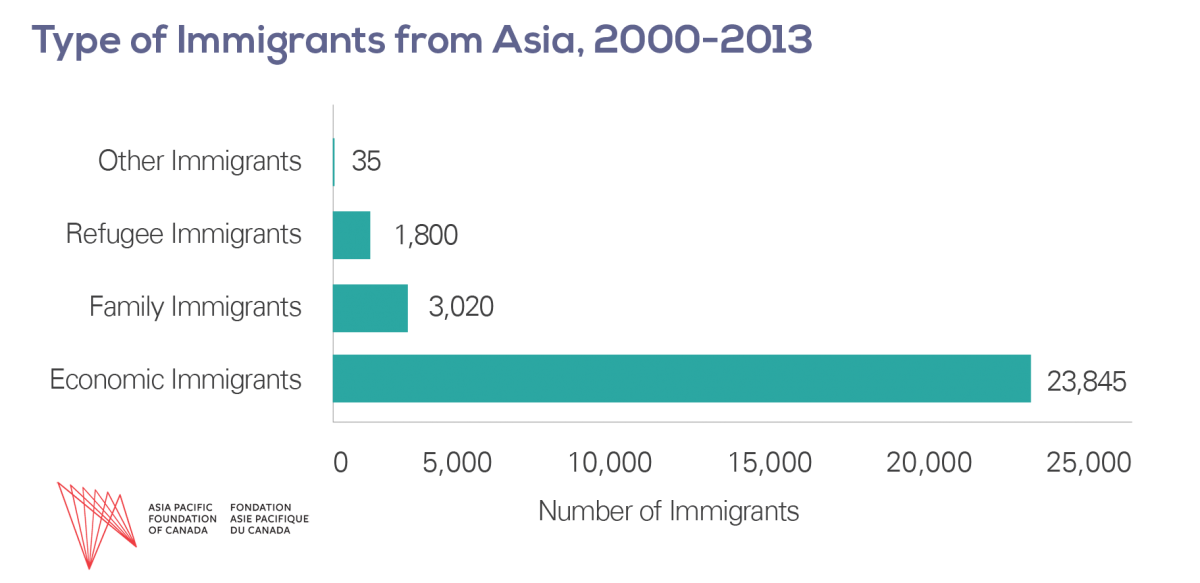 For each of the four Atlantic Provinces, the largest number of Asian immigrants from 2000 to 2013 came from China. Other Asian nations that were major sources of immigration to Atlantic Canada in the same period were South Korea, India, and the Philippines.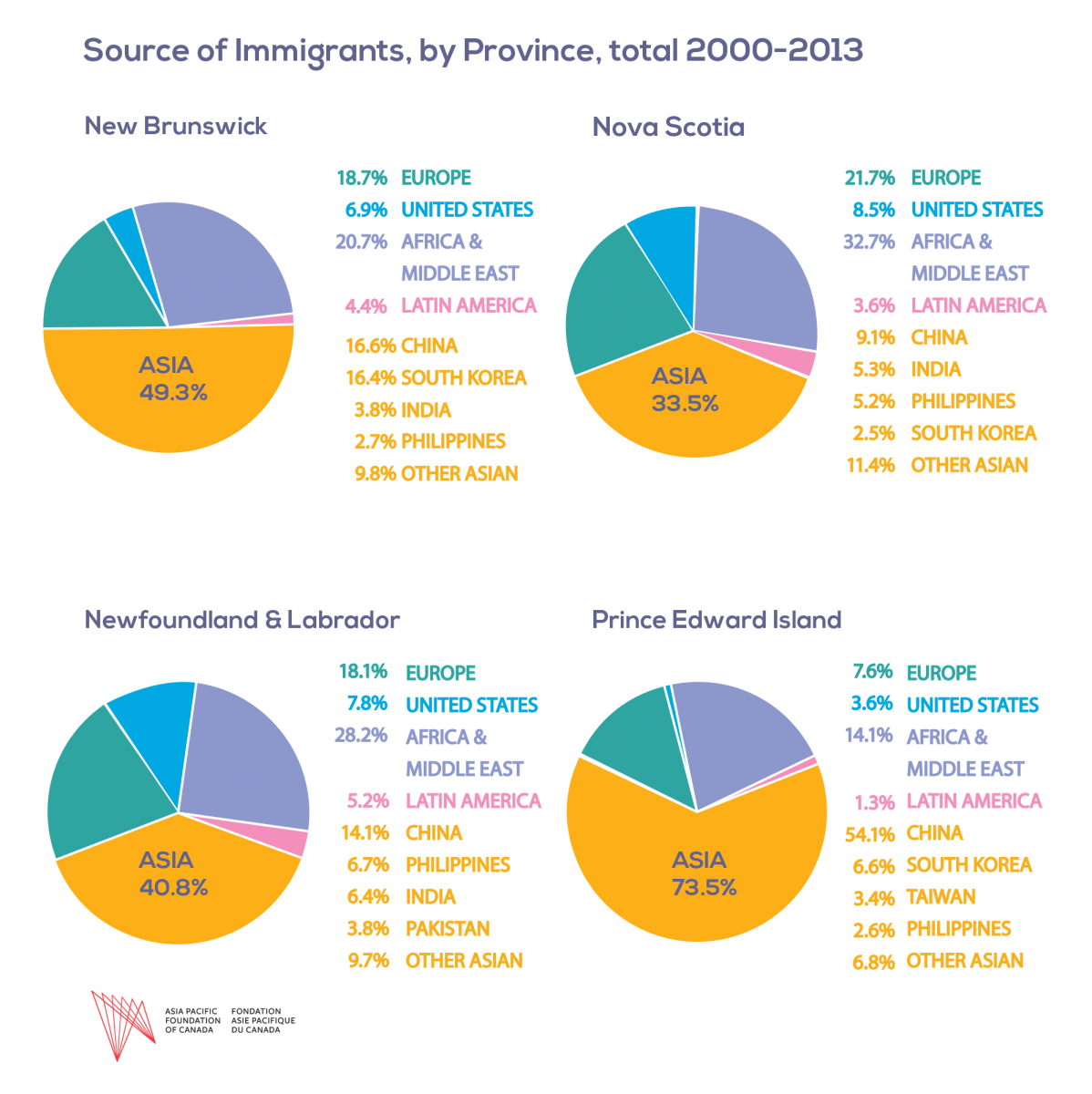 Foreign Students From Asia in Atlantic Canada
 Students from Asia also made up the largest number of foreign students in Atlantic Canada from 2000 to 2013 (46.4 per cent of all foreign students). Although the number of Asian foreign students has been trending upward regionally, looking at the data per province is illuminating, as it demonstrates which provinces have been successful in marketing themselves to various Asian nations. While Nova Scotia and New Brunswick have been the traditional hotspots for students from Asia, recent years have seen Newfoundland and Prince Edward Island increase their profiles.
 As with immigration, the majority of Asian foreign students to Atlantic Canada came from China throughout the period 2000 to 2013. Students from South Korea, Japan, and India are also well represented in Atlantic Canada, and it is reasonable to expect that as the Asian middle class grows, so too will the demand for quality educational experiences for their post-secondary students.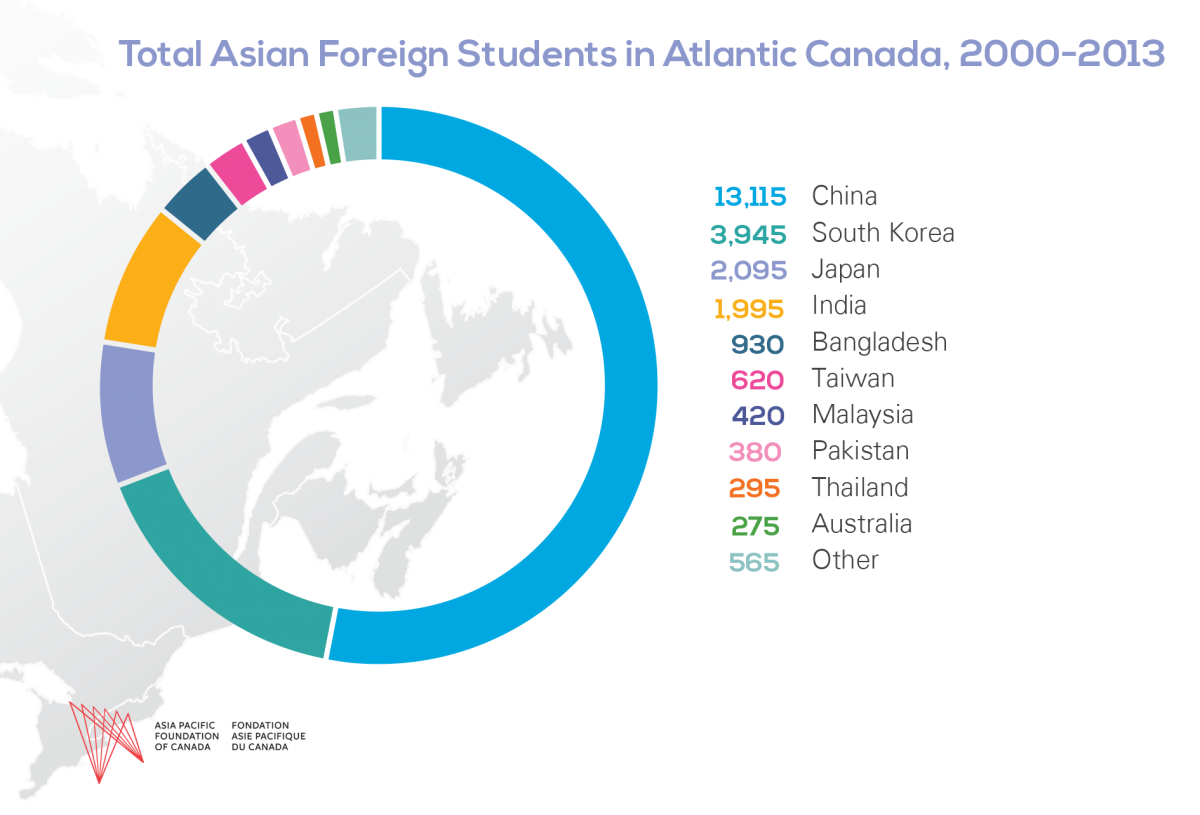 If you want to find out more about Atlantic Canada's trade with Asia, click here to consult the Asia factor in Atlantic Canada booklet. This booklet is released as part of the Asia Factor for Atlantic Canada project. To find out more about this project, click here. This project is funded in part by the Atlantic Canada Opportunities Agency and it will be the first comprehensive study of the current impact and future opportunities that Asia presents to the Atlantic Canadian economy.