Atlantic Canada exported $32.5 billion worth of goods worldwide in 2014; $2.45 billion went to Asia, about 10 times less than was exported to the United States ($23.3 billion). While exports to Asia are down slightly year-on-year, they have continued to trend upward since the global financial crisis. In fact, during the period 2000-to 2008, Atlantic Canada's exports to Asia averaged $1.25 billion, while in the last five years exports to the region have averaged $2.43 billion, an increase of 93%. With economic growth in the Asian region widely expected to expand, there is clear room for Atlantic Canada to increase exports to Asia.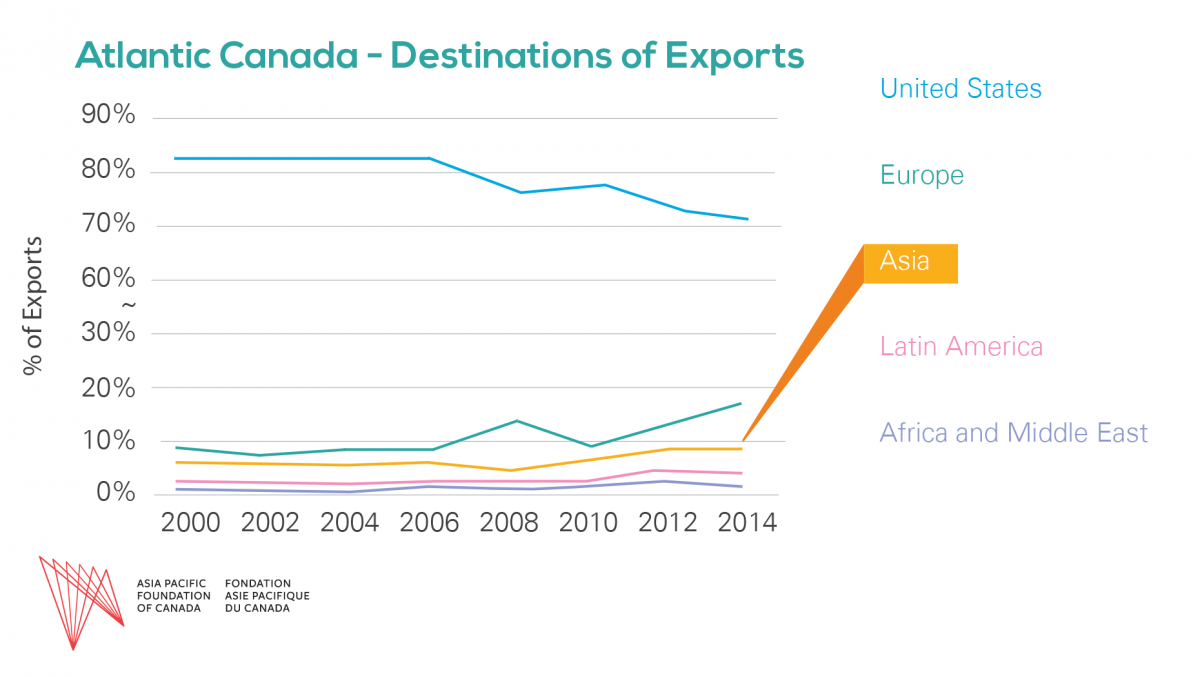 Atlantic Canada's exports to Asia are concentrated around agri-food products, metals and minerals, and wood, pulp and paper. These three top export sectors made up 95% of Atlantic Canada's exports to Asia in 2014, but within these three sectors a wide variety of products were exported to the region. Metals and minerals made up over half of these exports at 56.1%, followed by agri-food products at 25.3% and wood, pulp and paper at 13.6%. The taste for shellfish in Asia was widely represented in the 83% increased export of crustaceans since 2010, but ongoing demand for potatoes also made up a substantial portion of Atlantic Canada's agri-food exports. While China's demand for iron ore is widely forecast to decline, Japan and South Korea will continue to be strong export destinations for iron ore producers; additional growth in Southeast Asia will make it an important region for Atlantic Canada provinces.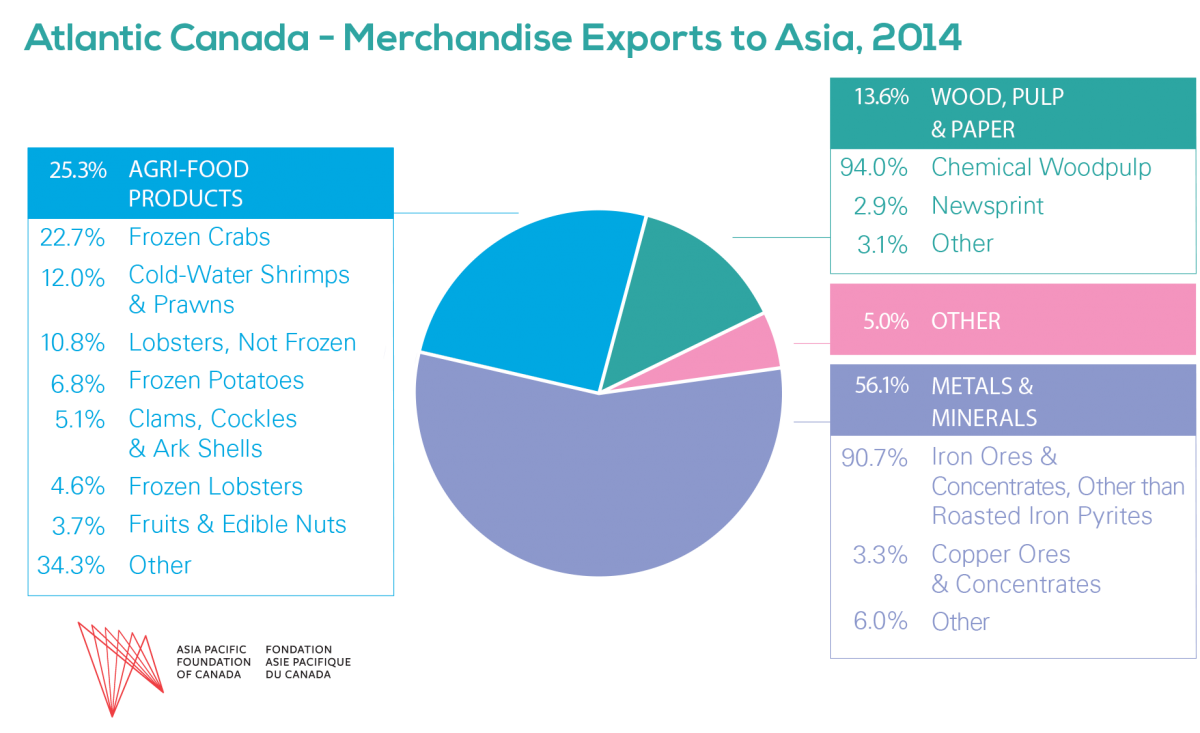 Atlantic Canada's Export Partners
China remains by far Atlantic Canada's most important trading partner, receiving 40% of the regions exports to Asia. However, the $980 million worth of exports to China represents the lowest amount since 2010, and is a drop of 45% from 2013. On the other hand, exports to India, Indonesia, and South Korea all grew substantially in 2014, reaching their highest historical levels (growing 114%, 31%, and 151% respectively since 2013). In the years since the global financial crisis, exports to other Asian nations have trended upward, and as the emphasis shifts increasingly to other Asian nations other than China, greater opportunities will continue to present themselves to Atlantic Canada exporters. In particular, ASEAN economies feature as important trade partners in the Government of Canada's Global Markets Action Plan. With a middle class expected to grow to 100 million by 2020, a rapid growth in urbanization, and an increasingly higher share of global production, ASEAN countries will provide an important market for Atlantic Canada companies looking to the future in Asia.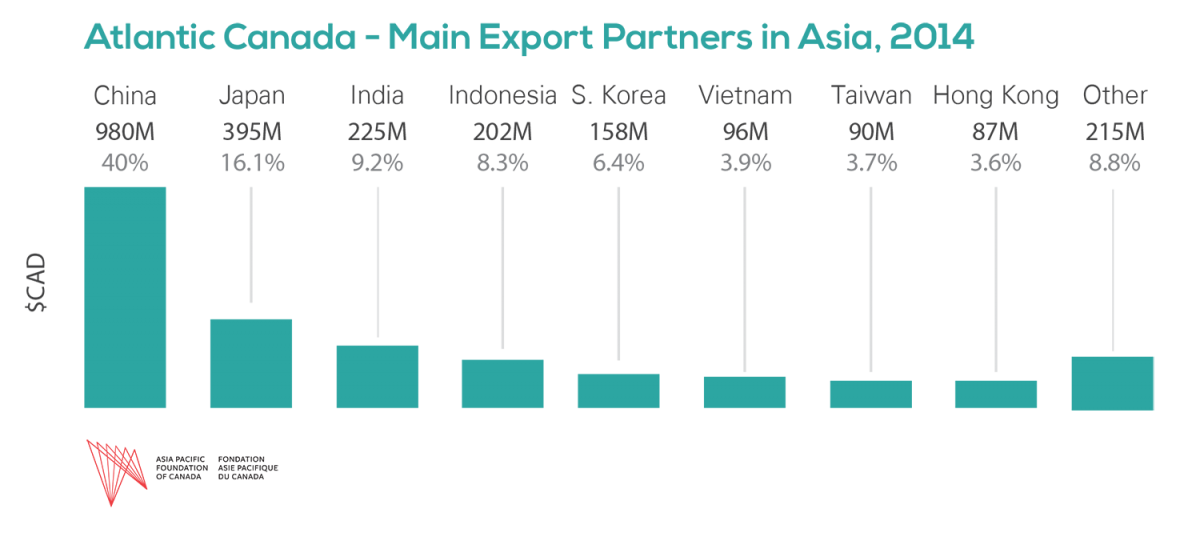 Exports from Atlantic Canada
Of the Atlantic Provinces, Newfoundland and Labrador is the largest exporter to Asia, with $1.14 billion worth of merchandise exported to the region in 2014. Nova Scotia, New Brunswick, and Prince Edward Island have all also increased their exports to the region in the past decade, though not quite to the extent of Newfoundland. The four Atlantic Provinces exported a diverse array of merchandise to Asia, as noted above, and exports were to an increasingly diverse group of trade partners in the region. China was the largest destination of goods for both Newfoundland and Nova Scotia, while New Brunswick's biggest export partner in the region was India. Prince Edward Island found South Korea to be its biggest destination for goods in Asian markets. From Southeast Asia, Indonesia was the only country to be a top 10 export destination for each of the four provinces.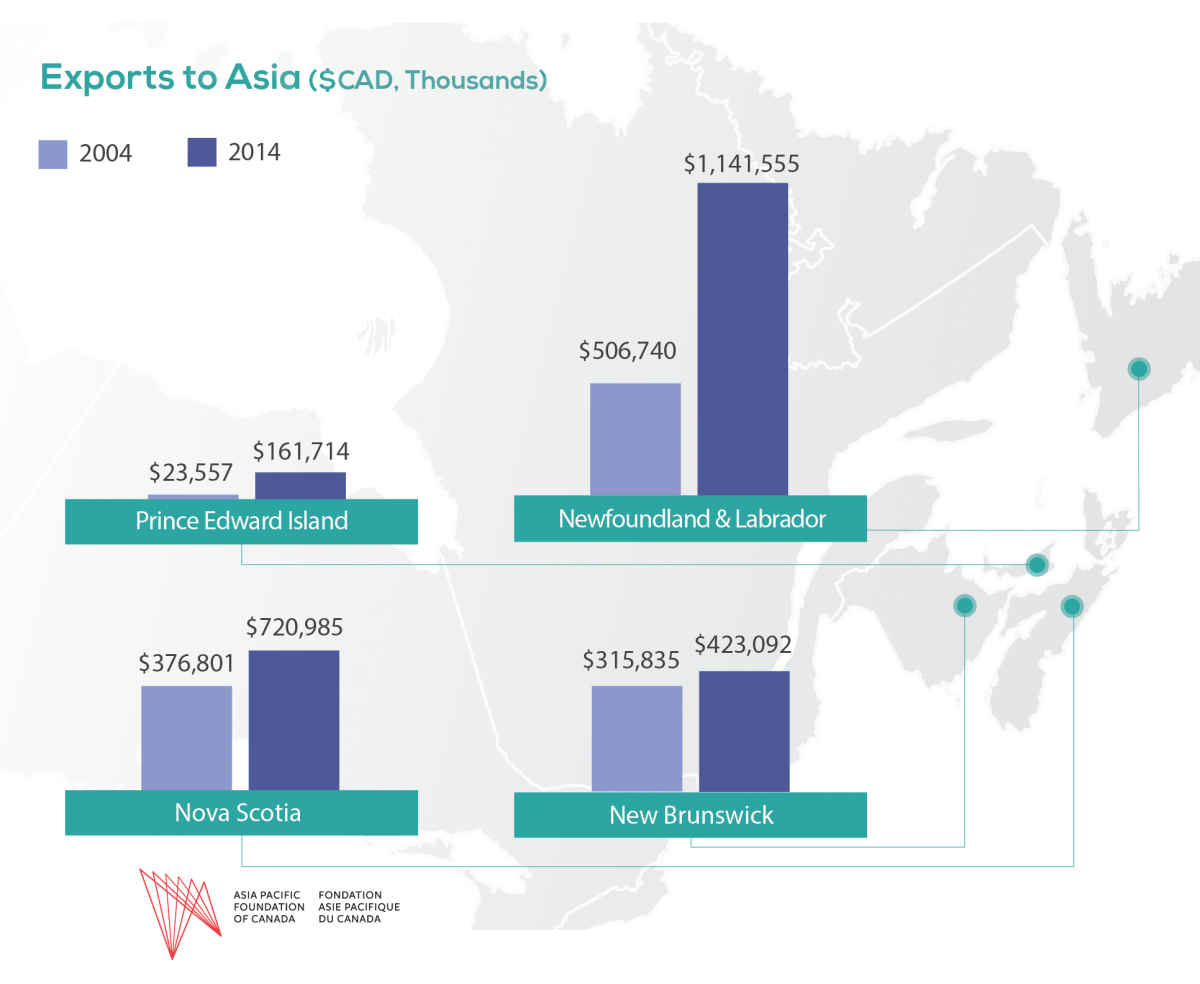 New Brunswick's main exports to Asia are wood, pulp and paper (64.5%), and agri-food products (25.4%). As would be expected from Atlantic Canada, fish or shellfish make up the largest source of agri-food exports, although frozen potatoes also composed 20% of the province's agricultural exports. The third biggest export sector for the province is the energy products sector, comprised of almost 100% peat exports. Nova Scotia also saw the majority of its exports to Asia come from agri-food products (50%), and wood, pulp and paper (33.1%). Fresh lobsters were the most sought after agricultural product from Nova Scotia, and along with other seafood products the province also saw considerable exports in fruits and nuts. Metals and minerals make up the third biggest export sector for Nova Scotia, with the province exporting a considerable amount of copper waste and scrap.

Newfoundland and Labrador saw significant export of iron ores lead their export regime to Asia, as metals and minerals made up 70.7% of their exports to the region. The province also did a lively trade in seafood, with agri-food products accounting for 27.9% of exports, and frozen crabs being the most sought after item from the province after iron ores. Prince Edward Island had the greatest diversity in its exports to Asia, with agri-food leading the way with 50% of exports, electrical machinery taking second place at 23% of exports, and mechanical machinery accounting for 22.6% of the Island's exports. Lobsters were the biggest exported good, with electric static converters the second biggest seller in the Asian market.

Asia presents a growing export market for the provinces of Atlantic Canada. The variety of merchandise sold in the region indicates that with a rising middle class (Asia is expected to account for 66% of the global middle class by 2030 – or 3.3 billion people), demand for these consumer goods will continue to grow. Exporters from the Atlantic region have myriad opportunities, but must continue to be dynamic and innovative in pursuing those opportunities.

If you want to find out more about Atlantic Canada's trade with Asia, click here to consult the Asia factor in Atlantic Canada booklet.

This booklet is released as part of the Asia Factor for Atlantic Canada project. This project is funded in part by the Atlantic Canada Opportunities Agency and it will be the first comprehensive study of the current impact and future opportunities that Asia presents to the Atlantic Canadian economy.