"If everyone in the middle class in China had a bacon cheese burger and a beer once a month, we couldn't supply it as a country. That's the size and scope of what's going to be required," - Canadian Agriculture Minister Gerry Ritz (Meeting of the Standing Committee on Agriculture and Agri-Food, November 27, 2014)
In China, a growing middle class combined with a more proactive attitude towards foreign businesses and goods, has led to a significant rise in demand for imported foods. After leading a trade mission with some of Canada's leading Agri-food businesses to the developing economy in November 2014, the Canadian Agri-Food Policy Institute (CAPI) published a report stating that Canadian food and beverage products are not prominent on Chinese market shelves and are not as well-known as their American/European/Australian counterparts in the Chinese consumer world. The uplifting end to this message is that Chinese retailers are eager and willing to source Canadian goods. To have a better understanding of China's importance for the future of Canada's agri-food sector, we need only consider a few important figures:
China is expected to become the world's largest Importer of agri-food by 2015-2020
Canada was China's fourth-largest supplier of total agri-food and seafood products in 2013, with a 4.9% share
China's processed food imports were valued at C$44.0 billion in 2013; Canada's share was 4.5%
This then raises the question: How do Canadian businesses increase their visibility and popularity in China?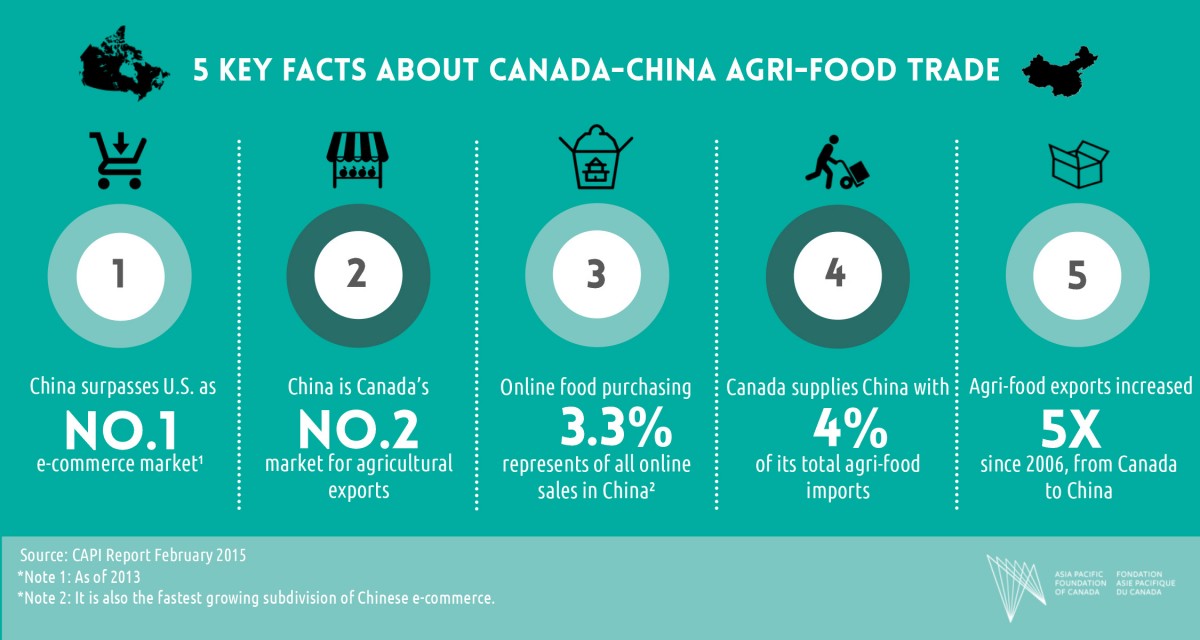 The CAPI Report: Canada is well placed to take advantage of opportunities in China
The CAPI report can be summed up quickly in three main points: 1) Demand for imported foods continues to increase in China for a number of reasons, including food safety scandals, increased spending power of a growing middle class and a penchant for trying new western products; 2) Due to their good reputation worldwide, Canadian products are seen by Chinese consumers as being  safe, clean and healthy; and, 3) While public Chinese opinion regarding our country is generally positive, Canadian products do not have a strong presence compared to American, European and Australian products.
The CAPI report also details the numerous factors that Canadian businesses and government entities should be aware of when developing their presence in China, and provides them with concrete advice. One suggestion is to create an online Canadian food pavilion to promote our products to Chinese e-retailers and consumers. Another idea is to create a "high-level reference roadmap" to clearly indicate the steps that Canadian companies need to take in order to export their wares to the region.
Currently, China is our second-largest market for Canadian agricultural exports (e.g. oilseed products and seafood), having quintupled in value since 2006 to reach C$5.6 billion in 2014. The report further points out that while secondary processed foods represent just one per cent of the total value of food exports, "value–added foods present immediate and emerging niche opportunities for Canadian companies, given changing demographics, food preferences and the size of key target segments in China." It also states how, through a trickle-down effect, Canadian manufacturers would benefit from increased value-added food exports, since some 40 per cent of Canada's agricultural output is processed within the country. The CAPI report urges Canadian food companies to leverage our stellar international reputation and the known quality of our food products and engage with more Chinese retailers.
Building Brands for Canadian Products
The report briefly mentions that sub-national Canadian branding is currently relatively ineffective since the average Chinese consumer is likely unaware of any Canadian province. However, it also stresses the notion of "differentiation" of Canadian products from our competitors. It might be worth a second thought to consider ways to differentiate our "provincial identities," promoting our rich provincial heritage. Indeed, developing provincial brands within the larger 'Canada Brand' may add authenticity and distinctiveness to our products.
Products with regional branding often denote a special quality or heightened popularity, like "Kobe beef,"  or "New York bagels." It may be worthwhile for Canadian companies to start highlighting certain provincial specialties, like Nova Scotia lobster, and diversify the nation's branding. Developing rich and meaningful sub-national brands could ultimately create the best value for Canadian products and increase their popularity among Chinese consumers.
A good example of sub-national branding that has already garnered international attention is Newfoundland and Labrador's brand signature. In 2007, the province's 45-second animated television spot, which highlighted the province's natural beauty and essence, won a prestigious London International Advertising Award.  
Another example is McDonald's nationwide campaign, the "Great Canadian Taste Adventure." The promotion aims to showcase Canadian "diversity and uniqueness" by offering things like Nova Scotia lobster rolls, Quebecois poutines and B.C. Nanaimo Bar sundaes. The focus groups conducted during the production of this campaign showed that Canadians were proud of their country and of their local cuisines. While, the campaign is aimed at enticing locals and not foreigners, it does demonstrate that provincial identities do exist and can be developed and used abroad.
A cohesive and strong Canadian brand is not necessarily synonymous with leaving the provinces behind. Developing distinct provincial sub-brands under the Canadian brand will ultimately make for a more meaningful and robust national identity and consequently, will have more impact with foreign consumers. Given the report findings, Chinese demand for foreign agri-food products is strong and we would do well to seize the opportunities. Canada, China awaits. 
Serena Ko is a post-graduate research fellow at the Asia Pacific Foundation of Canada