Canada has what Asia needs: experience and expertise in making cities more resilient to climate change impacts, such as rising sea levels and intensified natural disasters. Many Asian cities are particularly vulnerable to these impacts, as the rapidly urbanizing region is globally the most prone to natural disasters (in terms of number of disasters and populations affected), and have limited abilities to withstand and adapt due to high population density, limited financial resources and governance challenges [1]. There is an important opportunity for Canadian cities that have an international reputation for climate resiliency to collaborate with Asian municipal governments to share best practices and actively engage in learning, capacity building, and capital investment programs for building sustainable, resilient communities.
Climate Resilience and Canadian Cities
Canadian cities have earned international recognition for being climate resilient. The Grosvenor's Resilient City Research Report 2014 ranks Toronto, Vancouver and Calgary as the most climate resilient cities in the world (based on vulnerability to the effects of climate change and actions taken to mitigate them). Six of the 10 least climate resilient cities are in Asia.
The report notes that the city councils of Toronto, Vancouver and Calgary have comprehensive climate change adaptation strategies that encompass the use of city planning, local codes and standards, and emergency planning and response. The report also highlights that Canadian cities have substantial resources available for adaptation and are well governed and planned.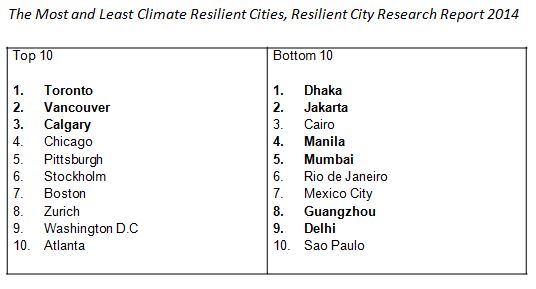 Vancouver, a city vulnerable to the impacts of rising sea levels due to its low-lying coastal location, has been addressing climate change and sustainability since the 1990s when it joined the Partners for Climate Protection led by the Federation of Canadian Municipalities.
In 2009, Vancouver launched a "Greenest City 2020" campaign to galvanize further action on the climate file. The Greenest City 2020 Action Plan, which resulted from the work of the City's Greenest City Action Team, includes activities for mitigating climate change and plans to develop an adaptation strategy.
The City is also on track to meet its GHG reductions target outlined in its 2008 climate strategy and has recently committed to operating on 100 per cent renewable energy (for electricity, transportation, heating and air conditioning) by 2050.
Similarly, Toronto has been carrying out advanced planning for climate change adaptation through its Resilient City Working Group. The City's strategy focuses on investing in infrastructure to enhance the City's resiliency to extreme weather. Toronto has even developed its own climate change risk assessment tool to identify the best actions to reduce the impact of climate change on urban infrastructure.
Calgary is recognized for its expertise in water management. Located in one of Canada's driest regions, the City has successfully developed water system improvements and demand measures to counter warmer weather and changing precipitation patterns that affect the city's sole water supply (the Bow River). The City has also been examining and evaluating infrastructure policy to make Calgary more resilient to frequent floods.  
In addition to the global recognition through the Grosvenor Report, Canada was recently ranked No. 1 on the world's most widely recognized green building rating system (LEED) by the US Green Building Council.
International Collaboration on Building Resilient Cities
Canadian cities that have been looking at adaptation in a systematic way have been sharing their experiences and collaborating with other cities mainly through global networks of cities, such as The International Council for Local Environmental Initiatives (ICLEI), C40 Cities Climate Leadership Group and United Nations Global Compact. The City of Vancouver in particular has been playing a leadership role: it helped initiative The Carbon Neutral Cities Alliance and The Urban Sustainability Directors Network (in which it chairs the Innovation Fund), and has recently led and hosted an international conference on Renewable Cities.
These fora act as repositories of global expertise and city-level experiences on climate change adaptation. They also host international conferences where scientists, practitioners and policy makers from around the world meet in person to share their ideas and facilitate knowledge exchange. 
At a recent international ICLEI conference in Seoul, South Korea, Vancouver, Montreal and Edmonton were among 249 participating localities to adopt The Seoul Declaration that commits the attending cities to strengthening climate change mitigation and adaptation efforts at a municipal level in accordance with common guiding principles. Montreal and Vancouver have also joined The Compact of Mayors, a global network of mayors who have joined efforts to reduce GHG emissions and prepare for climate change impacts in their cities.
The Case for Increased Bilateral Co-operation Between Canadian and Asian Cities
Meanwhile, Canada's influence in Asia is lagging behind its expertise: While Canada is an active contributor in global networks, bilateral co-operation on climate change adaptation between Canadian cities and Asian cities has been limited to date.
Vancouver, for example, has recently begun to foster bilateral co-operation on sustainable cities with Yokohama, its sister city. Yokohama is the second largest city in Japan and is a pioneer in Asia for including environmental goals in its plan to revitalize its economy. In particular, it seeks to transition into a low-carbon society by spurring technological innovation and creating demand for green technology. Vancouver is working with Yokohama through The Carbon Neutral Cities Alliance, as well as bilaterally. The mayor of Yokohama has recently visited Vancouver, during which the two cities further developed their mutual interests in sustainability and discussed ways that they can enhance co-operation.
Canadian cities may also want to take lessons from municipalities in other countries that have more advanced initiatives underway with China. For example, relationships between German and Chinese cities are excellent examples of successful bilateral collaboration on sustainable urban development. China has several national policies for sustainable urbanization (such as 12 FYP, The National Urbanization Plan, The National Pilot Program for Low Carbon Provinces and Cities) but limited experience at the municipal level with implementing these types of policies. The German cities of Bonn and Duisburg have stepped up to create partnerships with the cities of Chengdu and Wuhan, respectively, to share their experience, support implementation of demonstration projects for low-carbon development, and to learn from innovative initiatives in the Chinese cities. [2]
In the case of the United States, the recent co-operation between the Paulson Institute, based in the University of Chicago, and the China Association of Mayors is notable. Now hosting its third annual sustainability training program for Chinese mayors and officials, it provides courses on various planning issues related to public transportation, municipal financing models and protection of cultural heritage. Delegates visit Chicago, Portland, Oregon and San Francisco to learn how these U.S. cities have incorporated sustainability into their economic planning with the goal of implementing best-practice policies back in China.
Canada has a lot to offer Asia and the world on how to develop climate resilient cities. Canadian cities should continue to engage in multilateral fora on this topic but also step up bilateral engagement with Asian cities, especially those in developing countries.
For more analysis on energy and environment issues in Asia, click here
Kyae Lim Kwon is a post-graduate research fellow at the Asia Pacific Foundation of Canada
[1] Climate change adaptation differs from mitigation: adaptation is about reducing vulnerability to adverse impacts of climate change while mitigation is about reducing GHG emissions – the underlying cause of climate change.
[2] Since January 2013, the Bonn-Chengdu Partnership for Sustainable Low-Carbon Development has been working on low-carbon developments through exchange of knowledge, best practices and experts through conferences, NGO exchange meetings and reciprocal visits of expert groups and formal delegations.