In 2007, Roots, a popular Canadian apparel company, opened its flagship store in Beijing. Since then, the company has opened or is in the process of opening another 23 stores throughout China, with plans for even further expansion.* The popular Vancouver-based athletic apparel company Lululemon has also opened a showroom in Shanghai, a city long considered to be the heart of Chinese consumerism. As these two examples show, some of Canada's major brand names are considering the possibility of expanding into the Chinese market now more than ever. This is not surprising, given the potential profit to be made from successfully wooing China's burgeoning middle class. However, companies must also be aware of the risks and challenges involved, if they are to succeed over the long term.  
The Allure of the Chinese Market
With more than 300 million middle class citizens, China is currently home to one third of the world's middle class population. In comparison, this is ten times the size of India's middle class. McKinsey projects that by 2022, China's middle class population will double, reaching more than 600 million.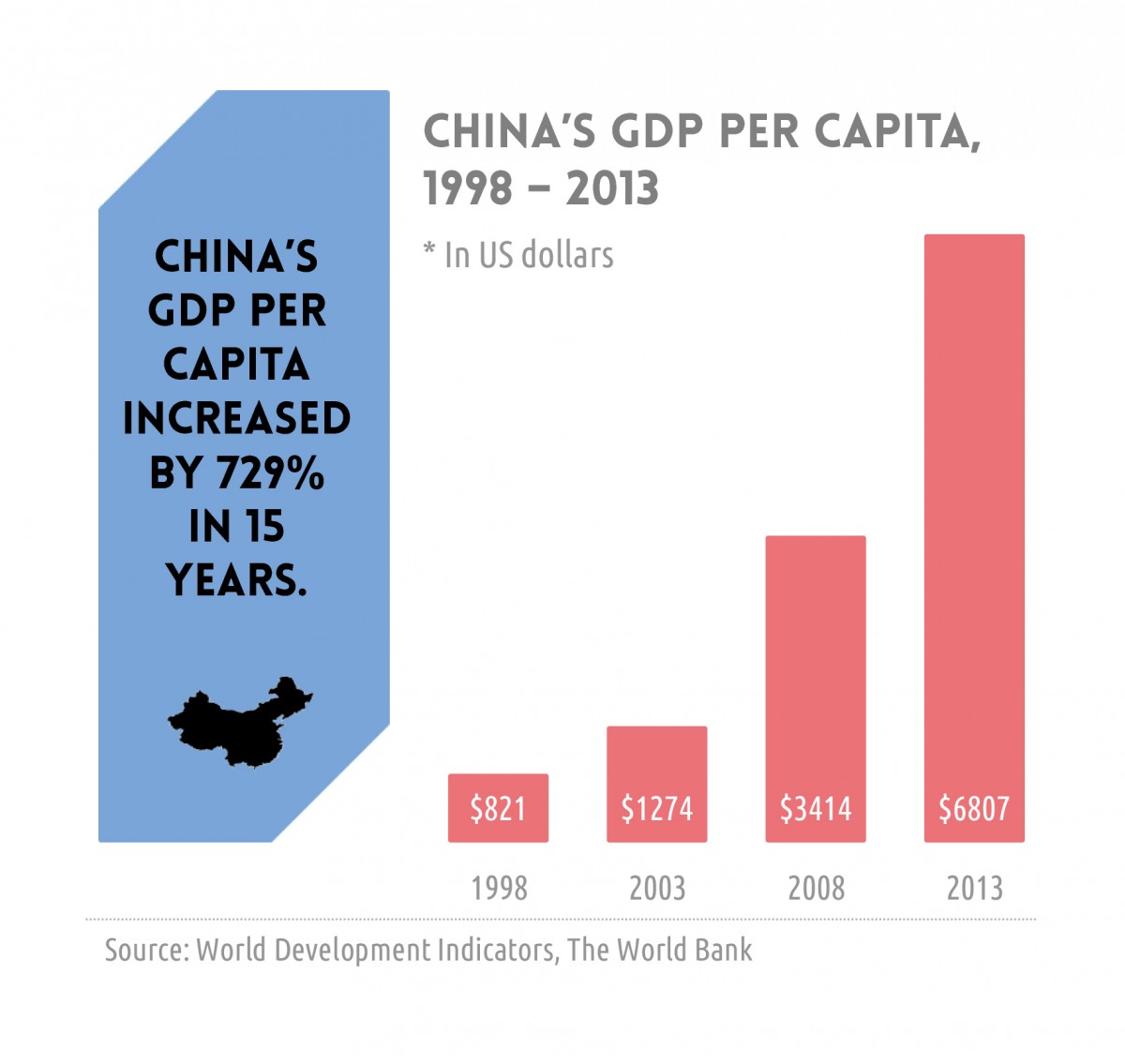 Such forecasts suggest tremendous promise for the luxury goods market in China, and to a certain extent, this logic is correct. The business intelligence firm Euromonitor predicts a 12% compound annual growth rate for the luxury goods market in China from 2013 to 2018. Moreover, several factors point to a market that will expand beyond 'first tier' cities such as Beijing and Shanghai, including the shift from an export-led growth model to one that is fueled by domestic consumption, the rapid rate of urbanization, and growing demand from second and third tier cities.
At the same time, a new generation of consumers born in the 1980s and 1990s has emerged as sophisticated and critical buyers who value a product for its individuality, innovativeness, and emotional appeal, rather than just its price.
Hold on, Not So Fast
However, before one reaches an overly optimistic conclusion, there are also reasons for luxury goods companies to exercise a bit of caution.
Many of the same factors that make China an attractive market for luxury goods also weaken the domestic demand for such goods. The growth of China's middle class, specifically the increase in their disposable income, has made international travel increasingly popular. Outbound tourism has been increasing by 15% annually, and in 2013, approximately 100 million Chinese nationals traveled abroad. Many take advantage of the opportunity to purchase luxury goods while they are abroad, thereby avoiding paying domestic (Chinese) prices, which tend to be 40% higher than what they are outside the country, due to import tariffs, consumption taxes, and an appreciating RMB (China's currency). The size of this group of consumers buying luxury goods outside rather than within China is very significant; Chinese spenders outside China currently account for approximately 25% of the global sales of luxury goods.
In addition, two other domestic factors are dampening the enthusiasm for buying luxury goods: the recent slowdown in China's economic growth, and the Chinese government's recent crackdown on corruption, which has negatively affected the sales of luxury goods often used in gift giving.
As a result, international luxury brands have tempered their aggressive strategies for entering the Chinese market, preferring instead to make more effective use of already-existing stores rather than opening new ones.
Opportunities and Risks for Canadian Companies
What does all this mean for Canadian luxury goods manufacturers and distributors?
Beyond exporting to China and plans to penetrate the domestic Chinese market, Canadian companies must rethink their strategies and seek to capture the market for overseas purchases. Canada as a whole should consider promoting itself as a destiny for luxury goods shopping, and there is evidence that Canada is well-positioned to do so. Aside from the recent or planned entry of upscale foreign retailers such as Nordstrom, Saks Fifth Avenue, Versace, Mulberry, and Jimmy Choo, among others, domestic luxury chains such as Holt Renfrew and Harry Rosen are actively revamping their images and redesigning their stores. Meanwhile, the number of Chinese tourists in Canada has increased by more than 365% - from 78,508 in 2000 to 365,637 in 2013. As a result, Chinese tourists account for 22% of all Asian visitors to Canada. At the same time as it promotes itself as a luxury goods shopping destination, Canada should also promote home-grown brands and increase Canadian brand recognition among Chinese shoppers.
The domestic Chinese market for luxury goods may be more difficult to crack, but for Canadian companies seeking to enter the market, there are some encouraging trends. As consumers in first tier cities become more sophisticated, there is a movement away from conspicuous brands with a strong 'show-off factor' toward simple elegance and low-key luxury. These consumers' new emphasis on brand heritage, personality and emotional appeal may offer Canadian designer labels the chance to capture a larger segment of the Chinese market.
Despite the opportunities, Canadian companies must also consider the risks. In addition to many of the challenges commonly associated with international expansion, in this particular niche of the market, where consumption is fueled primarily by brand reputation, companies are particularly prone to competition from counterfeit products. Consumers may knowingly buy low-quality, low-priced substitutes to save money, or they may also unknowingly be fooled by high-quality substitutes or even exact replicas of the original products. Beyond pursuing basic 'intellectual property (IP) 101' strategies such as registering their trademarks and patents, the need for Canadian companies to pursue non-legal strategies to protect their IP, such as monitoring the market, conducting private investigations, educating the public, and cultivating strong relationships with Chinese government officials, will become ever more pressing.
*This blog was updated on January 29, 2015. It originally stated that Roots Canada "has opened or is in the process of opening another 90 stores throughout China, with plans for even further expansion," which was based on figures found on the Canadian Trade Commissioner Service Website. Roots Canada headquarters has since provided the correct figure of 23 stores.
The views expressed here are those of the author, and do not necessarily represent the views of the Asia Pacific Foundation of Canada.