Throughout September, thousands of Japanese youth took to the streets in rare public demonstrations expressing their political views. Previously perceived as politically apathetic, Japanese youth have found a new political voice since the start of the controversy over security bills that will allow Japan to send troops abroad to fight alongside allies for the first time since WWII. Even with the passage of the security bills on September 19th, the youth activism has yet to die down.
Japanese Youth Voter Apathy
Political apathy among young people is not a unique phenomenon to Japan, and it is a common trend in many developed countries today. In Canada's 2011 national election, 38.8 per cent of registered youth voters aged 18 to 24 cast a ballot, while in the U.S. 41.2 per cent voted in the 2012 Presidential election. For many developed countries it seems that the elderly, rather than youth, are more engaged in political issues.
Percentage point difference in voting rates between those 55+ years old and those 16-35 years old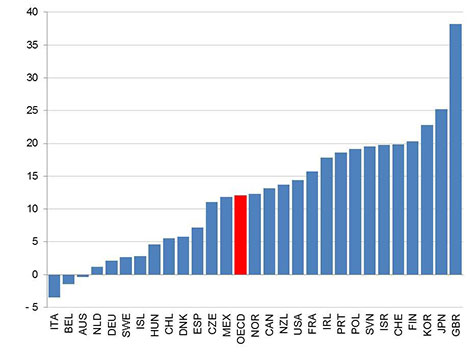 Source: Society at a Glance 2011, OECD, 2011
Japan is no exception, with a 2011 OECD study showing a 25 percentage point gap between the voting rates of elderly (aged 55 and over) and youth (under 35 years old). The last national election in 2012 saw only 38 per cent of Japanese in their 20s vote, compared to 75 per cent among those in their 60s. Political apathy has been brewing within the younger generation over the past couple of decades. This was not always the case. In the election of 1990, which led to the ousting of the perpetual incumbent Liberal Democratic Party (LDP) for the first time since the 1950s, 57.76 per cent of youth turned out at polls. However, just six years later, a drastic decline occurred in youth turnout, with only 36.5 per cent showing up to vote.
Japanese voter turnout by age group in the 2012 general election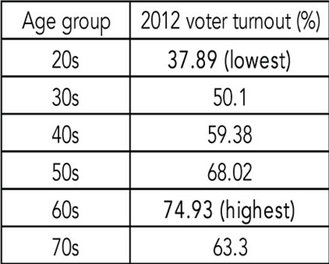 Source: The Association for Promoting Fair Elections

Youth sentiment towards political engagement does not paint a bright picture either. A recent poll from the Japan Youth Research Institute showed that only 6.5 per cent of Japanese high-school students believed that they could make a difference in politics. For those in their 20s, only 30 per cent thought that their involvement or contribution to politics would even matter.
Considering Japan's aging population (people over 60 constitute more than a quarter of the population), the political landscape has turned into one in which political candidates focus solely on the elderly demographic.[1] Exacerbating the problem even more, the Japanese government has put issues that youth consider important, one of the biggest being the dwindling of job prospects, on the political back burner. Instead, money has been poured onto the priorities of the elderly, such as ensuring a robust health-care and pension system. This trend will speed up as the population aged 60 and over reaches 42 per cent of the country's total by 2050. As this demographic shift happens, the young voices of Japan's future may become drowned out.
Japanese Youth's Growing Political Awareness
However, it seems as though this political apathy among Japanese youth may be taking a turn. That is what the mainstream media has been suggesting at least.[2] Significant student protests have been almost nonexistent since the 1960s, but the past few years have seen activist groups led by students, such as Zengakuren and SEALDs (Students Emergency Action for Liberal Democracy),[3] tackling controversial topics in Japan.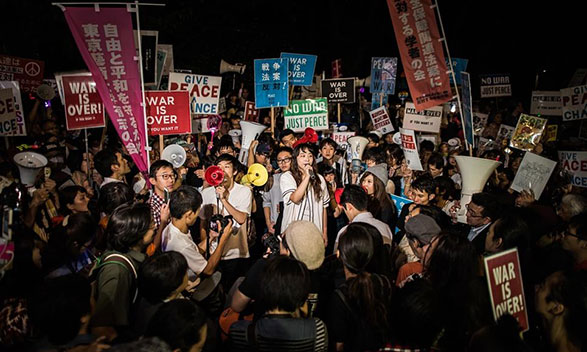 Members of SEALDs (Students Emergency Action for Liberal Democracy) and other young activists gather outside the Japanese parliament to protest the Japanese security bills that were passed on September 19th | Courtesy Guillaume Bression
SEALDs is one of the largest groups behind last month's security bills protests in Japan, but its early beginnings can be traced to the anti-nuclear demonstrations following the 2011 earthquake and tsunami that hit Japan and the Japanese government's perceived inability to deal with the disaster. By 2013, a small group of college students had coalesced to participate in demonstrations against the State Secrecy Act aimed at protecting state secrets from the public, which was eventually passed at the end of 2013. From then on, the group focused on wider issues – such as democracy, the Constitution, and national security – in order to attract the attention of the younger population. By working together with other activists and using social media to reach out to youth, SEALDs has managed to rally together tens of thousands of people across the country against the security bills, including a crowd of 120,000 in Tokyo on August 30, 2015.
The future becomes even brighter for politically savvy youth voters. Recently, Japan's Diet approved a measure to lower the voting age in Japan from 20 to 18, injecting another 2.4 million voters into an electorate of 104 million. Although these numbers will not necessarily mean greater political awareness and voter turnout, they represent a new group of voters that have the potential to become politically engaged. The Prime Minister of Japan, Shinzo Abe, expressed earlier this year that he is completely onboard with immersing the younger generation into Japanese politics through the help of schools, election boards, and local communities. With the upcoming general elections in 2018, Japan has a renewed opportunity to politically engage youth to garner their interest and support.
Where other segments of society have failed so far, student-led and grassroots organizations, such as YouthCreate,[4] have already risen to address both political apathy among Japanese youth and the challenge of reaching the critical mass necessary to spread their message across the Japanese archipelago. Just as SEALDs worked together with other activist groups to amass thousands of demonstrators, all levels of Japanese society need to come together and ensure Japanese youth understand that their vote can make a difference in politics and in their daily lives. The future of Japan hangs in the balance.
---
[1] Kishimoto, T. 2014. Students Seek to Raise Political Awareness Among Fellow Young People. The Japan Times.
[2] Martin, A. 2015. Japan's Youth Stand to Gain Stronger Voice. The Wall Street Journal.
[3] BBC News. 2015. Scuffles as Japan Security Bill Approved by Committee.
[4] McGrath, B. 2015. Japan: Continuing Protests Against Abe Government's Security Bills. World Socialist Web Site.
The views expressed here are those of the author, and do not necessarily represent the views of the Asia Pacific Foundation of Canada.