Jingming Li, Group Vice-President & Head of U.S. for the Alibaba Group's Ant Financial Services addressed a capacity audience in Toronto last month on the state of China's economy, the success of Alibaba Group's Singles' Day, and Alipay's online payment system, of which he was the architect.
Li, who holds a master's degree in aerospace engineering from Carleton University, began his November 24 presentation by placing China's unprecedented economic growth into historical context. Two hundred years ago, China's economy was 33% of the world's GDP, more than twice the 15% it represents today. He also emphasized that the period in between saw a dramatic decline in China's economy due to its involvement in successive wars both foreign and civil, ineffective governments with unclear economic policies, domestic strife and natural disasters. By 1978, as it was implementing economic reforms and trade liberalization, China's GDP had shrunk to 4.9% of the world's total (measured in purchasing power parity, or PPP).  In 1985, despite visible economic improvements, China was still rationing food to feed its population. But in the last 30 years Li emphasized that China has risen to become the world's second largest economy and the world's largest manufacturer, merchandise exporter and importer, and holder of foreign exchange reserves.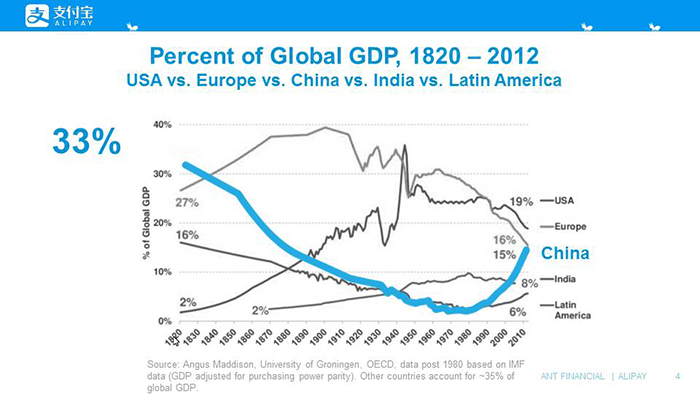 No Need for Panic – China's 630-million Person Middle Class is Still Growing
Global concerns over China's recent economic slowdown are, according to Li, unnecessary. With a burgeoning middle class of 630 million people who have an insatiable appetite for purchasing foreign goods and services, he advised that economies such as Canada, the U.S. and Europe need not worry. He underscored that no country in the world has grown as quickly in recent years. China has grown at near double digits for the majority of the past three decades.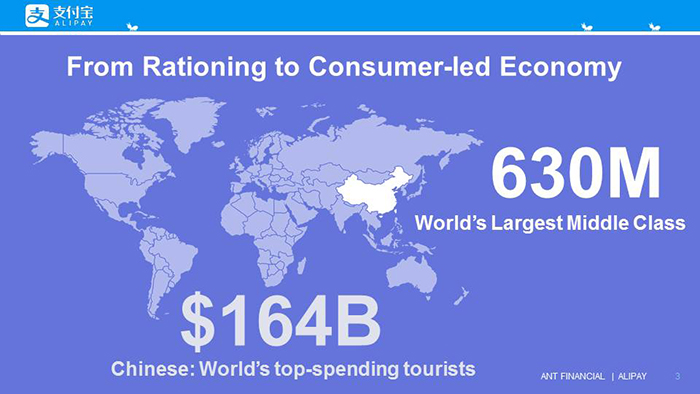 Li reported that despite the country's recent slowdown, Chinese tourists are still travelling abroad in droves and they remain eager to see the world and spend their newly-acquired wealth. In 2014, 109 million Chinese tourists spent US$164 billion overseas. By comparison, just 15 years prior, only 10 million travelled overseas. Bank of America Merrill Lynch has projected that Chinese tourism will rise to 174 million by 2019 with estimated overseas expenditures of around US$264 billion. 
E-commerce – Chinese are Changing Retail Business

Li suggested that culture and historical experience shape Chinese consumers' shopping habits. Whereas in centuries past, villagers would gather to buy merchandise brought to town on carts, China's newly-urbanized population looks for deals online. Given population density in Chinese cities, North American-type shopping malls do not work. Li jokingly said, "Can you imagine if the Chinese population in urban centres went to a shopping mall on Boxing Day or Black Friday? Traffic would come to a standstill and there would be utter chaos."
To address China's physical limitations and its seemingly limitless appetite for bargain hunting, the Alibaba Group developed the online portals Taobao (meaning "searching for treasure") and TMall, formerly Taobao Mall. Originally these sites only sold products from Hong Kong, Taiwan and the U. S., but goods from Europe and elsewhere were added to fulfil the surging desire of the Chinese middle class to purchase international brands. Both e-commerce sites are enjoying tremendous success.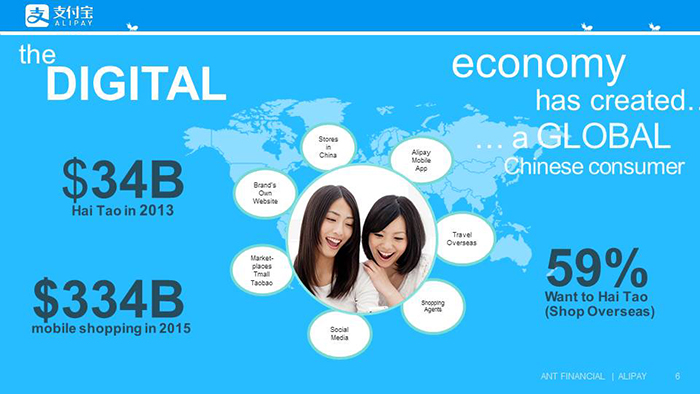 According to Li, Chinese consumers will seek out the best deals and will purchase products known for their quality. He raised the story of a German merchant who succeeded overnight by offering diapers and baby products online. He had only intended to sell domestically but found Chinese consumers were suddenly buying up his products after he introduced baby formula to his online store. Similarly, European travel and products are very popular among Chinese today, with half of their e-commerce global sales being made to China.
The key to Alibaba's continuing success and expansion efforts will be improving logistics and time standards for delivering merchandise to consumers. Li reported that domestic goods are generally delivered to Chinese consumers within one day and that goods from North America or Europe can be delivered within 10 business days. Alibaba provides logistics and delivery service through partner agencies in the Alibaba eco-system, which relieves foreign retailers of such responsibilities and eliminates risks associated with selling to Chinese consumers. 
Singles' Day
Alibaba launched its "Singles' Day" shopping event on November 11, 2009. With the date 11/11 (four ones), the marketing strategy was to target single buyers who have disposable income by offering a 24-hour online bargain day for singles. Since its inception Alibaba has been doubling revenues from Singles' Day sales annually and this year sales reached a whopping new record of US$14.3 billion. Nearly 70% of all Singles' Day purchases were made on mobile devices.
What started as an online marketplace for domestic merchants has become truly global with retailers from all parts of the world involved. Li reported that Cadillacs were even sold from the website!
Ant Financial Services Group – Not Just a Pay System But an Enabling Bank Service
In 2004, Li and his team launched Alipay, a third-party online payment scheme with no transaction fees to support Alibaba's e-commerce businesses. Ant Financial Services Group, which now counts Alipay as one of its six financial services companies, supports small businesses and provides escrow service, allowing purchasers to determine if they are satisfied with the product before releasing their money to the seller. Ant has over 400 million users in China and controls about half of China's online payment market. This year Alibaba announced it will soon introduce payment using facial recognition technology.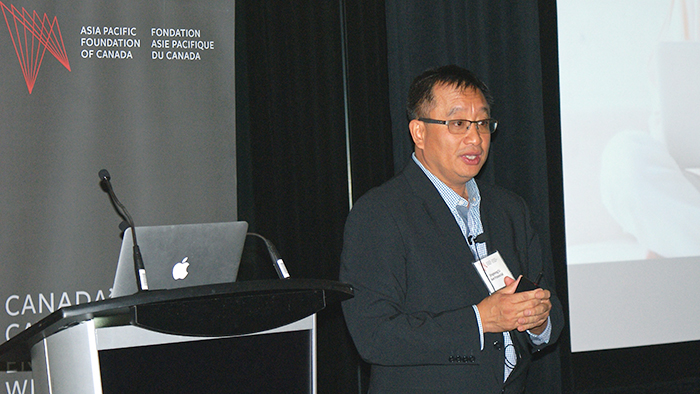 Jingming Li
The system Li helped to develop amply supported the volume of sales when Singles' Day was first launched, but as sales rapidly increased he and his Alibaba colleagues feared that the system might not be able to handle escalating purchase volumes. Li happily reported that the platform withstood the onslaught of consumers on Singles' Day 2015, successfully processing between 85,000 and 120,000 transactions per second.
China Business Strategy – Tips for Canadian Business
Consumers all around the world are now inundated with choices due to technological advancements. Li suggested retailers to think outside the box when devising strategies to increase revenues. He advised Canadian companies to focus on online retailing when entering China. Doing so minimizes or eliminates conventional costs of doing business as the retailer will no longer need to physically go to the consumer. Competitively priced quality goods and user-friendly websites will be key.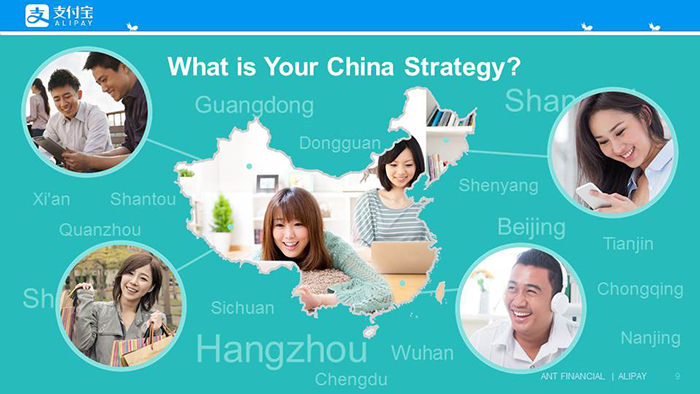 Li emphasized that given Canada's reputation for food quality, China offers a huge market for Canada's agri-food products, and Canadian seafood products in particular are in high demand, presenting a significant opportunity for our coastal communities. Alibaba is already working to improve logistics so that seafood can be sold through its web portals.
Li concluded his presentation with the following tips for successful online retailing in China:
Maintain brand identity authenticity. The Chinese don't care if the product is actually manufactured in China as long as it is an authentic foreign brand. Chinese are aware that manufacturing in China is inevitable due to low labour costs.
Market to the masses.  Uber in China became an overnight success when it renamed its business "People's Uber," making it the second largest Uber market in the world after the U.S.
Partner with or engage through China's established eco-system, e.g. with branding/marketing, financial or logistics companies in China