In December 2015, some 190 countries will attend the COP 21 climate summit in Paris to negotiate a new climate agreement to replace the Kyoto Protocol. During a recent state visit to France, Chinese Premier Li Keqiang, released his country's much-awaited Intended Nationally Determined Contributions (INDC) document, in which China outlines its plans for reducing GHG emissions.
While every country participating in the climate conference is encouraged to submit an INDC, China's is particularly important. Why is this the case and what are the implications of China's INDC for Canada?
Why is China's INDC So Important to Climate Change Action?
First, China is now the world's largest GHG emitter (since 2007) and is responsible for more than a quarter of annual global GHG emissions. It's estimated that China's cumulative CO2 emissions since 1990 will overtake those of the U.S. by 2015 or 2016 (although its per capita emissions level is still less than half that of the U.S.). As a result, a successful international climate change regime will require the enthusiastic participation of China and other high emitters.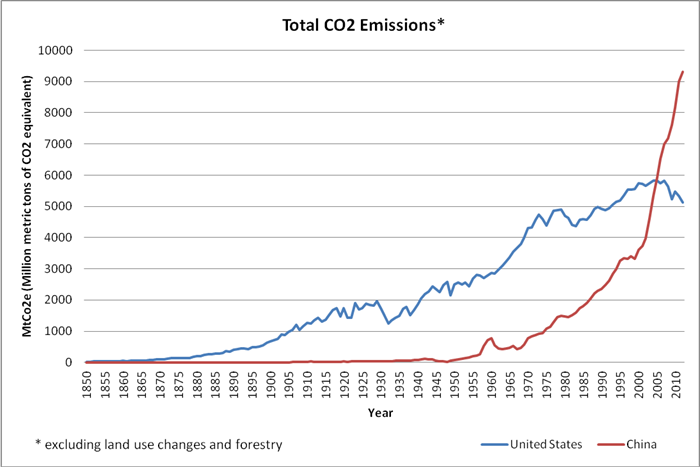 Second, due to its increasing economic and political clout, China influences the negotiating positions of the G77 coalition of developing countries and the U.S. in international climate negotiations.
 
China has historically led the G77, whose collective position has been to advocate for "common but differentiated responsibilities." This principle in international environmental law states that developing countries should not be disproportionately burdened with the reduction of GHG emissions, as climate change has resulted mostly from the actions of industrialized countries.
While China's economic rise has been making it increasingly difficult for the G77 and China to find common ground in climate negotiations, they have demonstrated remarkable solidarity. For example, they staged a walk-out at COP19 at Warsaw when their proposal for a loss and damage mechanism, which would contribute to addressing damages occurring from adverse effects of climate change, did not receive enough traction.
However, now that China is the largest emitter in the world, other countries increasingly expect more from China with respect to reductions. At the 2009 Copenhagen Climate Change Conference, the 'stalemate' between China and the U.S., with each side refusing to commit to a meaningful target due to the lack of action by the other, has been cited as one of the reasons for the unsuccessful outcome of the summit.
China, therefore, is an important nexus country, whose position is highly critical to encouraging commitments by others.
What does China's INDC include?
China's INDC contains four main targets:
To reduce emissions intensity by 60% to 65% relative to 2005 levels by 2030;
To increase the share of non-fossil fuels in primary energy consumption to around 20%;
To increase the forest stock volume by around 4.5 billion cubic meters relative to 2005 levels;
To peak CO2 emissions around 2030 at the latest. 
The first target is a deepening of China's 2009 Copenhagen pledge, which was to lower its emissions intensity (CO2 emissions per unit of GDP) by 40 per cent to 45 per cent from the 2005 level by 2020. Non-Annex I countries (a category for developing countries) under the Kyoto Protocol are allowed to submit intensity based targets, as China as done here. This allows countries to contribute to emissions reductions while still growing their economies.
However, China's commitment to peak CO2 emissions by 2030 is an absolute target – the first that China has ever committed to in an international forum. This commitment and the target to increase the share of non-fossil fuels in primary energy consumption to 20 per cent by 2030 were included in the November 2014 climate deal with the U.S.
Important to the achievement of these goals is China's commitment to control its coal consumption. One of the main reasons for China's dramatic increase in emissions is the fact that coal has powered much of the country's rapid industrialization. To reduce coal consumption, China plans to increase the efficiency of new coal-fired power plants. It will also expand use of natural gas and clean energy sources such as hydro, wind, geothermal and nuclear energy (specific targets include: 200 GW of installed wind capacity and 100 GW of installed solar capacity by 2020).
What are the Implications of China's INDC?
China's INDC has been praised by some political leaders for its level of ambition. Notably, the French Prime Minister Manuel Vall is hopeful that the demonstration of new Chinese leadership on the climate front could inspire India to set a clearer emissions target. The U.S. Secretary of State John Kerry also lauded China's INDC for reflecting the two countries' joint pledge to "take decisive steps to combat the global threat."
China has been historically wary of committing in international fora to emissions reductions. While the INDC document continues to use the language of common but differentiated responsibility, the articulated targets along with the U.S.-China agreement show China's increasing willingness to take on greater commitments as its economic and political power, and GHG emissions, grow.
In other words, China is maintaining a position as a developing country, while increasingly taking on responsibilities generally reserved for developed countries. This is well illustrated by China's announcement to establish a Fund for South-South Cooperation on Climate Change to provide assistance and support to the emissions reduction activities of developing countries.
The key question is whether China will be able to achieve its targets. China does have a track record of "under promising" and "over-delivering" on its environmental policy pledges. A number of analyses show that China could deliver its pledge to peak CO2 emissions by 2030 earlier than the set date. For example, analysis by the OECD suggests that China could peak its CO2 emissions by 2027, with others citing 2025.
Nevertheless, China will experience challenges (though not necessarily insurmountable ones) in meeting some of the targets in the INDC. Achieving the non-fossil target, for example, will require China to develop the equivalent of the entire U.S. power generating fleet with zero emissions in the next 15 years (roughly 900 GW of renewable and nuclear generating capacity, which is about the same as China's currently installed thermal capacity).
Achieving its emissions intensity target translates to decarbonizing the economy at a rate around four per cent per year – which is a pace that has rarely been seen in history, according to Frank Jotzo at the Australian National University. It has been estimated that China will need to invest US$6.6 trillion in clean energy and emissions reductions to achieve such targets.
However, even if China and the other countries that have submitted INDCs reach their targets, emissions will not have been reduced sufficiently to keep global warming below two degrees Celsius, according to the International Energy Agency. It is widely accepted by political leaders and climate scientists that global warming must be kept below this level to avoid irreversible changes to ecosystems that will result in catastrophic consequences for societies. Unless the Paris Conference is able to produce deeper commitments, the outcomes of the conference alone will not be enough to prevent the worst impacts of climate change.
What are the Implications for Canada?
China's INDC outlines a number of mechanisms for achieving the country's climate goals, many of which are included in pre-existing policies. The mechanisms present some interesting opportunities for Canada to contribute technology, services and resources. Some examples include:
1)    Natural gas extraction technology and LNG: China aims to expand natural gas consumption to 10% of primary energy consumption by 2020, requiring gas imports and expanded domestic gas production. Canada currently has 20 LNG export projects proposed on the west coast and has a wealth of knowledge around natural gas extraction technologies, including shale gas technologies.
2)    Green building technologies: China aims for the share of green buildings in newly built cities and towns to reach 50% by 2020.
3)    Uranium and nuclear energy technology and services: The INDC notes that China will develop nuclear power "in a safe and efficient manner." China will require substantial uranium exports to fuel its nuclear power plants and plans to build Advanced Fuel Candu Reactors, which can run on waste fuel, in order to reduce reliance on imported uranium .
4)    Climate change adaptation mechanisms, especially around water resources: China aims to "properly develop and optimize the allocation of water resources." Canada is a leader in this space, and is home to the world's top three 'climate resilient' cities (Calgary, Toronto and Vancouver), according to a Grosvenor report.
This is by no means an exhaustive list of opportunities. Furthermore, Canada will be able to learn extensively from China as it further develops new mechanisms for fighting climate change. For example, China intends to expand its emissions trading systems and will be a world leader in renewable energy technologies. Canada should continue to build collaborations with China in order to enhance each other's carbon reduction efforts.
For more analysis and infographics on energy and environment issues in China, click here.