Takeshi Niinami, President and CEO of Japan's Suntory Holdings Company Ltd., spoke about his company's global vision and his country's economic future at the Asia Pacific Foundation of Canada's third Japan Today: Architects of Change event October 19 at McMillan LLP in Toronto.
In his presentation "Globalizing Suntory & Accelerating Japan's Economy Recovery," delivered to a capacity audience of executives representing Canadian and Japanese business communities in the Greater Toronto Area, Niinami focused on two themes. In the first half of his talk he shared Suntory's global vision and touched on its transition experience. In the second half he focused on Japan's current economic situation, before closing with thoughts on the impact of the Trans-Pacific Partnership (TPP) agreement on Japan and member economies, including Canada.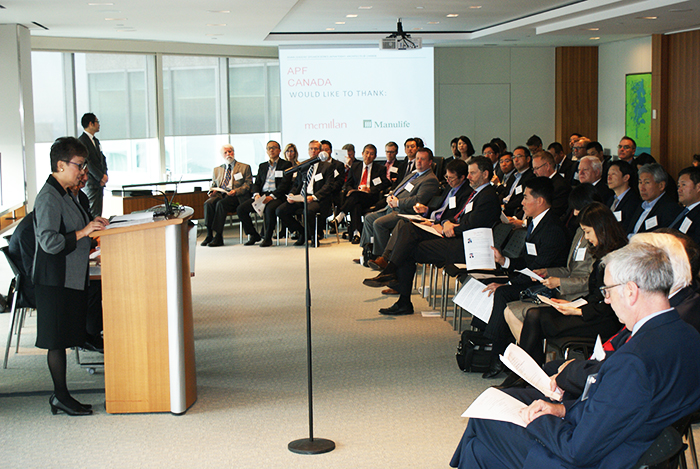 Niinami, who studied at Harvard Business School, understands the principles of Western style business management, principles he employed in his expansion strategies and internationalization of Lawson, the Japanese convenience store brand. In fall 2014 Niinami joined Suntory, Japan's largest beverage and food manufacturer, as the company's first president from outside the ranks of its founding family.
Integration of Beam and Suntory – Lost in Translation
Niinami gave an overview of Suntory's history and business lines and elaborated on the growing pains of its integration with Beam, the American bourbon maker, which was acquired in 2014 for US$16.2 billion. He was candid in his explanation that the core problem with the merger has been a communication gap caused by cultural differences in which the "clarity" of the American communication style and Japanese "ambiguity" has caused misunderstandings between Beam and Suntory staff.  He compared the Beam/Suntory integration process to the scene in the film Lost in Translation where inadequate translation renders the lead character played by Bill Murray incapable of acting in a manner that satisfies the director of the commercial he is shooting in Japan. Both become totally frustrated. Interestingly, Suntory's Hibiki whisky is the subject of the commercial in the film, the same product being launched as Suntory's first in Canada.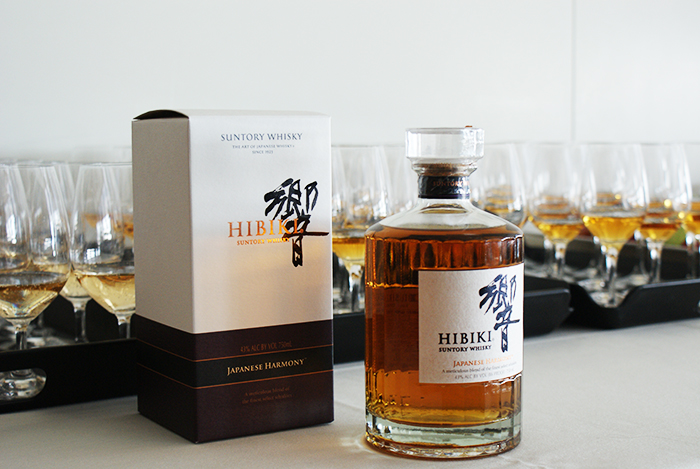 Niinami said staff exchanges between Beam and Suntory and frequent travel by senior employees to and from the U.S. are now helping to narrow the communication gap. He emphasized that Japan needs to get out of the world of ambiguity and put into practice frequent, direct and clear communication if it plans to succeed in foreign acquisitions.
About Suntory
Suntory was founded in 1899, making it one of the oldest companies distributing alcoholic beverages in Japan. Niinami explained that through western Japan's spirit of "yatteminahare [go for it or just do it]," Suntory's founder, Shinjiro Torii, made a bold move to establish the first whisky distillery in Yamazaki on the outskirts of Kyoto. The area is known for the excellent quality of its water and many of Japan's top sakes are brewed in Kyoto for the same reason.
Suntory began distilling whisky in 1923, but early efforts to produce authentic Scottish whisky met challenges as the smoky flavour did not meet Japanese tastes. Suntory however, has and continues to refine its products to suit not only the Japanese palate, but those of consumers around the world. Ninety years later, Yamazaki Sherry Cask 2013 whisky, one of three premium brands produced by Suntory, was declared the world's best whisky in 2014. Niinami confessed he had nothing to do with the product, as it takes over 15 years to produce this quality whisky, but was delighted to have been awarded the prize just shortly after he took over as president.
Niinami said that about 20 years ago sales of whisky in Japan slumped, leading Suntory to destroy many of its casks and drastically reduce production. The company's production remains limited today. But since taking Suntory's reins, Niinami has decided to reinvigorate production, requiring sizeable investment. As premium whisky takes a minimum of 15 to 20 years to produce, he acknowledged he wouldn't be around to enjoy the fruits of his decision.
Suntory has many products other than spirits including beer, wine, non-alcoholic beverages, nutritional foods and restaurants. Gross sales for 2015 are projected to reach US$30 billion, with half coming from international sales. Suntory started eyeing global markets only five years ago and has since made several foreign acquisitions totalling US$20 billion, the largest being the purchase of Beam (also the owners of the Canadian Club brand).  Niinami reported that sales of Canadian Club are doing well in Japan due to Suntory's promotion of its use in high balls, which have recently resurfaced as a popular drink in Japan.
Focusing globally is now Suntory's number one priority, and the reason is simple: Japan's aging demographic. An older population means the domestic market is shrinking; hence developing business overseas is critical to the company's survival. Suntory, which currently owns over 200 companies worldwide, is the third largest spirits company globally. By combining the strengths of Beam and Suntory, Niinami has indicated that further global expansion through acquisitions is a winning proposition and may help him realize his dream of making Suntory the biggest consumer packaged goods company in the world by 2020.
Update on Japan's Economy
Takeshi Niinami is one of only two private sector members on Prime Minister Abe's Council on Economic and Fiscal Policy. PM Abe included two business executives in order to get their direct input into charting Japan's economic future. Other Council members include the Deputy Prime Minister, Chief Cabinet Secretary, the Governor of the Bank of Japan, three key cabinet ministers associated with economic and fiscal issues, the Chair of the Japan Research Institute, and a prominent economics professor. 
Niinami noted that Japan's 20 years of deflation has fostered pessimism and has led Japanese CEOs to becoming overly conservative and risk-averse. PM Abe came into power in this context.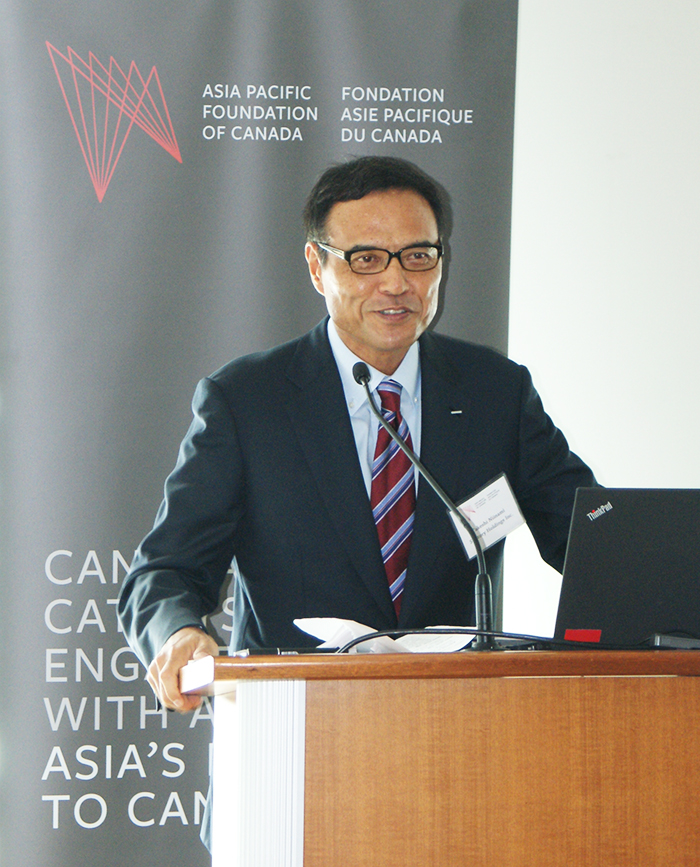 Since the launch of Abenomics, PM Abe's plan to restructure the Japanese economy, stock prices have more than doubled and the economy is at almost full employment. Wages have increased by two per cent for two years in a row, a welcome development for those who have suffered from successive wage and salary declines.
Japan's challenge is to get out of deflation. To sustain the country's economic recovery, Niinami indicated that it is necessary to build a resilient economy with strong domestic demand. To enhance domestic consumer spending, wage hikes – albeit sustainable ones – are important. These may also reduce resistance to consumption tax increases, which was seen with the recent increase from three to eight per cent. The hike to 10 per cent has been delayed to April 2017. But Niinami said these tax increases are necessary for lessening the country's debt load, which is currently twice as large as Japan's GDP.
The Council's long-term strategy is to revive Japan's domestic market, something Niinami believes can be achieved by actualizing potential demand from social issues (such as its aging society) and by growing domestic consumption and investment. With three years remaining on Abe's term, Niinami maintains that the timing is right to employ whatever it takes to revitalize the economy.
Fiscal Reform
The Council's fiscal reform concept is clear: there will be no fiscal reform without economic recovery. "How can the economy be stimulated?," asked Niinami. "If there is no strong appetite from the private sector to cover the decrease in government spending?"  Using the example of Greece to elaborate on his point, Niinami noted, "under the direction of the EU and IMF, Greece improved its primary balance from 2013 and achieved a surplus. They did a great job but as a result, [Greece's] economy got much worse!"
Niinami said that Japanese companies have been reporting high profits but that profits are being stashed in banks and used to purchase Japanese government bonds. To encourage private sector spending, Japan needs to create investment opportunities. Niinami suggested sectors such as health care, nursing and child care – sectors that respond to Japan's most pressing social issues such as aging and women's employment – present such opportunities. Through deregulation, he stressed, these industries have the potential to become high-growth areas, adding that private sector investment of capital, technology, and management expertise can increase success and productivity.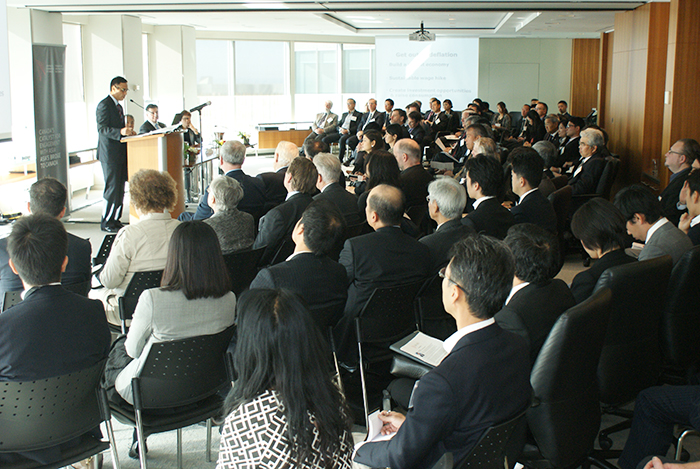 Improving child care can help Japan address its acute labour shortage. Niinami said that the level of female workers has reached levels similar to those of the U.S., with many being part-time or irregular workers. With affordable and safe child care, more women would be encouraged to enter or re-enter the workforce and to work longer hours. 
Facilitating seniors working beyond traditional retirement age can also spur the economy, something of particular importance for an aging society. In this vein, Niinami emphasized that a key is for seniors not to "just live long," but to "live a long and healthy life." Japan is targeting to increase its workforce by five million by 2020 and Niinami revealed that seniors with higher assets might be asked in the near future to pay higher taxes to share the burden of supporting their generation in old age.
Niinami noted that the government needs to eliminate barriers in Japan's taxation and welfare systems that discourage entry or re-entry into the workforce by seniors and women, especially part-time workers. Japan calculates income tax based on the household rather than the individual. One tax barrier known as the 'housewives tax allowance' punishes married women earning high salaries that take their household incomes over the threshold for exemption from income tax and contributions to social welfare systems. Efforts are being made to eliminate this tax provision. It is hoped that doing so will increase household revenues and encourage an increase in the birthrate, which currently rests at 1.3, one of the lowest in the world. Japan has boldly set a target of achieving a birthrate of 1.8 within 20 years.
Foreign Workers
Japan has been accepting foreign workers as trainees for some time but the number is nominal and needs to be increased significantly to meet Japan's labour shortage. The intake is not for immigration purposes but for "skilled workers," as Japan does not have an immigration policy.  Employers hiring foreign workers have been required to train them for the first three years and now with increasing demands of employers to increase the lengths of stay, an extension up to five years has been approved. The question is what happens after five years? Niinami alluded to recent and promising discussions to address this issue.
Trans-Pacific Partnership Agreement (TPP)
The Council strongly recommended that Japan join the TPP. Niinami suggested that in a few years the TPP will help structural reform of the agricultural sector and will facilitate free trade within a huge economic zone. He added that the agreement would enable each TPP economy to leverage its strengths, such as Japan contributing to the advancements in the automotive and machinery sectors, whereas Canada could contribute to innovations in mining and agriculture. Niinami added that the TPP would facilitate freer exchange of human capital. Such outcomes would invigorate economies involved, he said, ensuring a win-win situation for all.
Niinami expressed his hope that all member economies will be able to pass the TPP without issue, but is concerned about ratification in the US Congress. While the agreement is intended to facilitate economic growth by lowering trade barriers, Niinami added that it should be about inclusion rather than exclusion, and that in time should China be willing to meet TPP requirements, such as those pertaining to intellectual property rights, China should be welcomed into the partnership.
Concluding Remarks 
In closing, Niinami shared three important takeaways from Japan's past experiences.
If there are any signs that your economy is entering deflation, take action immediately. 
Reverse population decline, which would include innovations to delay aging.
Emerging social challenges provide opportunities for innovation; grasp such opportunities to create new demand.
(From left) Yasunori Nakayama, Consul General of Japan in Toronto; Kasi Rao, Vice President of APF Canada's Toronto Office; The Honourable Charles Sousa, Ontario Minister of Finance; Takeshi Niinami; Don Waters, Partner and Co-Chair, Japan Practice Group, McMillan LLP; Yuki Niinami; Christine Nakamura, Director of Public Relations, Marketing and Policy Coordination, APF Canada.