APF Canada Disclaimer: Given the controversial nature of this topic, APF Canada has attempted to provide a transparent, fact-based backgrounder that, while referencing the main studies published to date on the issue of foreign-ownership in Vancouver real estate, does not delve into a rigorous academic critique of these studies. The Foundation welcomes readers drawing our attention to any additional data or original research on this topic.

Vancouver has an established and growing housing affordability problem
Over the past 15 years, housing prices in Metro Vancouver have risen dramatically. According to Vancity, based on the average income of Vancouverites, the average property now requires more than 48 per cent of household monthly income. (1) This figure greatly exceeds the recommended 32 per cent of household monthly income that the Canadian Mortgage and Housing Corporation deems affordable. (2)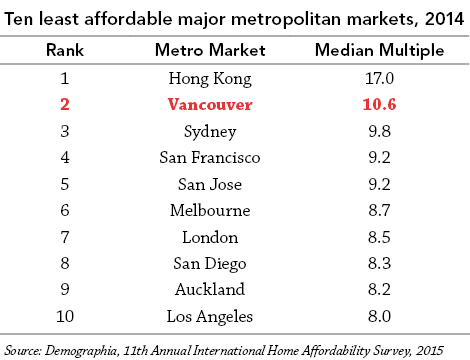 According to the Demographia 2015 International Home Affordability Survey, Vancouver ranks second only to Hong Kong in the number of times a median household would have to multiply its income to purchase a house. Termed the "median multiplier," Demographia classified a median multiplier of 5.1 as "severely unaffordable." Vancouver has a median multiplier of 10.6. (3)
Foreign buyers blamed for Vancouver's rising housing prices
A great deal of blame for Vancouver's unaffordability woes has been directed at foreign buyers for taking up Vancouver's limited housing stock and driving up prices.
Angus Reid, in its June 2015 survey, Lotusland Blues, asked survey participants which factors they thought were the main causes of high housing prices in Vancouver — two-thirds (64%) chose foreigners investing in Vancouver's real estate market as a main cause. This answer was 20 percentage points more popular than any other answer choice. In this same survey 72 per cent of respondents agreed with the statement that there was too much foreign ownership of real estate in Vancouver. (4)
The issue of foreign ownership of residential properties in Metro Vancouver has only continued to gain popularity over the past year. Among civil society and on social media, two popular slogans and hashtags have emerged: #DontHave1Million and #GiveUsData. Both slogans have struck a chord with frustrated Vancouver residents. The issue has created a division in Vancouver between those in favour of the inflow of foreign capital into the real estate market and those against it. Vancouver Mayor Gregor Robertson, in an open letter to B.C. Premier Christy Clark, has sided with those who want to reign in wealthy foreign buyers and thereby reduce stress on Vancouver's current and future housing stock. (5) Premier Clark, on the other hand, has sided with homeowners, stating that any action to control housing prices would negatively impact their existing home equity. (6)
The view that foreign ownership is driving up the cost of real estate has become accepted fact among some prominent financial institutions such as the Bank of Canada, which in its July 2015 Monetary Policy Report stated that the strength of housing market activity in British Columbia, "[A]ppears to reflect local demand stimulated by historically low interest rates, as well as demand from foreign investors and recent immigrants."
Current estimates on the level of foreign ownership of residential real estate in Vancouver
Estimates on the share of foreign ownership in Vancouver's housing market vary significantly and suffer from both problems of definition (such as defining "foreign" and "luxury") and measurement (such as the proxy measures used for vacancy and nationality).
One popular estimate comes from the British Columbia Real Estate Association (BCREA). According to the BCREA, current available data would suggest that foreign ownership accounts for considerably less than five per cent of the housing stock in Metro Vancouver, and no more than five per cent of current sales. In its report, Market Implications of Foreign Buyers, released in June of this year, BCREA finds that the main drivers impacting housing affordability are the decline in the stock of single detached homes, and densification policies favouring apartments and townhouses. (7)
Another recent estimate was released in November of this year by Andy Yan of Bing Thom Architects, which conducted a case study of single-family home sales in the neighbourhoods of West Point Grey, Dunbar and the University Endowment Lands.  This study found that 66 per cent of all home sales between August 2014 and February 2015 went to individuals with non-Anglicized Chinese names.
During the height of pre-election campaign season this summer, former Canadian Prime Minister Stephen Harper pledged to allocate, if elected, $500,000 in 2016 to determine the impact of foreign home ownership on Canada's housing affordability. Vancouver-area NDP MPs also campaigned on the promise of more housing data collection. Promises to solve this foreign ownership data vacuum are welcomed by industry and policy stakeholders and if championed by the new Liberal government, will provide an essential step in the creation of appropriate policy responses.
How Australia, Switzerland and the United States measure and regulate the level of foreign ownership in residential real estate
Australia: Australia, like Canada, is experiencing an affordability crisis and part of the blame is being placed on foreign buyers. Unlike Canada, however, Australia has long regulated foreign purchases and has kept records of permitted purchases. Since 1987, with some intermittent slackening, Australia has maintained a national policy that seeks to limit foreign ownership of existing residential real estate stock and instead channels foreign real estate investment dollars towards creating new housing supply.
In 2014, Australia's largest foreign source of residential real estate investment was China, with a count of 23,428 accepted residential real estate proposals (2013-14) and a combined value of AUD$74B. (8) Homes purchased by buyers from China were typically new builds purchased by first-time buyers in the slightly above average end of the market. (9) While the number of approved requests for residential properties from China has increased in recent years, the Parliament of Australia's Report on Foreign Investment in Residential Real Estate (2014) found that Chinese purchases only absorbed two per cent of new housing stock, contrary to public perceptions. (10) Nonetheless, the report also mentions that Australia's current system of data collection suffers from weaknesses that may result in an underestimation of foreign ownership. Among various recommendations from the report, the committee proposed the creation "of a national land title register to record the citizenship and residency status of real estate buyers." (11) The government hopes that this new system will provide "reassurance" to Australians wary about the level and impact of foreign investors. (12) According to research from National Australia Bank, whose numbers contradict the government's, of new housing stock in Victoria (the state containing Melbourne), 18.1 per cent went to foreign buyers and in New South Wales (the state containing Sydney) the share was 13.1 per cent. (13)
To ease concerns over housing unaffordability, the Australian government has altered the rules and regulations surrounding foreign buyers. A major part of the federal government's overhaul has been to focus on strict punishments for investors and realtors who have broken rules in acquiring property. Violators will be fined "[AUD]$127,500 or three years imprisonment for individuals and up to [AUD]$637,500 for companies." Third parties that have assisted illegitimate purchases will be fined "[AUD]$42,500 for individuals and [AUD]$212,500 for companies." Violators will also be forced to divest from illegitimately obtained properties without keeping any capital gains. Finally, the government will defer the application costs to applicants with [AUD]$5,000-plus in application fees. (14) The Foreign Investment Review Board will give violators until November 20, 2015, to self-report in return for "decreased penalties." (15)
Switzerland: Switzerland has some of the most comprehensive rules on non-resident foreign ownership in Europe: it uses a scheme of annual quotas by subregion assigned at the federal level and limiting each foreign owner to holding one property. In addition to an overall cap on the number of homes that can be bought, each subregion must authorize each transaction and may set its own additional restrictions. For example, some subregions have minimum ownership duration requirements (typically between five and ten years). This patchwork approach to regulating the nature of foreign owned residential real estate allows subregions in Switzerland to create policies that respond to the particular pressures they face, whether it be foreign investors holding land but not building, or foreign investors purchasing large lots that when developed significantly impact the traditional esthetic of the area.
USA (California and Florida): Foreign homebuyers represented four per cent of existing home sales across the U.S. in 2014. Foreign buyers in the U.S. typically spend more on housing than Americans, with an average foreign price of US$500,000, whereas the American average price is US$256,000. (16) Rules on foreign buyers are determined by each state.
Two of the most popular states for foreign investors are California and Florida. Under the California Constitution, "noncitizens have the same property rights as citizens." (17) Meaning that taxes are levied and regulations are applied equally to institutional and individual residential investors from the U.S. and abroad. Florida maintains the right to prohibit property ownership by "aliens ineligible for citizenship," (18) however, it does not currently regulate purchases by foreign buyers. Federally, foreign homeowners in California and Florida are subject to the "Foreign Investment in Real Property Tax Act of 1980 (FIRPTA)." (19)
Out of all foreign homebuyers in the U.S., 24 per cent of total sales value came from China (largest group), followed by 14 per cent from Canada. Chinese represent the largest and fastest growing group of foreign buyers, purchasing properties with a median price of US$523,148 and mostly comprising detached single-family homes (70%). Chinese buyers have a preference for urban and suburban (83% of purchases) California property. Thirty-five per cent of all Chinese buyers purchase U.S. property in California. (20)
Several municipalities in California are some of the least affordable jurisdictions in the U.S. The US Department of Housing and Urban Development defines a property as unaffordable if more than 30 per cent of a household's income is required to afford housing-related costs. (21) Six of the ten of the least affordable cities in the U.S. are in California, with San Francisco the least affordable city with only 14 per cent of homes available in 2014 affordable to middle-class consumers. (22)
Media reports have credited wealthy Chinese buyers with rapidly rising home prices. (23) However, while San Francisco is the least affordable city, it is not the most popular destination for wealthy Chinese investors. According to the Los Angeles Times, Southern California is the most popular location for Chinese buyers. (24)
The groundwork needed before policies are implemented in Canada
The issue of foreign-ownership in Vancouver's residential real estate is becoming increasingly divisive and an inclusive, fact-based discussion of the issue is long overdue.

However, this discussion cannot properly take place until methodologically rigorous studies of the Metro Vancouver area are undertaken with the cooperation of the government.  Once this crucial step has been achieved and the level and impact of foreign ownership has been ascertained then a debate on if and how to regulate the level of foreign ownership can take place. Such a debate would be further enriched by a comprehensive study of how countries such as Australia, with its recent policies and public/media perceptions, has fared after instituting new regulations to curb foreign investment. Canada can learn from the experiences of places like Sydney, Zurich and San Francisco in assessing which policies best address the concerns of residents and which policies may do more harm than good to the local real estate market.
----
ENDNOTES:
(1) https://www.vancity.com/SharedContent/documents/News/Downsizing_Canadian_Dream_March2015.pdf
(2) http://cmhc.beyond2020.com/HiCODefinitions_EN.html#_Affordable_dwellings_1
(3) http://www.demographia.com/dhi.pdf
(4) http://angusreid.org/wp-content/uploads/2015/06/2015.06.18_Housing_ARI.pdf
(5)http://www.scribd.com/doc/267600567/Gregor-Robertson-s-letter
(6) http://www.scribd.com/doc/267792085/Premier-Christy-Clark-s-reply-to-Vancouver-Mayor-Gregor-Robertson
(7) http://www.bcrea.bc.ca/docs/economics-publications-archive/2015-06-foreign-buyers-research-report.pdf?sfvrsn=2
(8) http://www.firb.gov.au/content/Publications/AnnualReports/2013-2014/_downloads/FIRB-AR-2013-14.pdf
(9) http://www.aph.gov.au/Parliamentary_Business/Committees/House/Economics/Foreign_investment_in_real_estate/Tabled_Reports
(10) http://www.aph.gov.au/Parliamentary_Business/Committees/House/Economics/Foreign_investment_in_real_estate/Tabled_Reports
(11) http://www.abc.net.au/news/2014-11-27/foreign-buyer-rule-enforcement-needs-to-be-strengthened/5921518
(12) http://www.abc.net.au/news/2015-02-25/foreign-real-estate-buyers-to-pay-fees-up-to-10000-dollars/6260748
(13) http://www.abc.net.au/news/2015-07-21/foreign-buyers-increase-share-of-existing-home-purchases/6637760
(14) http://www.pm.gov.au/media/2015-05-02/government-strengthens-foreign-investment-framework
(15) http://www.firb.gov.au/content/default.asp
(16) http://www.realtor.org/infographics/2015-profile-of-international-home-buying-activity
(17) http://www.leginfo.ca.gov/.const/.article_1
(18) http://www.leg.state.fl.us/Statutes/index.cfm?Mode=Constitution&Submenu=3&Tab=statutes&CFID=27968523&CFTOKEN=d1a1f151198eb32c-FCFA5AA4-CE92-88E7-D3A7741659959247
(19) http://www.irs.gov/Individuals/International-Taxpayers/FIRPTA-Withholding
(20) http://www.realtor.org/sites/default/files/2014%20Profile%20of%20International%20Home%20Buying%20Activity.pdf
(21) http://portal.hud.gov/hudportal/HUD?src=/program_offices/comm_planning/affordablehousing
(22) http://www.forbes.com/sites/trulia/2014/05/14/top-10-least-and-most-expensive-housing-markets-for-todays-middle-class/
(23) http://www.bloomberg.com/news/articles/2014-07-08/chinese-cash-bearing-buyers-drive-u-s-foreign-sales-jump
(24) http://www.latimes.com/business/realestate/la-fi-mo-foreign-homebuying-surges-20140708-story.html