Statistics Canada has released its trade statistics for 2014. Here is a snapshot of where Canada's merchandise exports went in 2014.
The United States remains the primary destination for Canadian merchandise. However, partly due to the global financial crisis, the absolute value of American exports has remained relatively unchanged. From 2007 to 2014 Canada's exports to the U.S. grew by 9.7%. In contrast, Canadian exports to Asia grew by 59.9% during that same period, from C$32 billion in 2007 to C$51.2 billion in 2014.
Exports to the U.S. slowed significantly between 2007 and 2013, but they picked up in 2014. The U.S. absorbed 76.5% of Canada's exports in 2014, while 10.4% went to Asia, 8.5% to Europe and 4.6% to Latin America, Africa and the Middle East.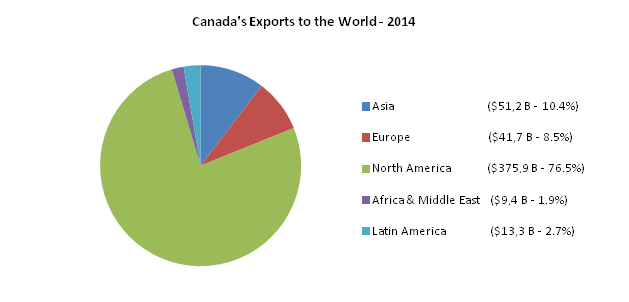 Exports from Canadian Provinces
Canada's exports to Asia did not grow as fast in the last few years as they did earlier in the 2000's. And if we look at the provincial level, we notice that some provinces have been successful in increasing their exports to Asian markets while others have seen their exports to the Asian region stagnate. Western Canada still leads the country in terms of exports to Asia, but it is in Central Canada and Atlantic Canada that we see the most growth in terms of exports to the Asian region.  
British Columbia's exports to Asia, for example, have only grown by 2.2% since 2011, from $14.3 billion in 2011 to $ 14.6 billion in 2014. In comparison, Quebec and Ontario's exports to Asia grew during that period by 25.7% and 26.2%, respectively. In Atlantic Canada, Nova Scotia and Prince Edward Island experienced strong growth in their exports to Asia, growing by 80.4% and 89.7%, respectively.
These numbers are also reflected in the provinces' share of Canada's exports to Asia. B.C. accounted for close to 40% of Canada's exports to Asia in 2000, but this number fell to 28.5% in 2014. Ontario and Quebec, on the other hand, saw their share increase during the same period from 15.3% to 20.3% and from 9.9% to 13.9%, respectively.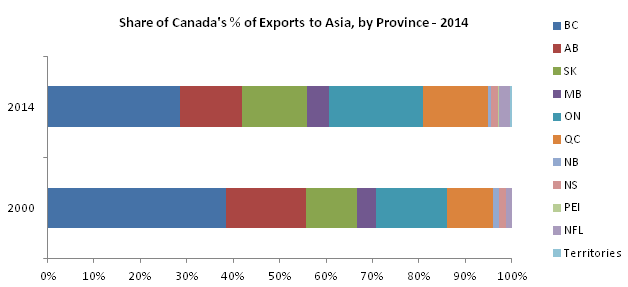 Products Canada Exports to Asia
In terms of what Canada exports to Asia, agricultural and agri-food products top the list. The value of these exports grew to $14.2 billion in 2014 and accounted for 27.9% of Canadian exports to the region. Exports of metals and minerals and of wood, pulp and paper followed at $11.5 billion and $8.6 billion, accounting for 22.8% and 16.7% of Canada's exports to the Asian region.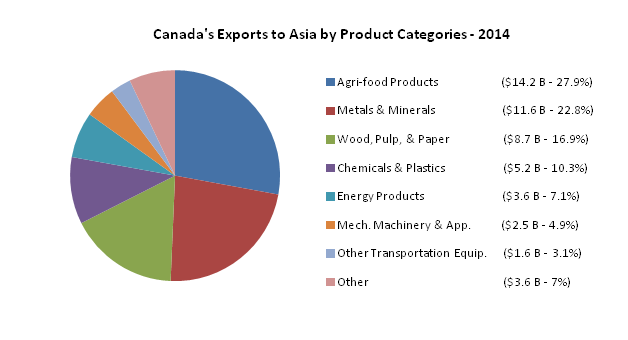 To explore Asia's impact on each of Canada's provinces and territories, visit our microsite TheAsiaFactor.ca where you'll find interactive data, including the latest export and import statistics, broken down by province from 2000 to 2014.