When it comes to investment from Asia, younger and older Canadians agree on almost everything. Except for China.
The Asia Pacific Foundation of Canada's 2015 National Opinion Poll offers a window into Canadians' prevailing attitudes on foreign investment from Asia. Canadians favour investment from major partners such as Japan, India, and South Korea. However, when it comes to China, opinions are more mixed, with approximately half of all Canadians opposing foreign investment (49%), and just over two-thirds expressing their support (42%).
A closer examination of the demographic breakdown of the survey data reveals a modest divergence in investment perceptions across age. Older Canadians are more likely to oppose investment from China. For Canadians over the age of forty-five, just over half (53%) oppose investment by companies from China, with 39% indicating their support.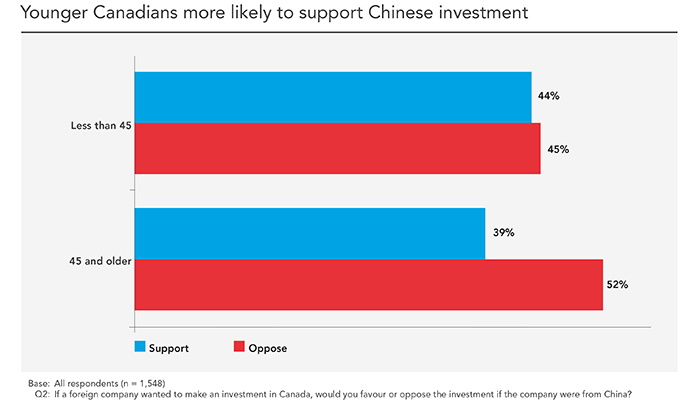 This is in contrast to younger Canadians under the age of forty-five who are more evenly divided in their views. Approximately 45% percent favour investment from China and an equal percentage oppose. This difference of opinion across the age groups exists solely for China, and therefore deserves further attention.

While it is difficult to pinpoint why these generational differences exist, we see some clues by looking closely at how the two groups perceive investment from China. Older Canadians are more concerned with issues of national security and are more likely to associate investment from China with the term "security risk." They are also more likely to associate Chinese investment with the term "loss of control over our resources."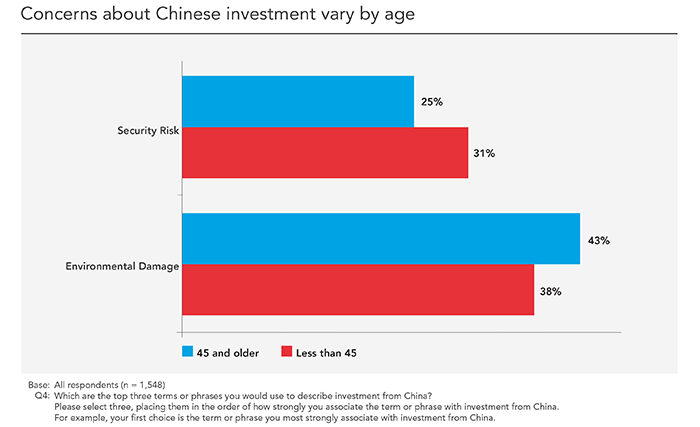 Younger Canadians, on the other hand, are comparatively more worried about environmental issues and labour market competition. Compared to older Canadians, they are more likely to associate investment from China with terms like "environmental damage" and "temporary foreign workers", and they are less likely to associate Chinese investment with the term "job creation." Still, younger Canadians have some positive perceptions of Chinese investment, and are also more likely to associate it with the terms "economic growth," "improved competitiveness," and "new technologies."
What does this tell us? First, we see generational change in the way Canadians perceive China. Younger Canadians who grew up with the reality of a growing China are comparatively more comfortable with economic engagement than their older counterparts. In part, this could likely reflect the fact that they do not have memory of China as a cold-war rival.
Second, generational change does not mean Canadians will automatically evolve in a strongly pro-China direction. Younger Canadians have their own set of concerns about China, particularly around the environment. They are not nearly as favourable toward China as they are to other Asian partners like Japan and India.
Canadian views toward China will continue to change, slowly. But how much change happens, and the direction it takes, will be affected by Chinese and Canadian stakeholders in addressing the concerns of the Canadian public.