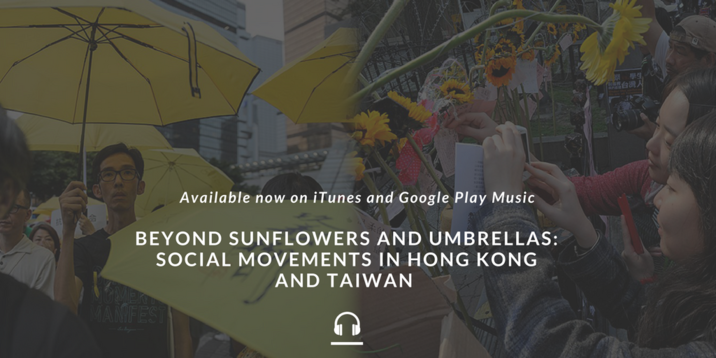 Source: Anthony Wallace/AFP/Getty Images, Mandy Cheng/AFP/Getty Images
Welcome to the Asia Pacific Foundation of Canada's new podcast series about youth cultures in East Asia. Over the next several weeks, join co-hosts Justin Kwan and Linda Qian as they travel across five cities in East Asia: Shanghai, Taipei, Hong Kong, Tokyo and Seoul, to listen to the voices of millennials and learn more about contemporary East Asia through their views and the stories of their own lives.
The Youth Element is now available on iTunes and Google Play Music!
The Youth Element Ep 4: Beyond Sunflowers and Umbrellas: Social Movements in Hong Kong and Taiwan
In 2014, two large social movements emerged in East Asia – the Sunflower Movement in Taiwan and the Umbrella Movement in Hong Kong. Both movements were sparked and sustained by youth and their frustration with the social, economic and political status quo in each society. In this second part of our three-part series on political engagement, we continue our investigation into recent events in the region and explore how East Asia's youth have overcome their 'allergy' to political participation.
In episode four of The Youth Element we examine why political activism among youth in Taiwan and Hong Kong is growing, and how young people are making their voices heard through these new channels of political engagement. First, we discuss how young activists in both places have moved off the streets and into the formal political process. We also dig deeper into how some of the leading activists became engaged in mainstream politics through the creation of new political parties and by participating in local elections. Then, we discuss the gap in political attitudes between youth and their parents, as well as the crossover between pop culture and activism.
ADDITIONAL READING:
General
Taiwan
Hong Kong
The views expressed here are those of the author, and do not necessarily represent the views of the Asia Pacific Foundation of Canada