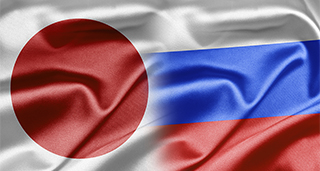 This past February, Japan's Prime Minister Shinzo Abe was the only G7 Leader (aside from Italy's then-Prime Minister Enrico Letta) to attend the opening ceremonies of the Winter Olympics in Sochi, Russia. The visit marked Abe's second trip to Russia and his fifth meeting with Russian President Vladimir Putin since the former took office at the end of 2012. Up until this spring's crisis in Ukraine, ties between Tokyo and Moscow had been making progress as Abe looked to patch up Japan's long troubled relationship with Russia, which had been characterized by their territorial dispute over the Russian-administered Southern Kurile Islands (known as the Northern Territories to Japan).
The Kurile Islands are a chain of more than fiftyislands that stretch north from Hokkaido inJapan to the southern tip of the Kamchatka Peninsula in Russia.[1] Russia has been unyielding to Japan's protests that the islands be returned by pointing to the Yalta Agreement (1945) and Potsdam Declaration (1945) as proof of its sovereignty. Russia also emphasizes that the 1951 San Francisco Treaty serves as legal evidence that Japan acknowledged Russian sovereignty over the islands, a claim that Tokyo vehemently denies. In fact, because of this dispute, Japan and Russia have yet to officially sign a peace treaty concluding World War II. While both sides have tried to reach an accommodation to end the row, domestic political opposition has made it difficult to find a compromise. While signing a treaty would be more ceremonial than substantial, the failure to do so thus far has been a sign of a sustained deficit of trust that has stymied any meaningful strategic engagement, at least until recently.
Territorial Spat Continues to Prevent Strategic Partnership
Abe has prioritized a return of the islands and has expended a great deal of his diplomatic capital towards resolving the row with Russia. Yet, while resolving the island row is the desired end, Abe's reorientation towards a policy of robust engagement with Moscow is also rooted in Japan's acute energy needs and strategic uncertainty with a rising China. Shortly after taking office in at the end of 2012, Abe dispatched former Prime Minister and Putin confidant, Yoshiro Mori, to Russia to discuss the dispute. Before his trip, Mori revealed on national television a potential compromise that he felt would be acceptable to both sides: he suggested that Russia return three of four islands (Kunashiri, Shikotan and Habomai), but intentionally stopped short of including the largest island, Etorofu, as a concession and a gesture of comprise.
While the Abe administration did not officially endorse the Mori proposal, and instead reiterated its longstanding policy that all four islands should be returned to Japan, this official position is mostly a symbolic one that is meant to increase leverage in its negotiations with Russia. Indeed, on several occasions over the past year, Japan has informally floated its ability for a compromise and would likely be willing to accept a compromise that might defer sovereignty on any islands that are not returned. Since Mori's visit in early 2013, Abe and Putin have agreed on both the necessity to resolve the Kurile dispute and to make progress on a peace treaty to formally mark the end of their hostilities during World War II. Moreover, since last August both foreign ministries have been engaged on these issues and have begun negotiations to end this bilateral dispute.
The Crimean Black Swan
Russia's revisionist actions in Ukraine have hamstrung Japan's diplomatic strategy of robust engagement. The fluid events in Ukraine this spring completely blindsided the Japanese government which was caught in a policy crisis. While the Abe government was aware of Putin's tensions with the West, it was not prepared to deal with Russia's annexation of Crimea and the diplomatic consequences that followed. In the first few weeks after Crimea's occupation, the Abe government publicly demurred on imposing unilateral sanctions and seemingly was content to hide behind the G7 stance. Abe also declined to sever high-level visits and exchanges with Moscow. An example of this was Tokyo's decision to follow through with its earlier plans to dispatch newly-minted national security advisor Shotaro Yachi to Moscow shortly after the Crimean crisis began in mid-March.
As tensions build between the West and Russia over Moscow's annexation of Crimea and interference in eastern Ukraine, Japan is nervously watching the situation with hopes that the crisis can be resolved diplomatically. The obstacles to a closer relationship with Russia have become even more pronounced after Moscow's intransigence and probable involvement – even if indirectly - in the shooting down of a Malaysian Airlines passenger jet over eastern Ukraine earlier this month. Despite these tensions, the Abe government has looked to improve energy ties with Russia as it struggles to find cheap energy alternatives while Japan's nuclear power plants remain idle. The two sides also just agreed on an enhanced energy dialogue this past February during Abe's meeting with Putin on the margins of the Sochi Olympics. Japan's energy security needs remain a big factor in prompting Tokyo's engagement with Moscow. Tokyo remains pressed for energy imports and is actively looking to diversify its partners amidst growing instability in the Middle East and uncertainty over the future of its nuclear energy program after the Fukushima nuclear accident in March 2011.
But despite these key incentives to engage with Moscow, Japan has adjusted its diplomatic approach to Russia. The reason is that Tokyo cannot criticize China's divide-and-conquer tactics in the East China Sea while simultaneously ignoring Russia's strong-arm methods in Ukraine. The Abe government therefore supported a G7 statement condemning Russian actions and has increasingly tightened the screws on Moscow through the imposition of travel sanctions on certain Russian officials. Moreover, during US President Barack Obama's visit to Japan in late April, Japan agreed to strong language on Russia in its joint statement with the US: "In concert with our G-7 partners, the United States and Japan have condemned Russia over its illegal attempt to annex Crimea and are consulting closely on further measures against Russia over its deplorable conduct, while strongly urging Russia to deescalate tensions in Ukraine. Together, we are taking concrete steps to support Ukraine's sovereignty, territorial integrity, and economic stability." And as Russian actions in Ukraine deepen in magnitude, Japan's flexibility to divert from US policy on Russia will continue to be increasingly constrained.
Looking Beyond the Ukraine Rift: Common Strategic Interests
While Russia's standoff with the West certainly complicates matters, it would be premature to dismiss Abe's desire to improve ties with Moscow. First, it is important to contextualize any policy shift within the dynamic regional environment. While the US continues to insist that it will continue a credible "rebalance" to Asia, Russia has also targeted its long neglected opportunity to become a power in the Far East. Moscow has always maintained its historical legacy as a Pacific power, but realistically this has largely been ignored for decades. Japan meanwhile has been challenged vigorously over the past few years by China over the Senkaku Islands in the East China Sea. This, coupled with China's growing military modernization and voracious energy appetite, has created an environment with new challenges that Japan and Russia must confront. While the magnitude of the obstacles Japan and Russia face with China are clearly different, both remain happy to maintain a hedge on China's growing power in the region.
One of the areas of cooperation – which continues to interest both sides – is energy security. Both countries are working to build on promise of the 2003 Japan-Russia Action Plan, signed by Putin and former Japanese Prime Minister Junichiro Koizumi, which calls for joint energy development on the Russian island of Sakhalin and areas of Siberia. There has been no breakthrough deal on natural gas or energy cooperation during the past year's Abe-Putin summits, but there remains a strong indication from both sides that they are working towards this end. Abe expressed this sentiment last February, noting that "[Russia and Japan's] potential for cooperation has not been opened wide enough." As an example of increasing collaboration can be seen in the plan put forward by a consortium of four Japanese gas companies to construct a 1400 km pipeline that would import liquefied natural gas (LNG) from Sakhalin. Japan and Russia also have annual energy consultations at the working-level.
And, despite strained ties over Ukraine, both sides remain engaged on resolving their territorial dispute under the watch of Abe and Putin. On the security front, Abe has previously pledged Japan's support for Russia's counterterrorism concerns while seeking Moscow's understanding about Japan's defence and security reforms, such as Tokyo's reinterpretation of its constitutional right to collective self-defence. Thus far, Russia has remained silent on Japan's defence reforms, though, in deference to China. One of the main deliverables from the Abe-Putin summit was the commitment to commence regular "2+2" dialogues between respective ministers of defence and foreign affairs. The first such meeting took place last November in Tokyo. The 2+2 marks a significant improvement in bilateral ties. During the last meeting, both sides agreed to increase cooperation in a number of strategic areas as an initial step in elevating the partnership.
Indeed, Tokyo pushed to expand its ties with Russia to transcend energy trade and encompass more alignment on international security issues. During the 2+2 dialogue last fall, Japan's Foreign Minister Fumio Kishida stressed that, "To boost cooperation in the field of security and not just in the field of economic and people exchanges, means that we are improving overall Japan-Russia ties. This would also have a positive impact on the negotiations to sign a peace treaty." Specifically, both sides agreed to launch an inaugural set of bilateral cyber-security talks earlier this year. This announcement followed up months of speculation that Tokyo and Moscow would engage in high-level cyber talks. The first set of talks is slated to discuss critical infrastructure protection.
The ministers also committed to carry out joint drills between Japan's Maritime Self Defense Force and the Russian navy. The exercises would focus on anti-piracy and counter-terrorism. The sides agreed to step up cooperation on a range of other issues such as drug trafficking and North Korea's nuclear weapons program. Moscow, however, was cautious to couch its bolstered engagement with Tokyo so as not to inflame ties with China. Kishida and Russian Foreign Minister Sergei Lavrov both noted that the meeting was not "directed at any one country." Kazuhiko Togo, director of the Institute of World Affairs at Kyoto Sangyo University, agreed with this approach stating "Japan needs to be careful not to do anything provocative against the Russian position on China. A naïve 'China card' statement is not only foolish, but also dangerous in undermining the basis of improved relations between Japan and Russia," he said.
Salvaging Diplomatic Ties
The next 2+2 meeting was originally slated to be held later this year in Moscow, but will almost surely be cancelled unless there is a Russian pullback in Ukraine. Indeed, Japan's foreign minister Fumio Kishida has recently indicated he will likely delay his trip to Russia until at least September. The biggest challenge for Abe and Putin in the coming months will be for both sides to retain at least some of the momentum built up over the past year before the Crimean crisis. Aside from visa sanctions, the Abe government has also taken other steps to distance itself from Putin through the suspension of talks towards a new bilateral investment agreement, an agreement on space and a pact concerning the prevention of dangerous military activities in the region.
But Tokyo continues to quietly hedge its bets, demonstrated by its refusal thus far to implement harsher financials sanctions on Russia. And, despite its postponement of investment treaty talks, the Abe administration did not cancel a significant Japan-Russia Investment Forum this past March, shortly after Crimea's annexation by Moscow. Moreover, Abe remarked at a G-7 Summit this past June that he still intends to keep high-level dialogue with Putin despite the Ukraine crisis. Less publicly, both sides continue to plan on Putin's trip to Japan later this fall. However, while both sides offered glowing assessments of their emerging partnership, the Ukraine crisis and the resolution of the island row remains a critical sticking point.
Implications For Canada
The trajectory of Japan's ties with Russia also has implications for Canada. From an international security perspective, Canada maintains a hard line on Moscow's actions in Ukraine and would be concerned if Tokyo decided to drift from a united G7 position against Russian intransigence. Of greater significance however is the potential of a growing Japan-Russia energy relationship. Both Canada and Japan have expressed an interest in a stronger energy relationship, and Tokyo has repeatedly voiced its interest in Canada's liquefied natural gas (LNG) resources. As Toshiaki Koizumi, general manager for the fuel department at Tokyo Electric Power Co., recently noted: "We are quite looking forward to having long-term relations with Canadian people and Canadian LNG." But while Japan is a potentially lucrative energy partner, Russia remains a competitor. Ottawa should be concerned that Japanese investment in the Western oil sands could be diverted to the Russian Far East if it achieves a larger rapprochement with Russia.
J. Berkshire Miller is a fellow on Japan and the Chair of the Japan-Korea Working Group at the Pacific Forum CSIS


[1] While the islands have been under Russian control since Japan's defeat in WWII, diplomatic and legalattempts to decipher which country is entitled to the sovereignty of four of the southernmost islands —Etorofu, Kunashiri, Habomai and Shikotan — aremuddied by a series of historical treaties datingback to 1855. Tokyo claims that the sovereigntyof the Southern Kuriles has never been debatableand that the four disputed islands have been partof Japan since the early 19th century. The Shimoda Treaty of 1855 and the Portsmouth Treaty of 1905 at the conclusion of the Russo-Japanese war confirm this, according to Japan.