Myanmar is at a political crossroads of great national consequence as it prepares for a crucial election on November 8, 2015. Much is at stake. The country has only recently returned to a quasi-democratic form of government after nearly a half century of direct military rule. The military presence (Tatmadaw) is still a major political force represented by its presence in the parliament (Hluttaw) and regional legislatures, where its unelected members have one-quarter of all seats and, through a constitution contrived in their favour, the ability to thwart the emergence of new, fairer constitutions. 
However, since the unexpected release in 2010 of opposition leader Aung San Suu Kyi from years of house confinement, and her election to parliament in 2012 as leader of the National League for Democracy (NLD), the political status quo in Myanmar has completely changed. The NLD has a solid chance to win a majority of contested parliamentary seats. This will not translate into Aung San Suu Kyi's accession to the presidency, but it will ensure that Myanmar has access to much more democratic and transparent government than has heretofore been the case.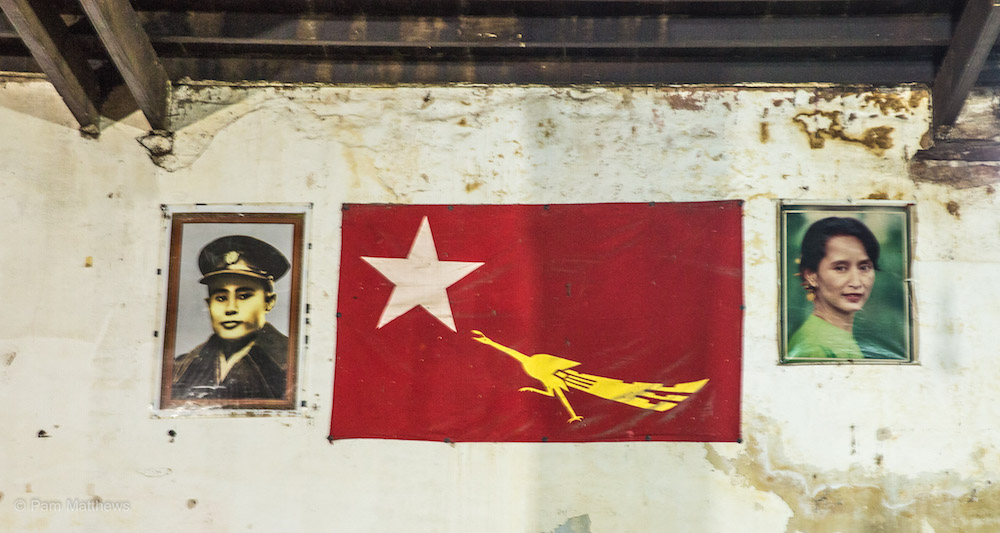 The election has international implications for Myanmar as well. The country was showcased in 2012 by President Obama, and by Canada, as a success story in emerging democracy, allowing for crucial lifting of most economic sanctions and ending decades of diplomatic isolation. As Myanmar takes an increasingly important place in regional commercial initiatives and leadership, the integrity of the November election will be watched carefully by its neighbours. At this point, signs are generally positive for a stable lead-up to the election, though it could be marred by malicious Buddhist nationalism stirred up by pro-military government activity.  
It will take decades for the military to retire from its long-promoted image as the singular embodiment of the nation's ruling forceThis article first aims to set the scene by providing a glimpse of Myanmar's parliament and capital in Naypyitaw. Second, it focuses on the key players and institutions involved in the elections. Third, it clarifies the complicated mechanics of the Parliament, how it will determine which political party will hold the confidence of the electorate, and how that body elects the President. Fourth, it reflects on key social and microeconomic issues which will impact the electorate, in particular the dark side of Buddhist nationalism, and the role of Aung San Suu Kyi as a national leader in whatever office she finally achieves. Fifth, I provide a brief reflection on what implications the elections might have for Canada. I conclude by arguing that democratic advances will be made in the election, but that the real moment of truth will unfold in the days ahead as key public and armed forces personalities work out a balance of power. Myanmar has made huge progress in liberalizing its political environment, but it will take decades for the military to retire from its long-promoted image as the singular embodiment of the nation's ruling force.
The Road to Naypyidaw
There is something cheerless about the long drive from Yangon to the capital at Naypyitaw. The decade-old four-lane highway passes through the once heavily forested Bago Yoma, now laid bald by deforestation. Ironically, no trucks are permitted on this near-empty grand trunk. They are confined in their hundreds to the old road which meanders up to Mandalay through many picturesque towns and villages. The capital, like the highway, was built in relative secrecy over a period of years until the auspicious calendar date was determined, and the official move implemented in November 2005. Immediate obligatory relocation commenced. It is thus not uncommon to hear Naypyitaw still referred to as the 'city of tears' because it forces thousands of state employees to migrate each week from Yangon, where most have families and homes.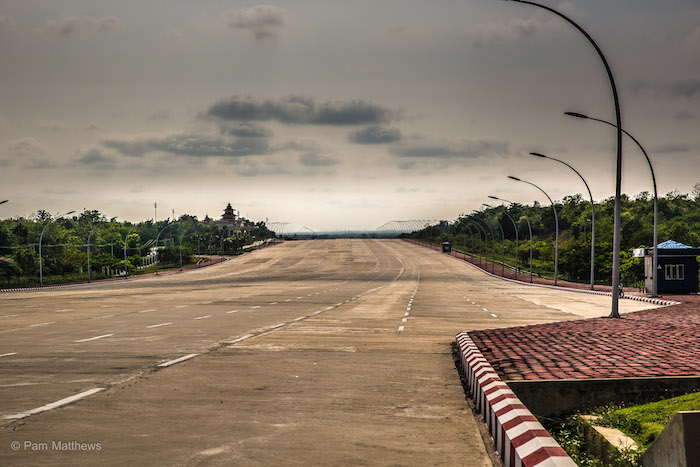 Road to Naypyidaw | Courtesy Pam Matthews
Described as "an enormous sunk cost" [1], Naypyitaw is the extravagant legacy of Gen. Than Shwe, the former head of state until 2010. Supporters of the new capital point to its deliberate location closer to the center of the country, arguing that it is more inviting to the nation's ethnic minorities, most of who live in the northern half of the country. Supporters also point out the dozens of low-rise relatively attractive government buildings and silo ministries, sprawled over a vast, still bare landscape. An often photographed eighteen-lane highway, eerily empty for the most part, sweeps around the distant Hluttaw parliament buildings, also serving as a military parade ground on special occasions. The Parliament and its iconic square with triumphalist statues of kings of old are out-of-bounds to casual visitors. The ever-present sense of a capital built for crowd control further suggests that the regime behind this façade deliberately distanced its centre from the world of new ideas, new economic models and even new technology that furnish so much of the energy of Southeast Asia's more successful states. It's the setting for the final drama of the much anticipated national election on November 8, 2015.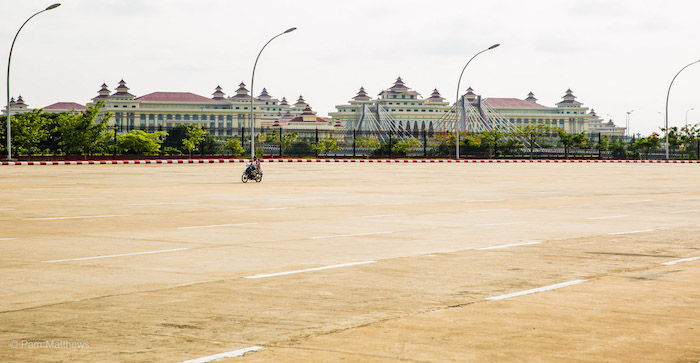 Parliament building in Naypyidaw | Courtesy Pam Matthews
Key players: The Tatmadaw vs. Aung San Suu Kyi
The elections involve certain personalities, political parties and state organizations that will struggle for voter recognition. Chief among these are the two major political parties: the current government's Union Solidarity and Development Party (USDP); and the foremost parliamentary opposition party, the National League for Democracy (NLD), headed by the iconic democratic exponent Aung San Suu Kyi. There are as well over thirty smaller so-called ethnic political parties (e.g. the Chin National Party, the Pa-O National Organization, etc.) and historically student-focused parties (e.g. The 88 Generation Student Youths). Their place in any post-election government is not likely to be crucial, but it could negatively cut into Aung San Suu Kyi's NLD voter base.
The role of the military-appointed members of the Parliament (Hluttaw) is still clearly crucial in this electionLooming over the whole political order is the Tatmadaw,or the military and incumbents, traditionally associated with the USDP. The outright rule of the junta may have largely vanished by 2011, but the role of the military-appointed members of the Parliament (Hluttaw) is still clearly crucial in this election. The Tatmadaw (sometimes referred to as SitTat), constitutionally still has one quarter of all legislative seats (unelected) in national and regional legislatures. It has dominated Myanmar politics since 1964, and until 2012, precluded the meaningful involvement of any other party. All that changed when in 2010, Aung San Suu Kyi was suddenly freed from years of house arrest and allowed to contest future elections – which she handily did in key April 2012 by-elections, her NLD winning 43 out of 44 contested seats. She hasn't looked back since, and this November's national election is likely to secure her party with a big victory. How that might translate into meaningful political power remains a central focus of the up-coming elections.
It should be noted that the military delegates, most of who consider themselves  historical  guardians of the State, do not vote en bloc, and have the liberty to support the government-backed USDP, the opposition NLD, or even (unlikely) one of the fifteen or so ethnic parties. Nonetheless, the military vote on matters of such key things as changes to the 2010 Constitution shows that in general the Tatmadaw bloc resists full democratic change. For example, on June 25, 2015, the military vote prevented a proposal that would have reduced Section 436's current requirement of 75% parliamentary support for making constitutional changes to 70%. Had the vote succeeded, it would have threatened continuing constitutional control by the military, with the likely consequence that a possible amendment would have undone the current restriction that bars Aung San Suu Kyi from the presidency. Under Section 59f of the constitution, a candidate is disqualified if his or her spouse or children are perceived as having "allegiance to a foreign power," which has been applied (some say ludicrously) to Daw Suu Kyi, whose two sons are British citizens.
National election procedures and the choosing of the President
The election will reconfigure the two houses of Parliament (Pyidaungsu Hluttaw), and the seven state and seven regional houses of assembly. Most significant is the Pyithu Hluttaw or Lower House with 440 MPs, one quarter of who are non-elected, appointed members chosen from the armed forces (Tatmadaw). The Amoytha Hluttaw or upper house, on the other hand, referred to as the House of Nationalities, has 224 seats, one quarter of them unelected Tatmadaw members. Both houses have politically powerful Speakers who share 30-month periods of being spokespersons for the whole of Parliament. The Pyithu Hluttaw or 'lower house' is dominated by the USDP, in office since the last national election in 2010 (an event the opposition National League for Democracy boycotted, though in the subsequent by-elections in 2012, a victorious NLD re-entered parliament).  
Aung San Suu Kyi's NLD will almost certainly win the 'first-past-the-post' parliamentary constituency vote by a substantial marginMyanmar does not have a presidential election per se. That key office will be determined by the elected members of the two parliamentary houses, each house choosing a single Vice President. A third Vice President is voted for specifically by the non-elected, military-appointed members in the Pyidaungsu Hluttaw. The entire parliament of both houses then votes by secret ballot for one of the Vice Presidents. The winner will be the next President. Aung San Suu Kyi's NLD will almost certainly win the 'first-past-the-post' parliamentary constituency vote by a substantial margin, although as of mid-July, technically the party had yet to commit to participating in the election. The fact that Daw Suu Kyi is constitutionally barred from the presidency means that some other high office could be hers, such as Speaker of the Pyithu Hluttaw or one of the Vice-Presidencies. But with no obvious second candidate from the NLD to take on the presidency, the party will have to support an alternate, perhaps a reformist military member even from the opposition USDP.
There is no shortage of speculation about who the presidential candidates might be. Among the leading contenders are the current president himself, Thein Sein. This protégé of former head of state Than Shwe will likely announce interest in a second term. (Some aver Than Shwe is still the eminence gris behind state power, though even if not, USDP politicians keep him au courant. He lives in Yangon in quiet retirement). Myanmar has done well by Thein Sein's competent, quiet (though some claim colourless) leadership. But ambitious rivals are plentiful, most with a military background. These rivals include the Pyithu Hluttaw's forceful Speaker, Thura Shwe Mann, who has a good political relationship with Daw Suu Kyi, and who supported constitutional reforms that, had they been successful, would have reduced the hegemony of the Tatmadaw in parliament. He could be appealing as a compromise candidate to some NLD voters. Both Thein Sein and Shwe Mann would need Tatmadaw endorsement, but the armed forces remain wary of them. 
Arguably more popular with the vital military lobby is current Vice President Nyan Tun, a former naval officer, who enjoys a popular reputation for endorsing defence of the nation in troubled border areas. The other Vice President, Sai Mauk Kam, a respected physician, represents the ethnic minorities, though not likely to be a choice for the key armed forces. That choice could well be the Commander-in-Chief, Min Aung Hlaing, known to be considering the prospect, despite the requirement of reverting to civilian status. The list of presidential hopefuls includes several others, all of whom represent the old guard, remnants of the former military government. In the meantime, perhaps to ensure bureaucratic control should an NLD victory prevail, the present government has introduced Permanent Secretaries to various ministries, hardly problematic in most democracies, but seen by some critics as a way of perpetuating behind-the-scenes military control of more or less every administrative responsibility in Myanmar.
Will it be a fair election?
The nation does have a viable Union Elections Commission. The balloting process is reputed to be four times more carefully planned than the one in 2010. Thirty three million people are eligible to vote, using for the first time computerized electoral rolls based on village and township information. Many regions have already been provided with voter lists that invite correction.  The NLD has made its own survey of discrepancies and problems, prompting Daw Suu Kyi to wonder whether there is enough time and expertise to amend these mistakes (Washington Post telephone interview June 17, 2015). 
More contentious is the matter of the withdrawal of 400,000 so-called 'white cards' (temporary identity cards) from certain minority groups, notably the troubled Muslim Rohingya community in the Rakhine state. These holders could vote in 2010, but not currently and although efforts are being made to distribute new 'blue-green' identity cards (in Burmese and English), this does not translate into enfranchisement. The alternate documents provide a kind of associated Myanmar citizenship, though the underlying protocol is not yet well understood. Numbering more than one million, the Rohingya who have not been able to prove Myanmar family residency according to a 1982 Citizenship law, have been largely neglected by the state for decades in terms of education and employment. They have consequentially suffered from widespread illiteracy and extreme poverty and have recently been victimized by unscrupulous human traffickers.
It is possible the next president could turn out to be an unpopular choice with an electorate that has secured an NLD victoryIn addition to the Rohingya issue, there is a looming question: If the government loses the election, will it hand over power? It is possible the next president could turn out to be an unpopular choice with an electorate that has secured an NLD victory - a dangerous scenario if it leads to civil protest. No one knows how the old power elite might respond if locked out of a new government. With this in mind, election commissioner U Tin Aye has remarked "if riots break out, the military will make a coup…this is the parties' karma." [2] This is unlikely, but in the period between the election and the appointment of a president, much political horse-trading will take place, as much a mark of the democratic process as the vote itself. Some say the real test or measure of Myanmar's progress towards democracy, then, is whether at the end there can be a viable power-sharing agreement.
The curious anomaly of the National Defence and Security Council
Although the Hluttaw is the principle organ of government and the object of the national elections in 2015, the Constitution allows for a small, opaque so-called National Defence and Security Council (NDSC) that could annul an election and assume control of the state if its members considered the union of seven states and seven divisions to be threatened. This is most unlikely. The Council has reportedly not met regularly, or suggested it wants a say in the next presidency. Nonetheless, the Council is presided over by the Commander-in-Chief of the Tatmadaw (about 350,000 strong), Gen. Min Aung Hlaing. He further recommends the selection of five of the eleven-member NSDC (representing defence, home and border affairs, police, paramilitary groups), thus achieving personal control over this potentially key body which could seize control of the state by fiat. 
The democratic spirit, however, is too prevalent to ignore, even for a former military junta's old guard who still lurk in the corridors of power. As a recent Asia Foundation report notes: "While people may not voice a strong interest in politics, they do reveal a keen desire to participate in the political process . . . showing a cautious optimism in the potential for the elections to bring about positive change in their lives." [3]
Buddhist nationalism and the leadership of Aung San Suu Kyi
One of the most prominent topics that drives political opinion in Myanmar is the Rohingya issueOne of the most prominent topics that drives political opinion in Myanmar is the Rohingya issue mentioned above, which is focused on the Muslim people of the western Rakhine state on the border of Bangladesh. This is because of its association with the ever-present unsavoury Buddhist nationalism of the widespread and popular Ma Ba Tha (acronym for the Committee for the Protection of Nationality and Religion) or the 969 movement (reference to supposed saintly values offered by the Buddha and his teachings). During the last two years in particular, Ma Ba Tha and its leading spokesman, Ashin Wirathu (ironically a monk who has passed the highest level of Pali Buddhist examinations), has engaged widespread sectors of the Buddhist community (90% of Myanmar is Buddhist) with a vitriolic, anti-Islamic campaign that has quickly turned violent on a number of occasions.  Buddhist activists have successfully promoted parliamentary bills aimed at placing restrictions on family size and interfaith marriage (though so far without punitive measures to enforce them). 
It is shocking to note that no government authority has sanctioned Wirathu and his followers, suggestive of furtive pro-military involvement in the matter, partly to keep the political pot boiling in the Tatmadaw's favour. Furthermore, the Buddhist monastic order (600,000 strong), which showed a brave and responsible public face in 2007 during the so-called Saffron Revolution, has abdicated its responsible position in the current situation completely. (There are, of course, some outstanding exceptions of celebrated monks who resist such bald manipulation of the faith for political gain, such as Ashin Einduka and Ashin Sandadika). By obtaining moral (and even financial) support with similar regional Buddhist nationalist organizations in Thailand and Sri Lanka, the worry is that the extremist Myanmar 969 movement (and a newly emerging Buddhist Nationalist Affairs Party, the Amyothar-yay, linked with the government USDP) will exert even more power at the November polls. A darker side of society also emerges in this regard with the new freedoms associated with the internet in the form of vicious social network racial smears, already in circulation.
A second important feature emerging from this debacle, however, is the resilience of Aung San Suu Kyi (who turned 70 in June 2015) and the NLD. While she is still obliged to approach the subject of the Rohingya with circumspection, she has rejected the ugly, politicized face of Buddhist nationalism. Aung San Suu Kyi is wildly popular, still retaining that essence of moral authority (awza) which has characterized her long struggle for political recognition. Her NLD party is destined to prevail at the polls.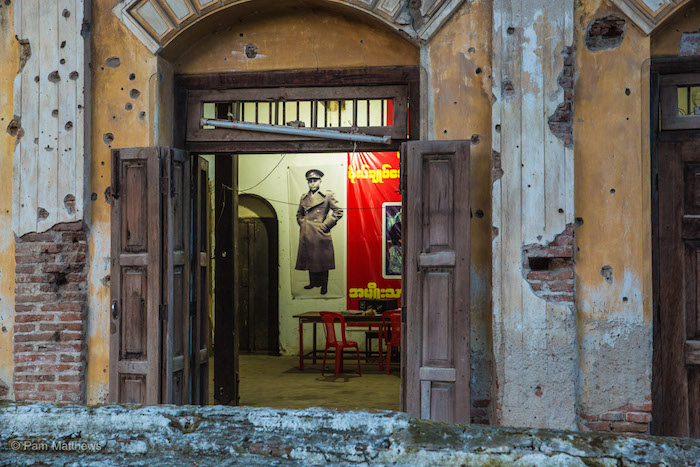 NLD political office, Pyinmana | Courtesy Pam Matthews

Although barred from the Presidency, Daw Suu Kyi will be enormously important in the future government of the nation. Recent reluctance to serve as an international spokesperson for the civil rights of the Rohingya has to be seen in the context of Myanmar politics. She has identified herself as a politician, and in order to stand the chance she deserves in the impending election, needs to keep Buddhist nationalism with its popular anti-Muslim rhetoric at arm's length. That does not mean she has conveniently forgotten this important cohort of Myanmar's population (Muslims in general make up 6% of the nation). The reality of contemporary roughhouse politics requires the NLD to avoid painting itself into a corner on this key racial and religious issue, and to await a more opportune time to address the fiery racism in a majority parliamentary context.
Political economy of the election
The standard of living has slowly risen to include access to basic essentialsA third and final topic relevant to the election concerns the street and rural economy. The standard of living has slowly risen to include access to basic essentials such as more reliable electrification (though up to 70% of the country still is without regular access to this resource), cell phones (cheap Chinese products now easily within consumer reach, as are SIM cards, once prohibitively expensive) and above all reasonably priced cooking oil and rice. Though the cost of these latter items has doubled in ten years, they are still within reach of most. For example, the traditional standard measurement of one pyi or eight 350ml cans (one empty condensed milk can is one nosibu, still a commonplace unit of measurement) of pawsan hamwe decent quality rice in 2015 is Kyats 1800, about US$2, and the preferred groundnut oil, myapesee, is now about Kyats 4000 per viss (1.5 kilos or 1.5 litres).  These are the two absolutely key ingredients for the ordinary diet. As a rule of thumb, it is sometimes said that one city person can get by with one nosibu of rice per day (farmers generally need three times that). The street prices for these commodities are politically important and they absolutely have to be within range of the majority of purchasers. If costs of rice and cooking oil suddenly spike beyond the reach of the poorest or even average consumer, serious political consequences can be anticipated. 
Legislative efforts are being made to increase a minimum wage to Kyats 4000 per day (approximately US$4), and the key garment sector worker can anticipate Kyats 10,000 per day with overtime. It is possible to argue that in the bigger cities, especially Yangon, there is employment and opportunity to earn money. These improvements are not readily available, however, in upper Myanmar, the one third of the country associated with ethnic minorities, general poverty and localized incidents of armed resistance to government control. Nor is it particularly relevant to farmers who live a largely rural life and can to a certain extent live off the land (the state owns all the holdings, but farmers can lease property and pass it along to heirs). Yangon is another matter, where industrial and civic development has hugely expanded, changing the landscape of the city on a monthly basis, accelerating property values to ridiculous levels (much owned by associates of the former military government and its present metamorphosis). Half a million additional automobiles have flooded the capital within the past three years, leaving the city frequently grid-locked. New hotels are everywhere, most catering to a vast influx of tourists. Myanmar is now reputed to be the world's thirteenth fastest-growing economy, although still heavily dependent on extractive resources, and open to crony capitalism. But the previous 'lost generation' associated with the regimes in power since 1964 is rapidly being replaced by a growing cohort with access to technological education and opportunity. These tech-savvy younger Burmese are likely supporters of Aung San Suu Kyi.
Concluding thoughts and implications for Canada
Business and investment opportunities by Canadian interests in Myanmar are now more transparent and reliableA final question that might be asked is the possible implications of Myanmar's election for Canada. The background to this topic is best seen in the matter of sanctions and diplomatic relations. Like other Western countries, Canada had imposed sanctions on trade with Myanmar in 1988, something welcomed at the time by Daw Suu Kyi as instrumental in helping promote the cause of democracy.  These sanctions were largely symbolic as actual trade between the two nations was almost non-existent for decades, with the exception of energy sector opportunities (some quite dubious).  Following the lifting of sanctions in April, 2012 and the opening of a Canadian embassy in Yangon in July 2013 (Myanmar had a working embassy in Ottawa throughout this period), a renewed sense of cultural and commercial interaction has unfolded. Business and investment opportunities by Canadian interests in Myanmar are now more transparent and reliable. Tourism is a major feature as Myanmar shows itself to be a physically safe and enormously magnificent country to visit.  A successful November 2015 election can only help promote Canadian opportunities, however defined, in its outreach to help Myanmar become a reliable trade partner and evolving democratic nation.
The national election in November will be of enormous consequence to Myanmar, now five years into its emergence from a half century of self-imposed isolation. The process is likely to be free and fair, open to international observation, and unfold with maximum public participation. Much more problematic and potentially detrimental to progress are issues that may arise during the two or three months available for campaigning should the period becomes mired in ethno-nationalism. Crucial economic and other social topics that need essential debate would thus be sidelined, and instead foster a totally unrealistic anti-Islamic fear psychosis. This may yet be Aung San Suu Kyi's moment of destiny as she responds to unsavoury forces in Myanmar's murky, militarized political background.  Myanmar is indeed opening up, democracy is real, civil society is rapidly expanding its outreach, and information and knowledge are increasingly accessible. But despite these incremental changes, the danger is that everyone, both in Myanmar and without, is likely to expect more or less instant results.  Most political pundits, however, rightly argue that although such key changes will take generations to evolve, Myanmar is on the right track.
Bruce Matthews is Professor Emeritus at Acadia University in Nova Scotia.
 [1] Lex Reiffel, "Planning for social and economic development," in David I. Steinberg (ed.), Myanmar: The Dynamics of an Evolving Polity, London: Lynne Rienner, London, 2015, p. 205.
[2] Ei Ei Toe Lwin, "If you want clean water, don't stir up the dirt," Myanmar Times, June 15, 2015, http://www.mmtimes.com/index.php/national-news/15032-if-you-want-clean-water-don-t-stir-up-the-dirt.html.
[3] "Myanmar 2014: Civic Knowledge and Values in a Changing Society," The Asia Foundation, 2014, p. 51, https://asiafoundation.org/resources/pdfs/MyanmarSurvey20141.pdf.