A basic reality of economic geography is that Canada's provinces stand to be affected very differently by its regional trade agreements, depending on their geographic location within Canada and their sectoral specializations. Western provinces are more exposed to trans-Pacific trade, whereas the Eastern provinces are more exposed to trans-Atlantic trade. Moreover, the economic sectors in which individual provinces specialize are impacted differently depending on the competitive strengths of the trading partner. For example, passage of the Canada-Korea Free Trade Agreement (CKFTA), concluded in 2014, was held up by Korea's sensitivities in the beef sector and Canada's sensitivities in the auto sector. In a Canadian regional context, the benefits in these two sectors are expected to flow primarily to the western Canadian beef sector, while the costs are expected to be borne by the Ontario-based auto sector.
With the Canada-EU Comprehensive Economic and Trade Agreement (CETA) about to be implemented, and the Trans Pacific Partnership (TPP) negotiations approaching the end stage, Canadian provinces need to understand the economic challenges and opportunities these deals will generate because regional trade impacts will differ across provinces.
Modern trade agreements eliminate most tariffs, with non-sensitive sectors typically having tariffs eliminated immediately and more sensitive sectors having tariffs reduced or eliminated more gradually. Highly sensitive sectors such as dairy in Canada typically are liberalized in a very controlled manner, if at all. The economic gains from such deals come only partly from the efficiency gains that emerge from removal of distortions to prices; however, an important feature of these agreements is that they address the various rules under which trade and investment take place. By reducing costs to firms of doing cross-border business and by increasing certainty of market access, trade deals induce more firms to take the plunge and make the commitments necessary to enter into international trade or to become foreign investors. What trade deals cannot do, however, is alter the reality of economic geography and the pattern of competitive strengths of the provinces. Accordingly, while Canada as a whole stands to gain from the CKFTA, different provinces are expected to be impacted differently. [1]
Background
Canada's trade agreements look different from different provinces' perspectives. Ontario, for example, has an economy that is three times the size of British Columbia's, but Ontario is about 30% further away from Korea. These differences are important because trade tends to be greater with larger trading partners and smaller with more distant trading partners.
Taking into account both size and distance – and ignoring all other factors that bear on trade intensity, such as industrial structure – British Columbia's trade with Korea would be expected to be about 42% the size of Ontario's (this is the ratio of provincial GDPs, divided by the ratio of their respective distances to Korea).
However, the product composition of trade favours BC because BC's resource-based economy sends much more to Korea than does Ontario's manufacturing-based economy. Meanwhile, Ontario accounts for a disproportionate share of Canada's imports from Korea, reflecting both its large share of consumption and Korean intermediate inputs into Ontario's manufacturing sector.
Evaluating the impact of the CKFTA is further complicated by the fact that tariffs are uneven across different products, and thus across provinces. As shown in Figure 1, prior to the CKFTA, Ontario faced an above-average tariff in Korea while BC faced a below-average tariff. The average tariff facing Prince Edward Island prior to the CKFTA was 62.5%, because potatoes – one of PEI's key exports – faced tariffs up to 304% in Korea. Thus, the benefits for individual provinces depend heavily on whether products of interest to a particular province face above-average or below-average tariff reductions.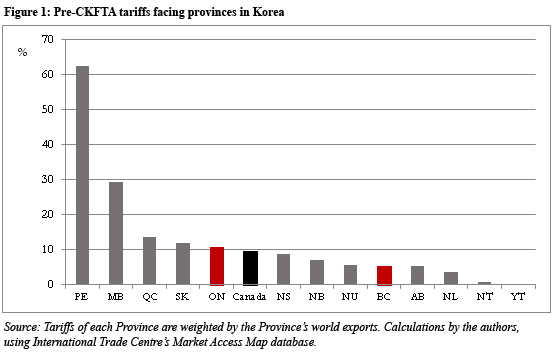 Canada's defensive interests also vary significantly by province. As the CKFTA was implemented, Hyundai Canada announced that it would lower its manufacturer's suggested retail price (MSRP) on most of its models by up to C$1,300, passing on the tariff cuts to Canadian consumers. This pressed a hot button in Canada because the expected market share gains in Canada of Korea's major auto exporters had been one of the sensitive issues that had blocked the completion of the deal for years. While Korea reciprocally eliminated its 8% tariff on vehicle imports, the base level of Canadian automotive exports to Korea was very low, reflecting not only the Korean tariff, but also a lack of an export mandate to Korea for the Canadian subsidiaries of the US and Japanese manufacturers that comprise Canada's auto assembly industry. These are, however, primarily concerns for Ontario, the centre of Canada's auto sector, but not so much of a concern for other provinces.
The Impact of the CKFTA on Ontario and the Rest of Canada
At the Canada level, the CKFTA promises to generate a real GDP gain of 0.05%, equivalent to about $3.1 billion in 2014 Canadian dollars when the full effects of the deal have been absorbed by the economy. Household incomes are expected to increase by C$2.1 billion, and the number of jobs by about 8,500.
Table 1 breaks down these impacts of the CKFTA for Ontario and the Rest of Canada. We infer a positive impact of the CKFTA on Ontario's GDP of about 0.02% in real terms in 2035, when all the effects of the CKFTA will have been realized. This amounts to about C$610 million in value terms (i.e., taking into account both quantity and relative price effects). The corresponding gains in household incomes total C$405 million. Job gains total on the order of 1,562, with a preponderance of unskilled jobs (about 74%). The ROC makes consistently greater gains in both absolute and relative terms.

Table 2 provides some sectoral highlights. These results highlight the complex interactions when trade is liberalized on a preferential basis with one market for two regions (Ontario and the Rest of Canada, in our case study).
A few words about these effects are in order.
As noted above, Ontario ships products to its domestic market, to the Rest of Canada, to Korea and to the Rest of the World (ROW). The trade theory that underpins our modelling results implies that liberalization of one of these markets (Korea's) will result in an expansion of sales to that market for both Ontario and the Rest of Canada. To some extent, however, this comes at the expense of sales to all the other markets, an inevitable consequence of the reality of overall resource constraints. If productive capacity could be expanded costlessly, this would not happen. But that is generally not the case in the real world.
In addition, a second level of complexity is introduced by the fact that Ontario and the Rest of Canada ship to each other. If one province makes a major export gain to Korea, its supply to its domestic provincial market and to other provinces will tend to be reduced. Other provinces with less exposure to the Korean market will step in to meet this demand.
Layered on top of this reshuffling of markets is an income effect driven by the efficiency gains from expanding trade. The supply of labour and capital in Ontario and the Rest of Canada responds to higher wages and improved returns to capital, and consumers spend income gains. These income effects dampen the negative effect on shipments to Canadian destinations. Ontario and the Rest of Canada accordingly face not only improved market opportunities in Korea but also strengthened demand in their Canadian markets from households in both Ontario and the Rest of Canada.
The sectoral outcomes also reflect the impact of Canada's liberalization vis-à-vis Korea and thus increased import penetration. In some cases, the outcome will be a large expansion of two-way trade in a particular sector but with little net impact on total shipments by domestic producers. In other words, losses on domestic market to Korean products will be offset by gains in Korean markets. Such an outcome still has important implications for the economy. It is now well established that industries are populated by firms of widely varying sizes and levels of efficiency. Generally, trade liberalization is bad news for the weakest firms. Some of these will respond to the tougher market competition, retool and survive, but others will close their doors. At the same time, trade liberalization will be good news for the strongest firms in an industry, which gain not only in terms of improved export market access but also through an expansion of their domestic market share as weaker rivals fall.
CKFTA Impact on Four Sectors
The CKFTA sectoral results for Ontario illustrate these various points. The four sectors include the following: beef where Canada expects large gains; motor vehicles, where Canadian production is expected to suffer; machinery and equipment which faces increased two-way trade; and beverages and tobacco, which were not liberalized to any extent and are largely impacted by income effects.

The beef sector exemplifies the redistributive effect across provinces. Ontario has a small presence in Canada's exports to Korea, with the main supplier being Alberta. Thus, while both provinces benefit from the large Korean beef tariff reduction, assuming that Korea re-opens its market to beef following the identification of a new case of bovine spongiform encephalopathy (BSE, or "mad cow disease") in the Canadian cattle herd on 11 February 2015, [2] the main direct benefits flow to Alberta producers. However, to the extent that Alberta producers ramp up sales to the now more-lucrative Korean market, inevitably the supply to Ontario is reduced; Ontario producers step in with increased shipments to their domestic market. This redistributive effect is only apparent when trade is examined on an integrated international and interprovincial basis.
The automotive sector illustrates the impact of intensified competition in the domestic market. There is some expansion of automotive products to Korea and also some expansion of exports to the third markets (the United States), which reflects the downward pressure on Canadian production costs from Korean competition. But the main effect is a reduction of output. Most of the expansion of Korean sales to Canada, however, comes from a reduction of third-country sales to Canada (not shown in the table), not Canadian domestic shipments. This outcome reflects the highly export-oriented nature of Canada's automotive sector – arguably, Canada's producers were more affected by the US-Korea FTA, which intensified competition for Canadian-produced vehicles in the all-important US market, than they were by the CKFTA. [3]


Machinery and equipment illustrates the impact of increased two-way trade. Both Ontario and the Rest of Canada expand shipments to Korea, but both regions suffer a small reduction of total shipments to all destinations in the face of Korean market penetration. The silver linings playbook tells us, however, that there are likely to be productivity-enhancing effects that our modelling work does not capture. This could turn the small negative impact into a longer-run gain.


Beverages and tobacco illustrate the importance of taking into account income effects. The CKFTA will have very little effect on this sector directly. Yet, the income effects will tend to expand sales. This illustrates the more general effect of redistribution of gains from traded sectors to non-traded sectors.
The Implications for Canada-Asia Trade Policy
The bottom line, after summing across all sectors, is that Ontario makes a small gain, although one that is disproportionately smaller than its share of Canadian economic activity. The Rest of Canada makes disproportionately larger gains. More importantly, the gains come through perhaps unexpected channels, often as the result of indirect effects that cannot be anticipated by simply considering the direct effects of tariff concessions.
Under the Canadian constitutional framework, the negotiation of international trade agreements falls under the jurisdiction of the federal government. However, over the years, Canadian provinces have become more important players in making trade rules. This reflects the increasing extent to which trade agreements address "inside-the-border" issues that are important for firms that do international business and fall under provincial jurisdiction. Provinces do not have a seat at the negotiating table, however, and the trade-offs that are made to clinch deals are, in the final analysis, made at the federal level.
To generate consensus in support of trade policies that will benefit Canada as a whole will require transparent, evidence-based analysis of how trade agreements will impact not just different sectors, but also different provinces. There should also be discussion on whether internal compensatory and supporting measures or policies are needed, and if so, how large they should be to ensure that all provinces benefit. This is particularly important in cases in which Canada's trade partners exert pressure to liberalize sensitive sectors, which are often province-specific. For example, in the case of the CETA, the federal government has recently made several ad hoc commitments to address negative impacts on the dairy sector, on Newfoundland fish processors, and on provinces from the increase in drug costs. The quantitative approach used here, which provides a data-driven picture of the provincial-level impacts of trade agreements, can help illuminate the proactive policy steps that need to be taken to reassure regions and sectors as Canada proceeds in trade discussions with other partners, including in the Asia Pacific.
Dan Ciuriak is Director and Principal, Ciuriak Consulting Inc. (Ottawa), Fellow in Residence with the C.D. Howe Institute (Toronto), and Associate with BKP Development Research & Consulting GmbH (Munich).Dmitry Lysenko is a trade economist with the Government of Nova Scotia. This paper does not express the views of the Government of Nova Scotia and no responsibility for the views should be attributed to the Government of Nova Scotia. Jingliang Xiao is a Research Associate with Ciuriak Consulting Inc.
[1] For readers interested in the technical background, this is laid out in Ciuriak, Lysenko and Xiao (2014), (http://papers.ssrn.com/sol3/papers.cfm?abstract_id=2542568). The province-level impacts reported above correspond to the Canada-level impacts reported in the study of the Canada-Korea FTA presented in Ciuriak, Xiao and Dadkhah (2015) (http://papers.ssrn.com/sol3/papers.cfm?abstract_id=2551044).
[2] Following the identification of Bovine Spongiform Encephalopathy (BSE) in the Canadian cattle herd in May 2003, exports of beef from Canada were shut down worldwide, including to Korea. As Canada established itself as a "controlled risk" country, beef exports resumed under restrictive protocols. Korea's delay in re-opening its market resulted in a WTO dispute, which was finally resolved in 2012, removing one of the obstacles to the CKFTA.
[3] Our results are in the same ballpark as those of Van Biesebroeck, Gao, and Verboven (2012) who found an FTA with Korea would reduce Canadian domestic auto production by 0.15% to 0.25%, depending on the demand model employed. The results are also broadly consistent with Ciuriak (2012) (http://papers.ssrn.com/sol3/papers.cfm?abstract_id=2135321) for the auto impacts of an FTA with Japan.