The Russian and Canadian natural gas industries are facing similar market diversification challenges. As its gas exports to the US decline, Canada is building LNG export infrastructure in an attempt to access Asian gas markets. Meanwhile, Russia is also seeking to increase its exports of gas (both pipeline and LNG) to Asia to compensate for problems in its traditional European markets.
Russian LNG will also compete against Canadian LNG in the larger Asian marketWhether or not Russia succeeds in its 'Asian Gas Pivot' will have significant implications for the prospects for liquefied natural gas (LNG) exports from Canada, both east and west.  If Russia exports substantial pipeline natural gas to China, it will decrease China's appetite to import LNG from elsewhere. Russian LNG will also compete against Canadian LNG in the larger Asian market. However, as this analysis suggests, there are still many uncertainties about the scale of Russia's future gas exports to Asia.
What is the 'Asian Gas Pivot?'
Russia has had a longstanding interest in increasing oil and gas exports to Asia. As early as 2003, Gazprom, Russia's largest state-owned gas company, aimed to develop a unified gas transmission system in the eastern part of Russia to export gas to Asia. This strategy became formalized in Gazprom's Eastern Programme, which was formally accepted by the Russian government in 2006.
In 2009, the Russian Government released an energy strategy targeting substantial gas exports to Asia. Moscow is now updating its strategy, which will include more aggressive targets. An early 2014 draft of this strategy aims for over 30 per cent of Russia's gas exports to go to the region by 2035, up from about six per cent currently. The draft strategy also aims for the volume of LNG exports to rise to 30 mpta by 2020 and to 100 mpta by 2035.
While Gazprom originally had a monopoly over both pipeline and LNG gas exports to Asia, President Putin liberalized LNG exports in 2013, allowing Rosneft, a state-owned enterprise, and Novatek, an independent company, to get in the game. Nevertheless, Gazprom still controls many of the key assets and pipelines in the region.
LNG
Russia currently has one LNG project that exports to Asia (predominantly to Japan and South Korea) called Sakhalin-2, which is located on the island of Sakhalin on Russia's Pacific coast. This island is close to significant offshore gas fields that will supply the projects. There now are four additional LNG projects being developed for the Asian market with a combined capacity of 36.5 million tonnes (the capacity of 3.5 Kitimat LNGs).
These projects include:
Sakhalin-2 Expansion: Owned by Gazprom, Shell, Mitsui and Mitsubishi. It will add 5 mtpa to the pre-existing project.
Sakhalin-1 LNG (Far East LNG): Owned by Rosneft and ExxonMobil; two trains with capacity of capacity 5 mpta each
Vladivostok LNG: Owned by Gazprom; capacity of 15 mpta
Yamal LNG: Owned by Novatek, Total, and the China National Petroleum Corporation (CNCP); capacity of 16.5 mpta
Pipeline
Russia is also pursuing substantial pipeline gas exports to China. In 2014, President Putin signed a 30-year deal worth US$400 billion to sell 38 billion cubic metres of natural gas a year (bcm/y) by pipeline to China starting in 2018-19. As a result, Gazprom must now invest US$55 billion in developing new fields and building the 4,000km 'Power of Siberia' pipeline that will deliver gas to China's energy-hungry northeast. 
Later in 2014, China and Russia signed a preliminary agreement to supply an additional 30 bcm of gas to western China. This gas would be supplied through a second pipeline to China (the so-called Altai route), which starts in northwest Siberia and would connect with China's West-East Pipeline along the western Xinjiang border. However, the deal and the pipeline remain tentative.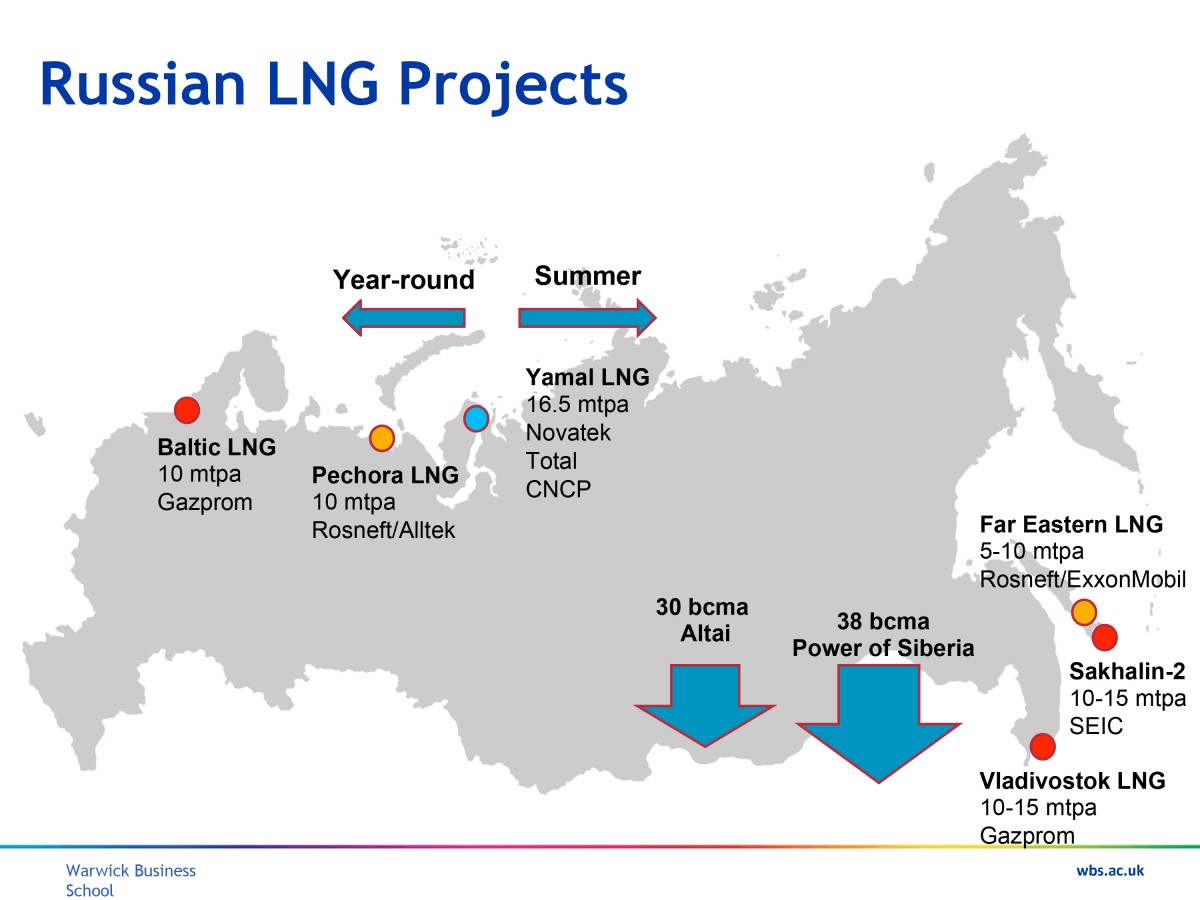 Key motivations for Russia's Asia Gas Pivot
There are a number of reasons – both push and pull factors – for Russia's pivot east:
Economic and geopolitical challenges in Europe, Russia's largest gas market: Europe has experienceddepressed gas demand due to economic recession and competition from renewable energy and cheap coal. An unseasonably warm winter further depressed gas demand in 2014. Russia's total gas exports [1] fell by 10.9 percent in 2014.Furthermore,Western sanctions to protest Russia's intervention in eastern Ukraine have created concerns for Russia about market access.
Low domestic demand for gas due to low economic growth: Even before the imposition of western sanctions, Russia's domestic economy had already started slowing down. A failure to improve the investment environment and diversify the economy slowed economic growth rates and thus demand for energy, including natural gas. This created a 'gas glut,' making it essential for Russia to find new export markets. It has also put plans for increasing domestic prices of gas on hold, which will reduce the profitability of domestic sales.
Gazprom needed new foreign markets: Gazprom has been losing market share at home to Novatek and to oil and gas companies such as Rosneft. Gazprom's decision to cancel the "South Stream" pipeline, which would have transported natural gas to Europe through the Ukraine, in favour of a pipeline through Turkey, will further complicate relations with Europe, its key market.
Strong Market in Asia:  The above factors intensify Russia's need for the Asia gas pivot, but the rationale for it actually pre-dates these developments. Russia has long desired to diversify its markets for oil and gas exports to take advantage of not only robust energy demand in Northeast Asia, but also the proximity of Northeast Asian customers to sources in Siberia and the Russian Far East.
The Pivot Delayed

However, Russia's LNG exports ambitions are in trouble, for a number of supply and demand side reasons.
Sanctions have isolated the Russian economy from international capital marketsLack of access to capital markets: Sanctions have isolated the Russian economy from international capital markets. The sanctions have stopped investment in unconventional oil and gas and the Arctic offshore and have targeted key individuals and companies in the oil and gas sector. At present, gas liquefaction technologies are not on the sanctions list, but there are fears that they might be if sanctions are widened.
While the collapse of the rouble has increased the cost of imported equipment, it has also significantly increased the rouble value of oil and gas exports as each dollar earned from exports is now worth a lot more roubles, and only 20 per cent of Gazprom's costs, for example, are in foreign currency.
Competition between companies: Competition between three of Russia's major energy actors – Gazprom, Rosneft and Novatek – is causing delays. In particular, there is competition for access to pipelines and feedgas for projects. For example, Exxon, Rosneft and its partners own substantial gas from local gas fields but require access to a pipeline owned by Gazprom to transport the gas to its export facility. However, Gazprom has refused Rosneft access.  In response, Rosneft has teamed up with Novatek, Russia's largest independent gas company, to try to break Gazprom's gas export monopoly.
Stiff competition for China's gas demand
On the demand side of Russia's Asia gas pivot, China has plans to increase the role of natural gas to 10 per cent of primary energy consumption by 2020, or 360 bcm (about half the US's current gas consumption). China's gas supply balance is a combination of domestic production (conventional and unconventional), pipeline imports and LNG imports. [2]
But Russian gas exports to China face significant competition from the long-term agreements Beijing has already reached with Central Asia and Myanmar to supply pipeline gas. Expansion of the west-east pipeline (WEP) along China's northwest border is already underway to increase the level of natural gas imports from Central Asia still further. China is also well supplied for LNG.
As noted above, Chinese negotiators have prioritized the eastern route via the Power of Siberia pipeline because it will deliver gas to where it is needed in the northeast China. However, Russia favours the western Altai route (see map) because it is fed from existing fields in West Siberia, and is thus cheaper because it doesn't rely on building expensive new infrastructure. But from Beijing's perspective, the Altai route delivers gas to the wrong part of China, the more sparsely populated west,. With Russia's LNG ambitions in trouble and pipeline exports have gained ascendency, but to seal the deal on Altai, Russia will have to agree to significant price discounts to make the offer too good to refuse.
What does this mean for the LNG projects?
In the current situation, the best that Russia can hope for by 2020 is a doubling of Russian LNG capacity to 20 mtpa (global LNG deliveries in 2014 were 243 mtpa). The capacity would come from the expansion of Sakhalin-2 and the completion of the first train of Yamal LNG. Beyond that, the completion of Yamal would add a further 11 mtpa in the early 2020s.  
More specifically:
Gazprom's Vladivostok LNG project is no longer under serious consideration due to a lack of investor interest and the fact that Gazprom has to focus on delivering pipeline gas to China (as well as build Turkstream, also known as Turkish Stream, the pipeline running from Russia to Turkey).
Sakhalin 1 (Far East LNG): Rosneft's failure to gain third-party access to the Trans-sakhalin pipeline, owned by Gazprom, to move gas to the liquefaction facility and the impact of sanctions on Rosneft's relationship with ExxonMobil means that a decision on the $15 billion Far Eastern LNG plant (5 mtpa) will probably be delayed by at least two years. [3]
Sakhalin 2: It has recently been reported that Gazprom and Shell have agreed to expand their LNG plant and that the additional gas required will come from Gazprom's Sakhalin-3 project. There are insufficient reserves in the current Sakhalin-2 fields and Gazprom's Kriniskoye gas and condensate field, which began production in 2013 and feeds the Sakhalin-Khabarovsk-Vladivostok pipeline. The discovery of a significant oil rim at Gazprom's South Kirinsky field has complicated the development of additional gas reserves and final timing on the expansion project will not be known until next year.
In a more rational world, the two Sakhalin projects would have cooperated, with Sakhalin-1 supplying gas to an expanded LNG plant. But competition between Gazprom and Rosneft precludes such a solution.
Yamal LNG: The loss of access to international capital markets due to the sanctions has made it very difficult for Novatek to secure financing for the Yamal LNG project in northwestern Siberia. The Russian Government is determined to see this project succeed, however, and has provided significant subsidies and financial support from the National Wealth Fund. The partners, CNCP of China and France's Total, have so far invested about US$10 billion and Novatek is reported to be seeking loans from both Russian and Chinese banks. Total has the financial backing of the French Government and remains committed to the project. On paper at least, Yamal LNG has sold 90 per cent of its total capacity. But while completion of the project's first stage is likely in 2017-18, the pace of subsequent development remains uncertain.
Russia's Global significance
Russia is the world's leading exporter of hydrocarbonsSo why does it matter to Canadian energy producers, especially LNG companies, what happens in Russia? First, Russia is the world's leading exporter of hydrocarbons, and while income from oil exports is far more important to Russia than income from gas, the volume of oil exports may decline in the 2020s. Thus, whether Russia can expand gas export earnings to Asia is significant to Russian state finances and the financial future of Gazprom. Geopolitically, it also increases Russia's credibility as a player in Asia's energy markets, which is of significance to competing suppliers in the Asia Pacific region, Canada included.
Globally, if Russia is able to negotiate a second pipeline deal with China, in addition to the Power of Siberia, and thus be able to supply a total 68 bcm/y of pipeline gas, this will likely negatively impact China's appetite for increased LNG imports.
According to the International Energy Agency's most recent Medium-Term Market Report, between 2014 and 2020 global LNG capacity will increase by 164 bcm, 90 per cent of which will originate from the US and Australia. Beyond 2020 there could be further expansion in Australia, and new projects in North America and East Africa all aiming to sell their gas to China. Ironically, the scaling back of Russia's LNG ambitions is good news for these suppliers, as it means less competition in what is now a buyers market. However, Russian analysts believe that pipeline exports to China could grow to 100 bcma, which would be very bad news for LNG exporters.
In the longer term, there is even talk in Russia of extending its pipeline network to deliver gas to Japan and South Korea; this would also impact LNG supplies to these key markets, including from LNG projects underway in British Columbia.  Thus, the bottom line is that the pace of the progress of Russia's pivot to Asia has significant implications for anyone aiming to sell gas in Asia in the 2020s and beyond and that includes Canada.
[1] Including Europe and post-Soviet states.
[2] The China deals are especially significant because they large scale and long-term and develop new fields, in the case of the Power of Siberia.  There is even talk of extending the pipelines to South Korea through China (something that has been discussed for a long time).
[3] It has been reported that they are now considering locating the plant on the mainland at DeKastri—where their oil export terminal is located. This is likely to cause political upset on Sakhalin.
Michael Bradshaw is a Professor of Global Energy at the Warwick Business School in the UK.