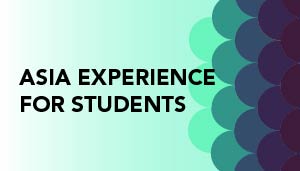 Are you a Canadian post-secondary student pursuing an exchange, study-abroad or internship in Hong Kong for the January 2018 term?
If so, you are eligible to apply for one of six free round-trip tickets courtesy of Hong Kong Airlines through the Asia Pacific Foundation of Canada's (APF Canada's) Asia Connect program.
According to APF Canada President and CEO, Stewart Beck, "Canadian students are graduating in a world where Asian countries represent the greatest opportunities for economic growth, yet less than 1% of Canadian post-secondary students go to Asia for exchange, internships or work terms. The Asia Connect program gives students a leg up working in today's global economy."
Students selected to receive a round-trip flight, sponsored by Hong Kong Airlines, will become part of APF Canada's cross-Canada network of Asia enthusiasts and other students travelling to Asia as part of the Asia Connect program. They will be required to produce a blog, vlog, or photo essay, and will be encouraged to participate in at least one outreach event to share insights about the people-to-people connections they made while in Hong Kong.
Applications will be reviewed and awarded on a rolling basis. Click here for the application form.
About Hong Kong Airlines
Established in 2006, Hong Kong Airlines is a full-service airline firmly rooted in Hong Kong. Since its launch, Hong Kong Airlines has grown to become an internationally-acclaimed carrier with its principal place of business in Hong Kong. Recognizing the quality of its onboard service, Hong Kong Airlines has been awarded the highly-esteemed 4-star rating from Skytrax since 2011.
About the Asia Pacific Foundation of Canada
The Asia Pacific Foundation of Canada (APF Canada) is a not-for-profit organization focused on Canada's relations with Asia. Its mission is to be Canada's catalyst for engagement with Asia and Asia's bridge to Canada. APF Canada is dedicated to strengthening ties between Canada and Asia with a focus on expanding economic relations through trade, investment and innovation; promoting Canada's expertise in offering solutions to Asia's climate change, energy, food security and natural resource management challenges; building Asia skills and competencies among Canadians, including young Canadians; and, improving Canadians' general understanding of Asia and its growing global influence.