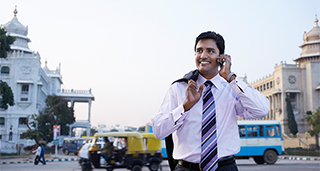 This study outlines and assesses the experience of Canadian companies that do business in India, and provides advice to corporate executives and to policy-makers. It is unique because it is based largely on face-to-face, on-the-record interviews with business leaders and officials in Canada and in India.
Little has been written on the subject since the author's 2010 study for the Canadian International Council, Doing Business in India: Success, Failure and the Prospects for Canada. The current study builds on the former and provides a five-year metric for comparisons.
The author interviewed executives from some of the same companies in both 2010 and 2015, including Scotiabank, Sun Life Financial, McCain Foods Ltd., Brookfield Asset Management Inc., LEA Group Holdings Inc. and R.V. Anderson Associates Ltd. Each is still conducting business in India, and each is doing well.
There have been some very significant, encouraging developments. Big, smart Canadian money has been making waves and setting an example for others over the past 18 months, led by the C$235 billion Canada Pension Plan Investment Board (CPPIB).
Three of the top five private equity deals in India in 2014, totalling US$1.3 billion, were Canadian. The CPPIB, Brookfield and Fairfax Financial Holdings Ltd. alone have recently invested almost C$4.5 billion, a sharp contrast to the official investment figure of C$613 million for 2013, the latest number available. The number of Canadian companies and organizations that registered with the Canadian High Commission in New Delhi has mushroomed to almost 700, triple the number in 2010.
The political landscape in India has changed dramatically over the past five years, making the timing ideal for such a study. After two weak coalition governments and a succession of corruption scandals, India elected its first majority government in 30 years in the spring of 2014.
Interviews reveal that there is widespread belief, or at least hope, that the Bharatiya Janata Party (BJP) government under Prime Minister Narendra Modi will restore India's position as a leading emerging economy and deliver on its pro-business platform. While it is very early days for the BJP government, India is again being favourably compared by some to China, including at the 2015 World Economic Forum in Davos, Switzerland.
The opportunity in India is vast, and Canada is well positioned to be responsive to India's agenda, which includes better infrastructure, energy security, food security, education and skills development, and long-term investment from abroad.