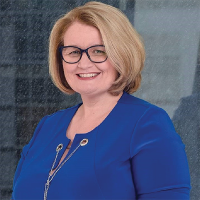 Mairead Lavery
President and Chief Executive Officer, Export Development Canada (EDC) (Canada)
Mairead Lavery joined Export Development Canada in 2014, taking on the role of Senior Vice President for Business Development, where she has a lead role in expanding the crown corporation's impact for Canadian exporters doing business in almost two hundred countries, across all industrial sectors.
She came to EDC from Bombardier, after sixteen years of assuming roles of increasing responsibility. These positions included Vice-President Finance, Vice-President Strategy, as well as V-P Business Development and Structured Finance for Bombardier's Aerospace Group and, finally, as V-P Transformation and Shared Services.

Mairead is a native of Northern Ireland, where she earned her degree in Management and Accounting from Queen's University Belfast. She is also a Fellow of the Institute of Chartered Accountants in Ireland.