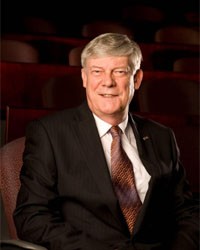 Colin Dodds
President Emeritus, Professor of Finance, Saint Mary's University
Dr. J. Colin Dodds is President Emeritus, and Professor of Finance, Sobey School of Business, Saint Mary's University.
Educated in the U.K. with a B.A., B.Sc., M.A., and Ph.D. degrees, and inducted as an Associate alumnus of Saint Mary's in 1995, Dodds has taught at many universities in the U.K.(Sheffield, Birmingham and Hull – with extension programmes in the UAE, Hong Kong, Indonesia, Singapore and Malaysia), through CIDA and the World Bank in Asia (Thailand and China) and in Canada (McMaster and Brock). He has an extensive record of scholarly publications, including books and conference presentations. His interest is emerging financial markets and he writes a bi-weekly column on business for the New Brunswick Telegraph Journal.
He joined the faculty of the Sobey School of Business in September 1982, became Departmental Chair (Finance and Management Science) and M.B.A. Director in 1984, Dean of the Sobey School of Business in 1987 and Vice-President, Academic and Research in 1991. He assumed the Presidency in 2000. Dodds is Past-Chair of the Association of Atlantic Universities; and Past-Chair of the Council of Nova Scotia University Presidents and he serves on the Nova Scotia Research and Innovation Trust Fund. Dr. Dodds has recently been re-appointed to the Board of the Association of Universities and Colleges of Canada. He is member of many professional associations.
Dodds is very active in a range of local, national and international organizations. He is past Chair of the Board of the Canadian Bureau of International Education (which manages a range of international development projects and scholarship programmes), past Chair of the Board of the Canadian Scholarship Trust (which manages assets in excess of $2.8billion) but remains on the Board and Chairs the Governance and HR Committee, is a past member of the Premier's Economic Advisory Panel; ended a term this year on the Board of the Atlantic Institute for Market Studies—a public policy "think tank", is Chair of the Greater Halifax Partnership and has just completed a term as a member of the Premier's Advisory Council for the Order of Nova Scotia. He is the Chair elect of the Better Business Bureau for the Maritimes and is on the Advisory Board for Maple Trade Finance and is a member of the Inter-American Organization for Higher Education (OUI-IOHE); was inducted into the Atlantic Canada Entrepreneur's Academy (1994); is a member of the Judging Panels for the Ernst and Young Entrepreneur of the Year Awards, the Toyota Earth Day Awards and the IODE; Chairs the Board of Regents for the Duke of Edinburgh Awards Program; is a Commissioner of the Pugwash Park Commission and was awarded the Queen's Jubilee Medal. Dr. Dodds has also been inducted into the Top 50 CEO Hall of Fame for Atlantic Canada.
He is married to Carol and they have two children, James (with TD) and Elizabeth (with the Halifax Port Authority).