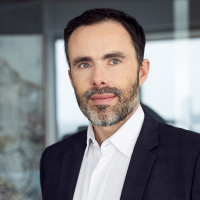 Eoin Ó hÓgáin
Partner, Power Sustainable
Eoin Ó hÓgáin is a partner at Power Sustainable, a Montreal-based investment management firm focused on sustainable infrastructure, sustainable equities, and natural assets in the Americas, Asia, and Europe. He also serves as a vice president of Power Corporation of Canada and chief executive of Power Pacific Investment Management.
Prior to joining Power in 2016, Eoin worked at State Street, McKinsey, and Morgan Stanley.
He serves on the boards of the Ireland-Canada Chamber of Commerce and the Canadian Irish Studies Foundation.
Eoin holds the Chartered Financial Analyst designation. He received a Bachelor of Business Studies and French degree with first-class honours from Trinity College Dublin, and an MBA with high distinction from the Harvard Business School.