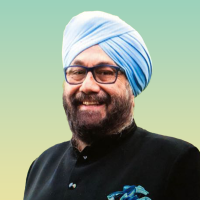 The Hon. Baljit S. Chadha, P.C.
President and Founder, Balcorp Limited
The Hon. Baljit S. Chadha, P.C., is President and Founder of Balcorp Limited, an international trade and marketing firm headquartered in Montreal with offices in New Delhi and Mumbai. A successful Canadian entrepreneur and philanthropist with a depth of knowledge and expertise in international trade, especially with India, and strategic planning, in 2003, Mr. Chadha was named to Canada's Security Intelligence Review Committee with a concurrent appointment to the Queen's Privy Council of Canada.
Mr. Chadha's business interests through Balcorp include agricultural food products, processed foods, and forestry products. His directorships and memberships extend across many communities in Canada and internationally. Past and current involvement includes: Governor, Montreal Economic Institute; Patron, Historica-Dominion Institute, Toronto; Director, International Tree Nut Congress, Spain; Advisor on Indo-Canadian Affairs to the Office of Montreal Mayor Pierre Bourque; Member, Advisory Board of the Indo-Canada Chamber of Commerce, Toronto; and, Director, Association des Maisons de Commerce Extérieures du Québec, Montreal. Based in Montreal, Mr. Chadha is a former Distinguished Fellow of the Asia Pacific Foundation of Canada, and Governor Emeritus, Concordia University, Montreal. He holds a Bachelor of Science from the University of Bombay and a Master of Business Administration from Concordia University.