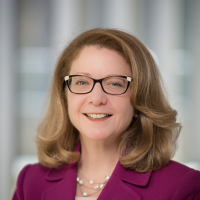 Melissa Kennedy
Executive Vice-President, Chief Legal Officer & Public Affairs, Sun Life Financial
Melissa Kennedy is responsible for Sun Life Financial's worldwide legal, compliance, corporate secretarial, and public affairs functions and is the executive sponsor of sustainability at Sun Life.
Through proactive legal consultation and sound compliance and governance frameworks, Melissa and her teams are responsible for guiding the organization to deliver on its purpose to help clients achieve lifetime financial security and live healthier lives.
Melissa joined Sun Life in 2014 with a breadth of experience spanning private practice, regulatory, and in-house roles. Prior to joining Sun Life, she was Senior Vice-President, General Counsel and Corporate Affairs, for the Ontario Teachers' Pension Plan, one of Canada's largest pension funds. Melissa started her career in private practice, followed by roles as head of the prosecution team at the Ontario Securities Commission and as Vice-President, Associate General Counsel, at a major Canadian bank.
A passionate advocate for diversity and inclusion, Melissa is a founding member of Legal Leaders for Diversity and Inclusion, a group of Canadian General Counsel that promotes diversity and inclusiveness in the legal community. In 2017, Melissa received the Distinguished Alumnus Award from the University of Toronto, Faculty of Law, and in 2016, The Women's Executive Network recognized her as one of Canada's Most Powerful Women. In recognition of her teams' efforts to embed sustainability practices into the Sun Life culture and operations, Melissa was awarded the 2017 Environmental, Social and Governance award from the Canadian General Counsel Awards.