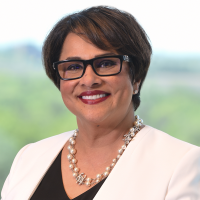 Suromitra Sanatani, LL.B.
Independent Director and Board Chair of Canada Post
Suromitra Sanatani, LL.B., is an independent director and currently Board Chair of Canada Post, Chair of the Royal Bank Global Asset Management Independent Review Committee, and a director of Purolator Holdings. Ms. Sanatani began her career in litigation before transitioning to senior corporate positions in the non-profit, public, and private sectors. Previously, she served on various boards, including as director of Travel Alberta, Edmonton International Airport, Canadian Blood Services, Michael Smith Foundation for Health Research, and Victoria International Airport, and as a member of the Social Sciences and Humanities Research Council of Canada and Chair of the Royal British Columbia Museum.
Ms. Sanatani is the former BC and Yukon Vice-President of the Canadian Federation of Independent Business, where she represented the interests of small- and medium-sized businesses in British Columbia and Yukon. She was pivotal in establishing Partnerships BC (now Infrastructure BC), a Crown corporation specializing in public-private partnerships, where she was Vice-President, Corporate and Government Relations. Ms. Sanatani's previous consultancy work includes leading First Nations consultations across British Columbia and providing strategic advice to senior executives in the financial, utilities, and transportation sectors. Based in Vancouver, she holds a Bachelor of Arts from the University of Victoria and a Bachelor of Laws from the University of Ottawa.