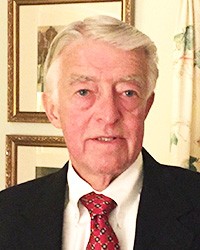 Geoffrey K. Mitchell
President, Brant Energy Inc.
Geoffrey Mitchell is President of Brant Energy Inc., a New Hampshire based energy consulting and infrastructure development firm serving gas, electric utilities and others involved in the energy industry. During his career he has been involved in a number of energy delivery infrastructure projects in the US and Canada.
He currently serves as a Governor and Director of Rothesay Netherwood School (RNS), Rothesay, NB, is a founding member and past President of the New England Canada Business Council and is a former member of the board of Jordan Cove Energy Project LP. He is a past natural gas representative on the Massachusetts Energy Facilities Siting Council, served on the New York Mercantile Exchange Natural Gas Advisory Committee and was a Director of the Nova Scotia Tidal Power Corporation. In 2003 he served on the National Petroleum Council LNG Subcommittee.
Mr. Mitchell holds a Bachelor of Science degree in Nuclear Engineering from the University of Massachusetts (Lowell).