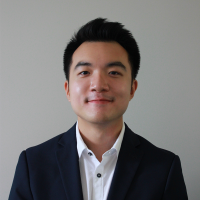 Benedict Tang
Director of Digital Communication and Marketing
What are your academic or professional interests in relation to the Asia Pacific region?

I am currently completing my degree in International Relations at the University of British Columbia. Through my experiences living in Asia as well as my academic studies at UBC, I developed a strong interest in global affairs and economics in relation to the Asia-Pacific region. Having worked with the Asia Pacific Foundation of Canada in the Youth Council since 2019, I want to continue building on this relationship and stay connected to the region while also learning from students and graduates in the professional world.
 Is there a special place in Asia that you feel most connected to (whether through travels, family, or another experience)?

Having spent my childhood years growing up in Singapore, that city is the place that I feel most connected to. I have fond memories of having cheap and delicious local delicacies such as Char Kway Teow or Chicken Rice with family and friends. I still try to go back and visit once a year to reconnect with my relatives and friends.
Why do you believe Canadian students and young professionals should take an interest in Asia?

Given Asia's rich ethnic and cultural diversity, we certainly can learn a lot from what Asia has to offer and apply it to Canada. As we live in a more interconnected world than ever before, I believe that students and young professionals have the opportunity to learn from different industries across the region in order to gain a more in-depth understanding of Asia.
What do you hope to accomplish this year as part of the Vancouver Asia Pacific Youth Council?

Working collaboratively with the other Youth council members, I would like to continue bringing awareness among Canadian students and young professionals about Asia and its growing prominence on the world stage. I hope that I can help facilitate engaging and relevant discussions with youths about Asia through our events and initiatives.
What is one interesting/fun experience you had while travelling through Asia?

I took a solo trip to Taiwan when I was 20, and it was a liberating experience travelling to a new place by yourself! I spent a week exploring, visiting Jiufen in the north all the way to Kenting in the south. I stayed in local hostels as I was travelling on a budget, and I enjoyed the local cuisines as well. One highlight was renting an electric scooter and exploring the sights of Kenting, and enjoying the sunset at Mount Guanshan. It is a memory I will never forget.
Where would you go next in Asia and why?

I would like to visit Japan one day as it is a place full of history and culture. I am a big fan of ramen, so I would love to try an authentic bowl of ramen one day!
What is your favourite Asian snack?

I absolutely love Pocky biscuit sticks - there are so many flavours to choose from, but my favourite is definitely chocolate!