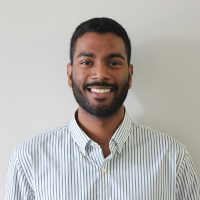 Chandima Silva
Co-Director of Arts and Culture Programming
What are your academic or professional interests in relation to the Asia Pacific region?

I was born in Sri Lanka and grew up in Canada. My interest in the Asia Pacific is fundamentally geographic, historical, and cultural. My ancestry and my cultural heritage fuels my passion and curiosity for the workings and history of a very dynamic and connected region of the world.
Is there a special place in Asia that you feel most connected to (whether through travels, family, or another experience)?

Other than Sri Lanka, I've felt very connected to Southeast Asia – the customs, the food and the people. I had the opportunity to get to know the region through an exchange semester at the National University of Singapore.
Why do you believe Canadian students and young professionals should take an interest in Asia?

Even before the pandemic, Canada has been slowly posturing towards Asia in anticipation of the "Asian Century." The post-pandemic (hopeful) world will likely be quite different, but the rise of Asia remains a constant. Young Canadians should take an interest in Asia, if inclined, as skills and competencies in Asia knowledge will help one compete in professional settings.  
What do you hope to accomplish this year as part of the Vancouver Asia Pacific Youth Council?

I hope to lead the council through the realization of a robust social media plan targeting youth engagement. I hope, too, to realize a personal project that deals with Canada's international education strategy towards the end of my term.
Do you have any recommended books about Asia?
The Hungry Ghosts by Shyam Selvadurai: Sri Lankan-ness, queerness, diaspora blues, Buddhism, and folklore set in paradise; Three-Body-Problem by Liu Cixin: Chinese sci-fi is fascinating and different from mainstream Western sci-fi. This book combines cultural history, science, and science fiction brilliantly. Beijing Comrades by Bei Tong: A published queer web story by an unidentified author, possibly, female. Set during the cultural revolution, and likely written by a female-identifying enthusiast, it explores a very tumultuous love affair between a Beijing-native businessman and a university student transplant from the country.
What is one interesting/fun experience you had while travelling through Asia?

Getting to experience an open, queer space in Thailand was an incredibly personal experience for me. For so many of us in or from the non-West who are queer and non-white, we are told that spaces do not exist. That queerness is Western, it is foreign. To experience an entire district in Bangkok that included queerness in some forms, without having to decompose Section 377 (or a variation thereof) [Section 377, which dates back more than 150 years, is part of the Indian Penal Code and criminalizes same-sex relations], was magical to say the least. On the same trip, I visited Ho Chi Minh City with my partner, where we got serenaded by a lady who poured kerosene around her in a busy street, lit it on fire and danced while the cacophony of motorcycles drumming past accommodated her intrusion as if it was the most normal thing in the world. Only to find out that she did all that to promote a biscuit brand.
Where would you go next in Asia and why?

Taiwan! I want all the qq bao.
What is your favourite Asian snack?

XLB (xiao long bao) and isso wade.