Artificial Intelligence (AI) is a diverse field, one that seems to be changing every time you hit the refresh button in your browser. Research reports have certain merit, but the best way of understanding how AI is changing our world and why it matters is to hear stories from practitioners who work, live, and breathe the technology. In this series, we will be profiling Canadian AI practitioners who are pursuing opportunities in Asia. If you are interested in sharing your AI and Asia stories, please contact researcher and writer Dongwoo Kim at dongwoo.kim@asiapacific.ca.
Lana Novikova is the Founder & CEO of Heartbeat AI, a Toronto-based AI startup that has developed a platform that helps users better understand the emotions of their clients and employees to make the best decisions. In this interview, Lana shares her experiences and insights on the field of AI and Canadian opportunities for this sector in Asian markets.
Q: Tell us a bit about your company, Heartbeat AI.
Heartbeat AI started 3.5 years ago with an idea to use technology to make the irrational predictable. In the past, we hoped that "rational" consumers could lead us to brilliant insights and smart business decisions. They gave us some answers but took us only a third of the way – the tip of the iceberg – never revealing the "deep why" behind human decisions and preferences. It turned out that people don't really know why they do what they do.
Ten years later, behavioural economics and neuromarketing came into being to measure and explain what happens "under the hood" of the human mind. Now, enter Artificial Intelligence (AI).
Heartbeat AI works to understand how people express emotions using language. Heartbeat's platform transforms text input from any source – open-ended survey questions, interview transcripts, social media, customer feedback, product reviews – into universal emotion categories. Insights are accessible through a user-friendly dashboard within minutes. They help build understanding and empathy that leads to better marketing, product development, customer experience, and employee engagement.
Ninety per cent of human decisions, including who we vote for, are actually driven by emotions, not reason. So, quantifying emotions and using smart predictive analytical models can make the irrational predictable. We hope to be able to work with the public sector in Canada and Asia to help them better understand citizens to build better social programs for all of us.
Our team in Toronto and Central Asia works like an interdisciplinary lab. We have experts in research, analytics, linguistics, psychology, software development, natural language processing, and design, running operations around the world.
Q: So, Heartbeat AI interprets emotions. How does this process play out in a different cultural context, like Japan or Korea? How do you adjust for those differences?
Japanese is a very different and difficult language, including syntax and contextual meaning. The good news is that all humans have a similar classification of emotions – we all feel joy, anger, sadness, and fear – and we can, more and less, express emotions using language.
Japanese are known for often 'hiding' emotions in social interactions. But in fact, they are quite willing to express emotions on social media or during customer support calls or chats. This will be the data we will use to 'train' Heartbeat to understand Japanese people in different contexts. We won't really need to adjust our system because we will be building a Japanese emotion taxonomy and rules library from scratch with the help of Japanese native speakers with the background in linguistics and psychology.
Q: AI ethics is a hot topic of conversation today. How does your company engage with this issue on a day-to-day basis?
At Heartbeat, we hand-craft our rules and algorithms. As our system becomes more complex, we will build in quality control and alarms to warn us of potential issues. Today, we don't take in any personally identifiable information into our system. When the time comes to work with more sensitive data, we will use explicit consent and explain to users how the data will be used. By design, our business model is not based on advertising revenue from selling human attention – and we want to keep it that way.
Q: You have been to Asia to expand Heartbeat AI's presence in Japan and South Korea. What motivated you to take Heartbeat AI to Asia? In your opinion, what are the key differences between the AI scenes in Asia and in Canada?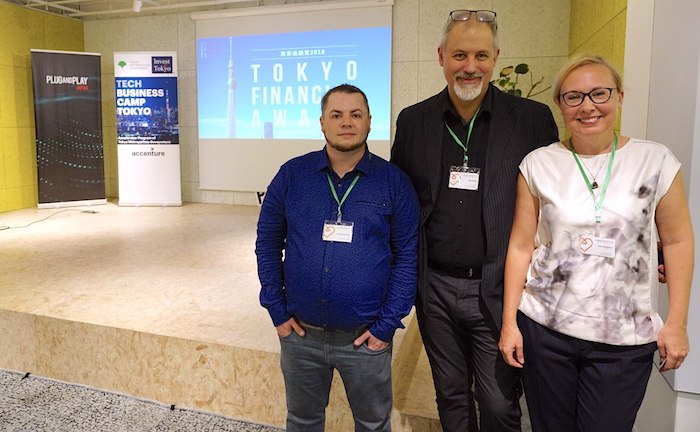 My team spent two months in Tokyo last Fall participating at an AI Business Accelerator run by the Tokyo Metropolitan Government. We also took part in Ontario FinTech trade missions in Japan and South Korea and in Invest Korea Week sponsored by Korea Trade Investment Promotion Agency (KOTRA). We met some leading companies, showed them what we built, learned about their needs and dreams, and discussed opportunities for collaboration and investment. Japan and South Korea are great for business if you have patience and have the will to learn. There is a lot in common between Western and Eastern approaches to doing business, but there are some major differences too. For example, many Japanese corporations are over 50 years old. Naturally, they foster a very long-term outlook for building business relationships. Investors in Asia ask a startup founder where they plan to go public – not how fast they want to be acquired by Google.
Having met many AI experts in Asia and Canada, I found that most conversations in Asia are focused on AI implementation, including putting AI, such as Heartbeat-powered emotional intelligence, into bots to help people live better lives – for example, training a bot to understand human emotions and become a better companion so they can care for seniors. While in Canada, the conversations are about the science of AI. People constantly ask me what algorithms we use, whether we prefer Deep Learning, or Reinforcement Learning. This is more academic and less practical.
Canada is behind Asia on robotics and hardware, yet ahead on software development and the science of AI. It is a great opportunity for Canadian startups to turn their best AI science into tangible products and services in Asia.
Q: Do government policies make a difference for AI startups? What are some of the things that Canada has been doing well, and what are some things it could do better for AI entrepreneurs?
We had the honour of being invited to Invest Korea Week in Seoul last November and to meet many amazing Korean startup entrepreneurs including MindsLab's Taejoon Yoo and Catherine Moon-Jung Kang of Plugg. We learned that the Korean Government provides huge support to promising startups and encourages leading Korean corporations like Samsung, LG, and Hyundai to work with startups on paid proof-of-concepts (POC) and pilots. Both sides – government and large corporations – support bustling young companies and help them build revenue in Korea while they are getting on their feet.
In Canada, we get a considerable amount of support from our provincial and federal governments, yet trying to get a POC with a Canadian corporation is harder than getting a full project with Australian, American, or British firms. It takes very long and we feel we have to compete with American giants like IBM. I wish there was a sense of Canadian pride and more of an appetite for risk-taking when it comes to our home-grown startups. That would help us to stay in Canada instead of seeking investment and opportunities in Silicon Valley and abroad.
Q: What could the Asia Pacific Foundation of Canada do to better support AI entrepreneurs interested in taking their businesses to Asia?
The Asia Pacific Foundation of Canada is doing a great job connecting people: startups, embassy experts, thought leaders and business communities across the world. I think Canadian entrepreneurs can be better educated about Asia, including cultural differences and values that might make or break a relationship. Unfortunately, we all operate on heuristics, stereotypes and biases, especially today during such times of political tension between governments.
Entrepreneurs for centuries have been building bridges and roads – not walls. The Asia Pacific Foundation can help us do all that and more – break stereotypes to build more bridges. For example, a group of Canadian women is getting together with Japanese women in Tokyo and Kyoto in April this year to build partnerships in the care economy – economic activities related to the provision of social and material care of children, the elderly, and people with disabilities. It is the first Canadian women-only business mission to Asia! This fantastic opportunity, which I am proud to be a part of, is conceived and organized by APF Canada.
Thank you, Lana for taking the time to share your insights and experiences. To learn more about Heartbeat AI, please click here.
The views expressed here are those of the author, and do not necessarily represent the views of the Asia Pacific Foundation of Canada.