It's early fall and thousands of high school students are up for grabs here at the cavernous basement of the China National Convention Center in Beijing. Built for the 2008 Olympic Games, it's a fitting venue for what's essentially the Olympics of international student recruiting. China will send more than half a million students abroad this year – the most of any nation – and each one represents, on average, six figures of spending and a potential new immigrant for the nation that woos them. This may be the biggest recruitment event in the world.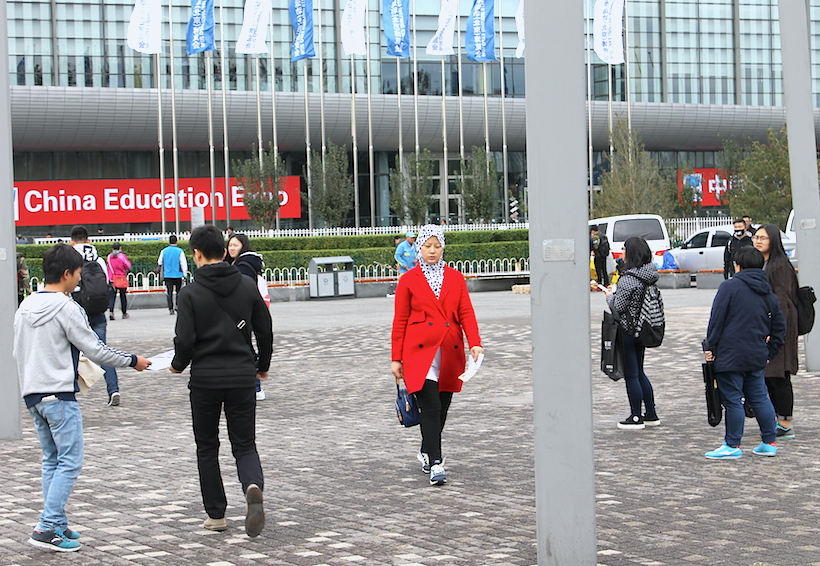 Exterior of the China Education Expo event at the China National Convention Center in Beijing.
So far, France is looking like the country to beat. They've got beret-wearing grads passing out soft cheeses to students, while parents sip champagne and hear about all the wonderful things to see in Paris. Next to that, students pose for photos under an impressive model of the Eiffel Tower, which they'll no doubt share on WeChat. Down the hall, past where universities are passing out pamphlets, Chinese students are lined up for a trivia game with questions like, "Which of these artists isn't French: Daft Punk or Moby?" The winner gets a bottle of wine. Put it all together and France's message is clear: study here and experience European culture at its finest.
The German national stand is less flashy, but they've also got a clear message. A father steps up to grab one of the free orange, yellow, and black bracelets and ends up listening to a pitch: send your kid to study engineering in the land of BMW and Mercedes-Benz, and he'll get a futuristic job.
Nearby, people are scooping up the mini ceramic clogs that the Dutch have laid out on a table. Some are lingering to watch their video advertisement, which includes an English-speaking narrator explaining how the tiny Netherlands punches above its weight in business and architecture. Did you know Rem Koolhaas designed Beijing's famous CCTV headquarters, he asks? That Philips, Unilever, and Shell are all Dutch?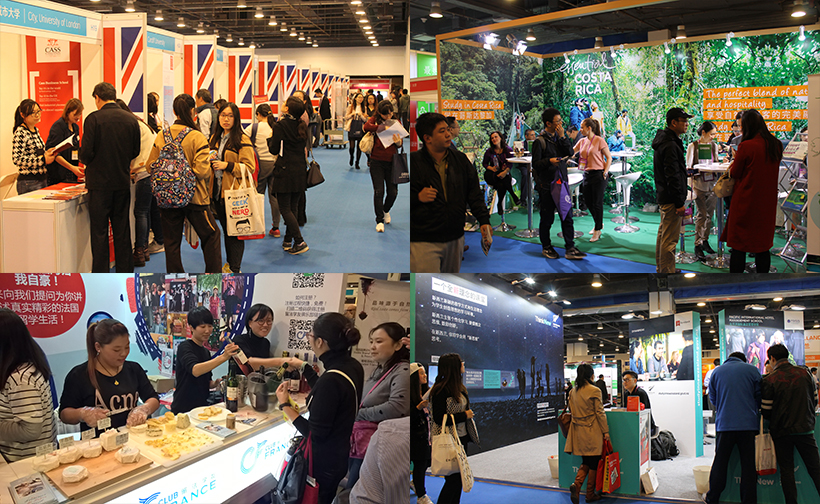 New Zealand is also looking like a contender. The Kiwis have done away with the walls between individual schools' recruiting booths to reveal an enormous photograph of students peering through a telescope at a starry sky. Unlike China, New Zealand's sky isn't blocked out by smog and light pollution. Their slogan, "Think new," is printed so big it catches your eye from across the room. Nearby, there's an Immigration New Zealand stand. Parents are encouraged to "think" of New Zealand as a "new" country, not only for their offspring but for the entire family. Emigration, Chinese parents will tell you, is often goal number one when they send kids abroad to study.
Canada's Confusing Brand
Jock Phippen, a recruiter from Toronto's York University, is in China for the first time. The New Zealand stand has him jealous. "When you look at the wall printout, it's huge – it gives you a sense that 'wow, that must be what it's like to be in New Zealand,'" he says. Canada's national booth, by contrast, is "a bit cardboard, a bit muted.
"It would be really nice to see more of the landscape of Canada," he says. Perhaps we could take a cue from other countries and at least hand something out, he says.
Phippen isn't the only Canadian who seems embarrassed by Canada's booth, which has no video, no giveaways, no games, no immigration stand – no real message. The photos on the stand look like they could be from anywhere, and the tagline – Un monde de possibilities / A world of possibilities – seems to say nothing in particular about Canada. The logo is a fat maple leaf chopped up into strips. It's so unrecognizable that Yan Wu, a Chinese-Canadian recruiter from Sheridan College in Oakville, ON, says she couldn't initially find the booth.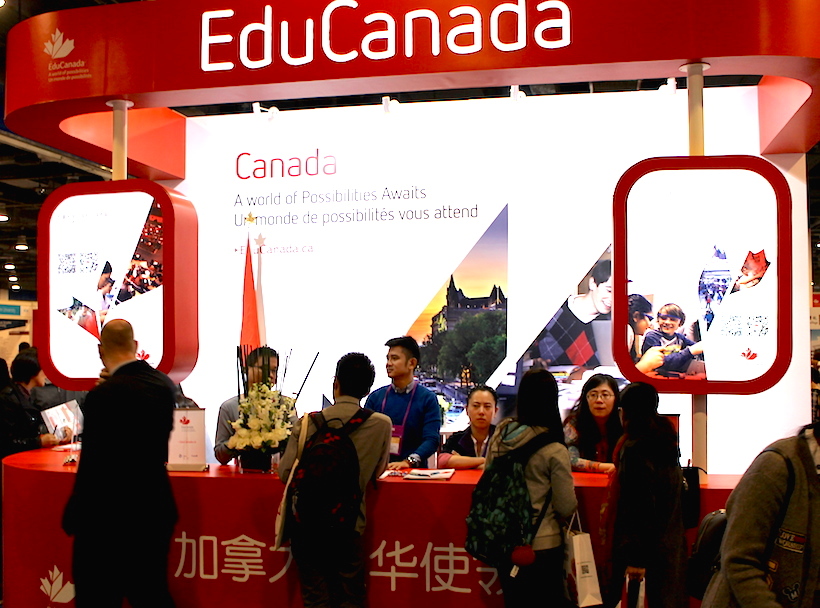 And this is supposed to be our new and improved branding. After extensive consultations with the public and the provinces, in 2008 the federal government chose "Imagine: Education au/in Canada" and a blurry-edged maple leaf as our national education brand. That brand was criticized as too generic, so Global Affairs Canada went back to the drawing board.
But recruiters say the "world of possibilities" brand unveiled last year suffers many of the same problems as the old brand: it's too boring, too generic. The brand also adorns Canada's EduCanada website where potential students are supposed to go to learn about the value of studying in Canada. The dreary site, which is built from a government template, is hardly a portal of youthful excitement and exuberance.
Canada Versus New Zealand
EduCanada's website is quite a contrast to Study New Zealand's, where visitors are welcomed with a photo of students and a professor on a mountainside or a young man working on advanced robotics. One can practically smell the fresh air. Scroll down on New Zealand's site and you'll find video testimonials, like one from Cherry from China, who talks about how safe she feels walking around at night. Those same videos are shared frequently on Study New Zealand's Facebook page, which has 850,000 likes, and on its Twitter feed, where they reach 24,000 followers. Google "EduCanada" and its Twitter feed doesn't even show up.
Put it all together and many in the field of international student recruitment are asking, "Why doesn't Canada put more effort into attracting the world's bright young minds – who pay full tuition fees and often make ideal immigrants?"
Huge Economic Potential
One reason this hasn't received much attention is that international student numbers have, in fact, grown impressively in the last decade. But that was in spite of our arguably poor branding, not because of it. A recent report from the Canadian Bureau for International Education says we nearly doubled the number of international students between 2008 and 2015. There are now more than 350,000 international students at all levels, from kindergarteners to PhD candidates.
That's boosted the economy enormously. Those students spent more than $11.4B in 2014 on tuition, accommodation, and other expenses, according to a government-commissioned study. To put that in perspective, international education exports now exceed our total exports of wheat ($8.0B) and lumber ($8.7B), and are closing in on motor vehicle parts ($11.9B).
But Canada is actually the "kid that was born on third base and thinks he hit a triple," according to Alex Usher, from Toronto-based Higher Education Strategy Associates. Our numbers have grown substantially for two main reasons: the global pie more than doubled in size between 2000 and 2012, and the United States "shot itself in the foot" by slowing down visa processing and approvals after 9/11. Between 2000 and 2012, the U.S. share of international students dropped from 22.8 percent to 16 percent.
Canada was the natural alternative, but it picked up surprisingly little market share, growing from just 4.5 percent of the global total to 4.9 percent, according to the OECD. Canada did nothing to close the gap with Australia, whose market share rose from 5.1 to 5.5 percent. Nor did Canada catch up to the U.K., whose share grew from 10.7 to 12.6 percent. Meanwhile, the Netherlands' portion doubled from 0.7 to 1.4 percent, and little New Zealand (with a population of just four million) saw its piece of the pie quadruple from 0.4 percent to 1.6 percent.
International students now make up nearly one in five students in Australia, the U.K., and New Zealand, compared to one in 10 here in Canada. If Canada had the same number of international students per capita as our English-speaking counterparts, our economy could be $10B bigger on an annual basis. Again, put that in perspective. The Trans-Pacific Partnership deal that was long sold to us as the best way to grow the economy would have boosted annual output by an estimated $4.3B.
What Canada's Brand Could Be
Usher says Canada has no ground game in most of our biggest overseas markets, not just China. He did focus groups with Indian students a few years ago and asked them to describe potential study-abroad destinations. For the United States, students used words like "good," "very good," "excellent," "best," and "Obama." The picture for Australia was more mixed, with words like "good" and "kangaroos" and also "racism." But when it came to Canada, they used words like "nothing," "don't know," and "cold." The conclusion, he says: "We have no brand."
The cold weather, by the way, comes up frequently at the China Education Expo. A number of secondary students from Beijing seemed genuinely puzzled about why Canadian university guidebooks include photos of people wearing shorts. They didn't realize that, just like Beijing, much of Canada has warm summers. Shouldn't Canada at least try to counter this misconception?
Usher thinks this is an especially good time to get our act together. A recent study found 60 percent of prospective international students said they were less likely to choose the U.S. under a Donald Trump administration. Now that he's elected, "there are like a quarter- or a half-million students who are up for grabs," according to Usher. "If we took a tenth of that, it would be fabulous."
But first we need to get selling. One solution, according to Usher, may be for the federal government to hand off national marketing to an outside agency rather than leaving it to bureaucrats who seem to be more concerned with pleasing the 10 provinces then actually selling Canada externally. The provinces have a constitutional responsibility to deliver education, but not to sell Canada internationally; consulting all provincial education ministers may simply be inviting a bureaucratic bottleneck.
Perhaps more importantly, a funding boost would also do wonders, according to Usher. More than 100 embassies and consulates promoting Canadian education abroad, yet they share a mere $1.1M marketing budget, part of Canada's approximately $5M International Education Strategy. Compare that to New Zealand, a country that has less than an eighth of Canada's population but spent $8.6M in 2015 on education advertising, events, and fairs.
But first, we also need a better brand to sell. To figure that out, we could start by listening to what the college and university recruiters at the China Education Expo were telling the students and parents they did manage to draw into their individual booths.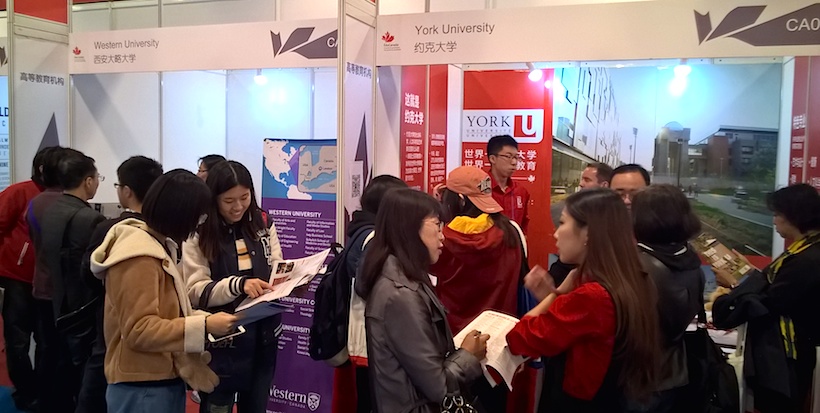 Western University and York University compete for attention at the China Education Expo in Beijing.
Their most common pitch by far: Canada is welcoming and Canada is safe. Wu, from Sheridan College, likes to tell parents that their kids need not worry about "feeling like a foreigner" in Canada because "everyone looks like a foreigner and everyone looks like a local." Unlike in the United States, people in Canada are patient and supportive of newcomers, she tells them.
Wu also argues that Canada is "probably the safest country in the world right now." Unlike France and Belgium, Canada has not experienced any large-scale co-ordinated terrorist attacks. Unlike the United States, even our biggest cities have very low levels of gun crime, and our country's leader couldn't be more different from Donald Trump. Unlike Australia, we haven't experienced high-profile hate crimes targeting international students. And unlike Britain, we didn't just vote to leave the European Union, in part to keep more foreigners out.
Not only is Canada safe for students who want to spend a few years here, but it's more welcoming to those who want to stay and build a life, Wu says. Recent changes to the Express Entry points system mean graduates with Canadian credentials are near the front of the line for permanent residency. Even more importantly, Canada allows students to stay longer after graduation to look for work than in the U.K., the U.S., or New Zealand. In Canada, graduates can work while studying and then also get a Post-Graduation Work Permit that allows them to stay for up to three years while looking for a job in their field. That makes it far easier to set down roots.
In fact, that work permit is so generous that students and parents at the Chinese Education Expo who find out about it at first seem incredulous. Once convinced it's real, they will tell you that Canada is going to the top of their lists. Wu jokes that the government should hire her to redo some branding. She might not be wrong.
Josh Dehaas is a 2016-17 Asia Pacific Foundation of Canada Media Fellow, with travel supported in part by Cathay Pacific Airlines. (Photos courtesy Josh Dehaas).

The views expressed here are those of the author, and do not necessarily represent the views of the Asia Pacific Foundation of Canada.