In November 2016, the Government of British Columbia announced its plan to establish a new overseas Trade and Investment Representative Office in 2017 in Johor Bahru, a major city in Malaysia that borders Singapore. By strategically locating one of its newest trade offices on Singapore's doorstep, the provincial government is clearly looking at strengthening direct ties with both countries. While Singapore is usually considered as a launching pad into markets in the rest of Southeast Asia or in Asia, there are plenty of opportunities within that country that are worthy of more attention by B.C. businesses.
With uncertainty and rising protectionism south of the border, it is time for B.C.'s export sector to increase its presence in Asia. There is an opportunity to look to involve more industries and actors in trade instead of only focusing on expanding trade volume. With such trade diversification efforts, Singapore deserves more attention from B.C. businesses because a) it has a well-structured, business-friendly economy, and b) there is demand in information and communications technology (ICT) and clean technology, two areas the province is forging expertise.
Singapore: An Important Regional Trading Partner to Canada
In recent years, Canada has made efforts to forge stronger economic ties with the Association of Southeast Asian Nations (ASEAN), a regional bloc that comprises some of the world's fastest-growing economies. In 2016, Canada exported a total of over C$5 billion worth of merchandise to ASEAN's 10 member countries, which as a group remained Canada's sixth-largest export market.
The city state of Singapore is at the centre of the dynamic region's business and transportation networks. Being the most open and developed economy among all ASEAN countries, Singapore has earned a global reputation for its robust economic infrastructure, sound financial system, and transparent institutional framework. Displaying a steadily rising economic trend throughout the last decade, in 2016 Singapore became Canada's 33rd-largest export destination for goods worldwide and 10th-largest export destination for goods among all Asia Pacific countries. Having launched bilateral Free Trade Agreement (FTA) negotiations with Singapore in 2001 and now exploring the possibility of a broader Canada-ASEAN FTA, Canada recognizes Singapore's importance as a trade partner and the market's potential to absorb exports, which is evident in the U.S.-Singapore Free Trade Agreement that has helped boost U.S. exports to Singapore by 85 per cent in 10 years' time.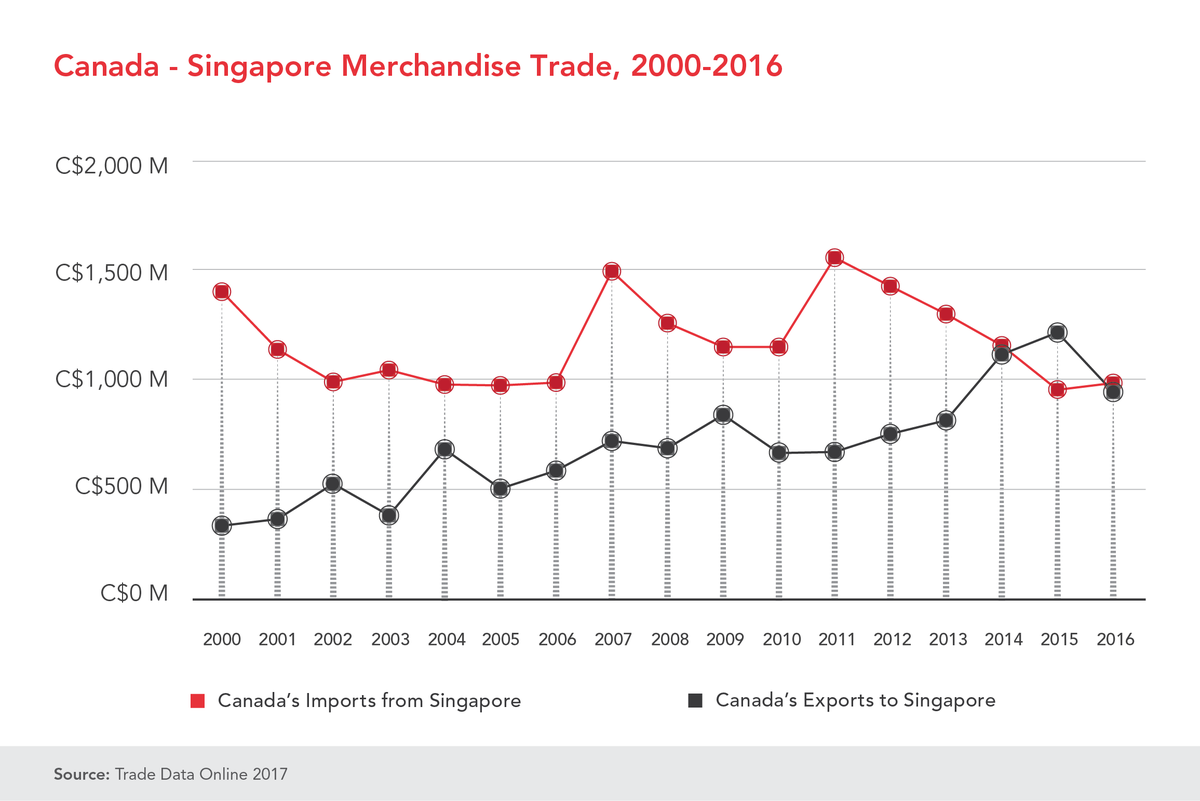 BC in the Spotlight: ICT and Clean Tech
British Columbia is in an advantageous position to deepen trade relations with Singapore, especially in a number of key sectors that align with demand in Singapore. For over a decade, B.C. has been playing an active role, if not the most active role, among Canadian provinces and territories, engaging with Asian economies in pursuit of stronger and more sustainable economic relations. In 2016, exports to Asia accounted for 38 per cent of the province's total merchandise exports, surpassing the national percentage figure, and exceeding all other Canadian provinces both percentage-wise and numerically.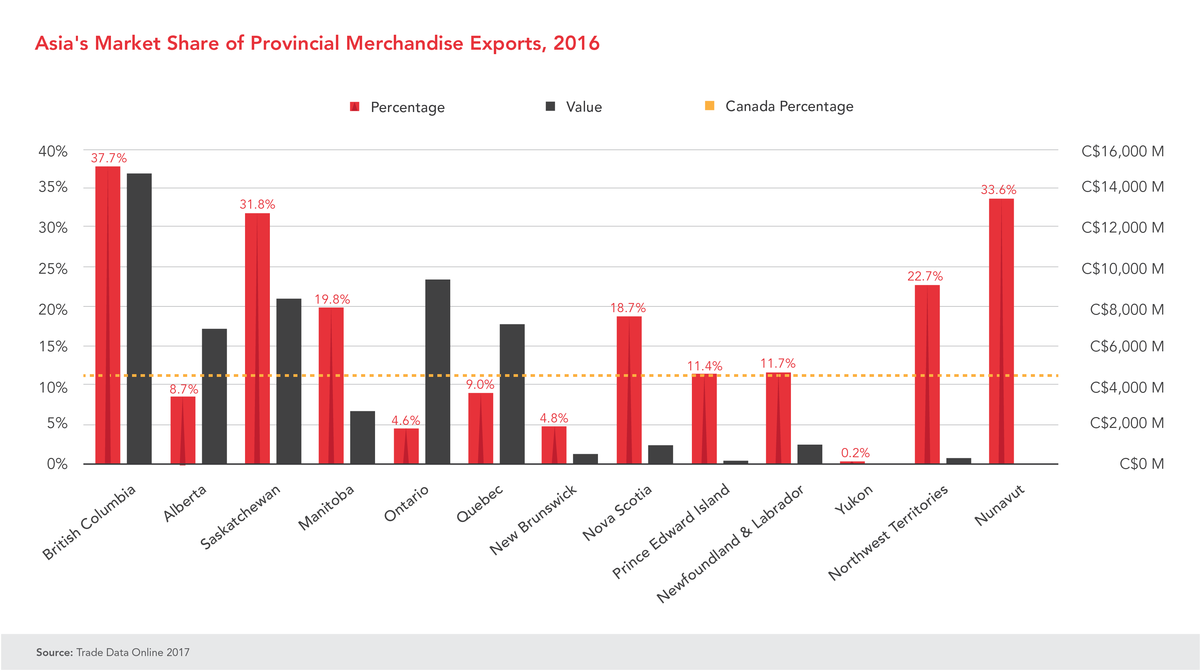 In 2016, Singapore emerged as the 28th-largest export destination for B.C.'s merchandise. While the standing is not significantly high, a number of promising sectors have the potential to grow into key drivers of provincial exports to Singapore and the surrounding region. Singapore's commitment in using information technology to increase efficiency and convenience in the country's public and business services opens up substantial opportunities for B.C. companies looking to expand their footprints. The highly entrepreneurial ICT community in B.C. is primarily made up of small businesses (often referred to as micro, small and medium-sized enterprises, or MSMEs). But Vancouver is also home to three of the four Canadian tech 'unicorns' – startup companies that are valued at US$1 billion or more. Companies can look to the example of Hootsuite, which was able to endure fierce competition and expanded rapidly in Asia after setting up its Asia Pacific headquarters in Singapore. The company is also establishing a stronger presence by collaborating with local agencies to conduct research and studies, including the "Digital in 2017: Global Overview". While only a small portion of B.C.'s vibrant tech startups are currently exporters, Hootsuite's experience shows that more interaction with Singapore's rapidly-growing ICT sector could bring positive synergies to B.C. tech companies vis-à-vis learning to approach foreign customers and markets.
The clean technology sector is another promising area in which B.C. businesses can benefit from expanding trade with Singapore. Both B.C. and Singapore emphasize this sector's role in fostering sustainable economic growth, and B.C. companies' leading capabilities in water and waste resource management and in renewable energy are of interests to Singaporean counterparts that operate in a country with extremely limited natural resources. B.C.-based companies such as Aquatic Informatics and Singer Valve drew industry leaders' attention with cutting edge technologies and solutions at the Singapore Water Week. The country is also keen on positioning itself as the 'clean energy living lab' in Asia by providing a real-life testbed for local and foreign companies, B.C. companies will be able to use this pilot market for their R&D efforts and global expansion. Furthermore, as the City of Vancouver pushes forward with its 'Greenest City 2020 Action Plan,' encouraging partnerships and interactions with Singapore, the 'Garden City' that holds one of the top spots for green buildings, will offer rich learning opportunities for the campaign.
Takeaways
Apart from being one of the world's most easily accessible economies that offers exporters a perfect entry point to Asia, the Singaporean market presents genuine trade diversification opportunities for B.C. to fuel its high technology sectors, and to bring more MSMEs onto the global stage. With B.C.'s new trade office and Export Development Canada (EDC), Canada's state-owned export credit agency, stepping up its trade promotion efforts in the Asia Pacific by launching its first overseas branch in Singapore, Canadian and B.C. businesses are in an unprecedentedly advantageous position to make full use of government support to secure a market presence in Asia.
The views expressed here are those of the author, and do not necessarily represent the views of the Asia Pacific Foundation of Canada.