"I today take my first step toward the new South Korea. Right now, my shoulders are heavy with crucial responsibilities vested in me by the citizens."
-President Moon Jae-in's inauguration speech
Moon Jae-in was elected South Korea's new President on May 9, 2017 to replace Park Geun-hye, who was impeached on March 10, 2017 and jailed for her role in a Rasputin-esque corruption scandal that has wracked Korean politics and society since October 2016. Park is now awaiting trial on an array of allegations including corruption and abuse of power. At the heart of the scandal is the relationship between President Park and her confidante, a woman named Choi Soon-sil, who is facing charges of her own, including attempted fraud and abuse of power.
An important, but often overlooked dimension of the national outrage is the effect it has had on politically mobilizing young Koreans. Of course, this is not the first time young Koreans have been active participants in a political protest movement: in the 1970s and 1980s, students were active in pro-democracy demonstrations that played an indispensable role in the establishment of democracy in South Korea. Interestingly, newly-elected President Moon was among them, and he protested specifically against former President Park Chung-hee, the impeached President Park's father, who ruled from 1961 to 1979.
For today's Korean youth, the presidential scandal has touched two sensitive nerves: the seemingly impenetrable status of the country's economic elites, and entrenched socio-economic inequality that hits Korean youth particularly hard. In response to these sources of discontent, Moon crafted his campaign and first days in the presidency to serve as an antithesis to Park, vowing to eradicate elitism and corruption in South Korean society as well as the Blue House, the executive office and official residence of the country's head of state.
Corruption and the Untouchable Elites
Many young Koreans argue that the Park-Choi scandal is not an isolated incident, but rather a sign of deep-rooted corruption within Korea. The arrest of Lee Jae-yong, the de facto head of Samsung, one of the country's giant conglomerates (commonly termed chaebols) and a poster-child of Korean capitalism, is one example. It is alleged that Samsung and some of the country's other large conglomerates collectively paid over US$70 million to the "non-profit foundation" utilized by Choi and her daughter Chung Yoo-ra as a "personal ATM" [1]. Samsung, the largest conglomerate in Korea, which alone controls nearly 20 per cent of South Korea's national GDP [2], has been accused of contributing over US$36 million [3] to Choi's non-profit foundation.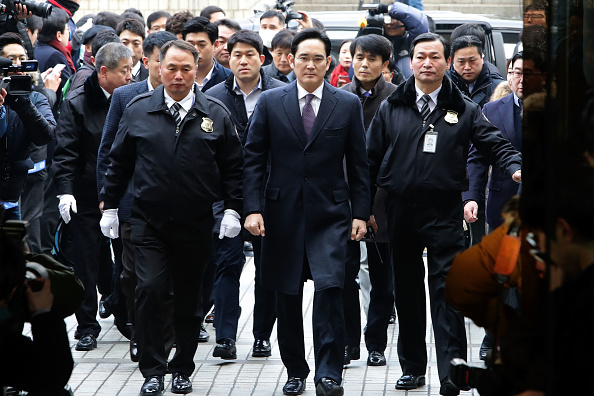 However, during a broadcasted question-and-answer hearing at the national assembly with Lee on December 2016, he denied any knowledge of the funds that were provided from Samsung. At the time, prosecutors did not charge Lee for bribery and perjury as the Seoul Central District Court denied Lee's arrest claiming lack of evidence [4]. Lee has since been arrested only in the face of insurmountable evidence and testimony by Choi's niece, Jang Shi-ho [5].
The failure to make the charges stick first time around, did not surprise many young Koreans; to them, this was another frustrating sign that they live in a culture of "elites but no leaders," explained 28-year-old recent law graduate, Kim Hae-il*, in an interview with the Asia Pacific Foundation of Canada. Changing the views of many skeptical young Koreans could depend on whether Lee and others implicated in the scandal are in fact held accountable for any criminal wrongdoing in a trial that some have deemed to be a test for rule of law [6] in South Korea, or whether they will continue to enjoy the status of being untouchable.
Moon, in response to the public's frustration regarding chaebols,vowed to eradicate their status as operating above the law and push them to create more stable and permanent jobs for their employees. Moon has even been called the 'chaebol-sniper,' building both trust and anticipation for Moon's administration to break free of corporate pressure in influencing policy and judicial rulings.

Former South Korean President Park Geun-hye (far left) and confidant Choi Soon-sil (right, centre) appear in court. | Photos by Ahn Young-Joon-Pool (left) and Chung Sung-Jun (right)/Getty Images.
The Elusiveness of Socio-economic Mobility . . . for Non-elites
For many young Koreans, the scandal also touched another raw nerve with the revelation that Chung Yoo-ra, the daughter of Choi Soon-sil (Park's confidante), received preferential admission to one of the country's top universities, Ehwa Woman's University.
Many young Koreans work incredibly hard to gain admission into universities like Ehwa. The average Korean student dedicates around 13 hours per day between school, private tutors, and cram schools. A New York Times article described the education pressure, which revolves around getting accepted into a top university, as "an assault" on young Koreans [7]. Education is often seen as a dog-eat-dog endeavour because securing good employment often hinges on having a degree from a prestigious institution. Within this context, Chung's preferential admission to Ehwa understandably provoked nation-wide outrage. In the eyes of many young Koreans, it laid bare the distinction between life for the elites and non-elites in Korea.
These revelations, moreover, have arisen at a time in which the youth unemployment rate in Korea has climbed to 8.8 per cent. Although this number may not seem high when compared to youth unemployment rates in other economically stressed countries, it is the highest it has been in Korea since the International Monetary Fund Crisis in 1999 (Statistics Korea). Moreover, the official unemployment number masks the real crisis of youth employment; Korea produces the highest number of youth with tertiary qualifications, at 66 per cent, the highest among the OECD countries [8], but two-thirds of young Koreans are still unable to find permanent jobs, even after spending years in the workforce [9]. As a result, many young people feel suffocated between over-qualification and attempting to find a gateway through slim doors to a stable job.
Time for a (More Fundamental) Change?
The Park scandal and its various dimensions have inflamed and exposed young Koreans' resentment towards a societal structure that many believe deceives them about upward social mobility in Korea. As young people, they are under great pressure to achieve academic and professional success. However, the scandal has disillusioned many young people over how much their success seems to be based on nepotism and corruption. As Sara Park*, an active protestor and recent university grad noted in an interview with APF Canada, "this protest is larger than President Park; the whole society is at fault: the education system, the conglomerates . . . it's all wrong."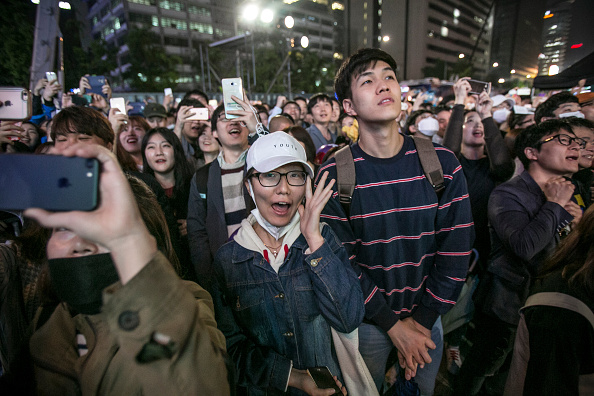 Moon Jae-in's election campaign promises to eradicate corruption and abuse galvanized South Korean youth. | Photo by Jean Chung/Getty Images.
Moon's recent campaign platform spoke to this discontent by pledging to prioritize employment and eradicate corruption and abuse of power within the government. The polls reflect Moon's appeal to the younger generation, with the vast amount of his support concentrated with people in their 20's, 30's, and 40's, while support for Moon dwindles among voters in their 50's and older [10]. This suggests that Moon's platform, which prioritizes employment and transparency, has resonated well vis-à-vis the frustration of the younger generation.
A month into Moon's presidency, and younger Koreans are already impressed with Moon says Sara Park, adding the president's willingness to communicate with public and remain transparent about his policies and choices "scratches the itch of many people who were unsatisfied with former President Park; Park was notoriously unresponsive to the voice of citizens and youth." Moon has also portrayed himself and his administration as a people-friendly government, and he's even been seen eating cafeteria lunches with Blue House staff and inviting journalists for hikes on his day off.
But while Moon has successfully won over the support of many with his friendly and approachable personality, some remain unconvinced. Detractors, particularly older Koreans, claim that Moon's platform and people-friendly image is no different from that of former liberal President Roh Moo-hyun (Moon served as Roh's Chief of Staff and Senior Presidential Secretary for Civil Affairs), who adamantly pledged to root out corruption in the Korea government but ended up taking his own life when his wife came under investigation for corruption in 2009.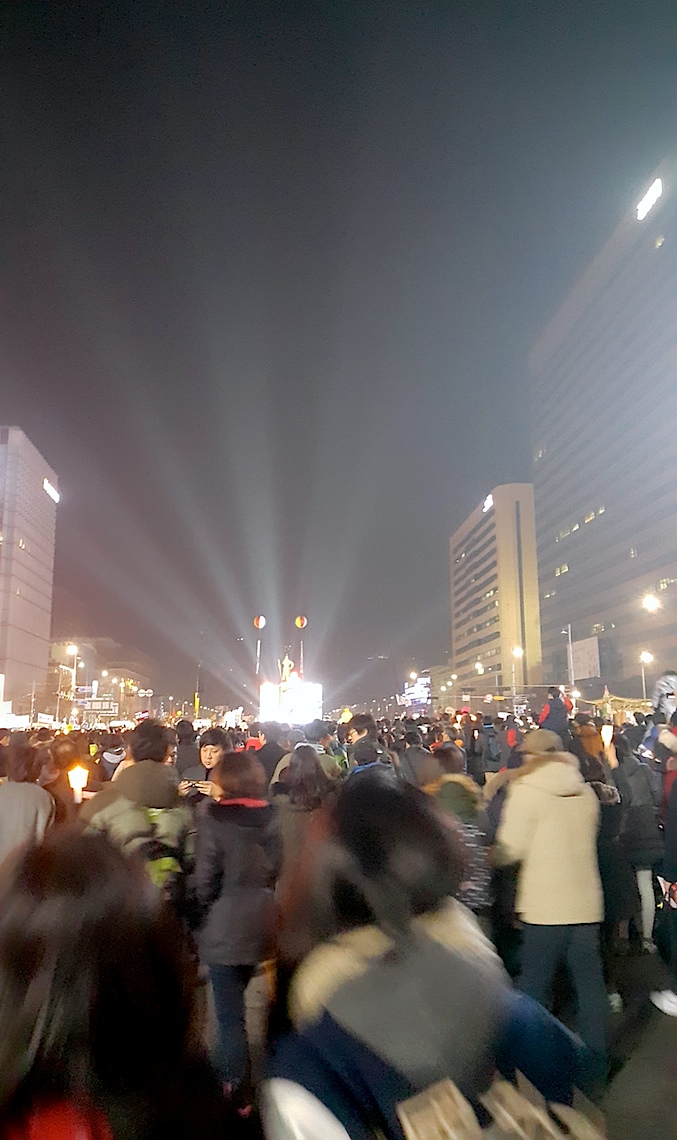 Whether the impeachment and imprisonment of President Park will do enough to root out corruption in Korea is a point of debate amongst Koreans. Some are adamant that the impeachment of Park only resulted in a different president who, thrown into the same tainted system, will fundamentally change nothing. Others argue, though, that the impeachment will serve as a warning to future presidents and a signal that Koreans will no longer tolerate a president with one hand under the table.
*Note: Names have been changed to protect the identity of interview subjects
[1] http://www.telegraph.co.uk/news/2017/01/02/daughter-south-koreas-rasputin-presidential-corruption-scandal/
[2] https://www.theatlantic.com/business/archive/2012/07/whoa-samsung-is-responsible-for-20-of-south-koreas-economy/260552/
[3] https://www.bloomberg.com/view/articles/2017-01-17/samsung-s-scandal-south-korea-s-shame
[4] http://www.koreatimes.co.kr/www/news/nation/2017/01/251_222369.html
[5] http://www.kihoilbo.co.kr/?mod=news&act=articleView&idxno=680675
[6] http://www.reuters.com/article/us-southkorea-politics-breakingviews-idUSKBN1850QB
[7] https://www.nytimes.com/2014/08/02/opinion/sunday/south-koreas-education-system-hurts-students.html?_r=0
[8] https://www.oecd.org/edu/Korea-EAG2014-Country-Note.pdf
[9] http://www.cbc.ca/radio/thecurrent/the-current-for-december-1-2016-1.3874622/south-koreans-call-for-president-park-geun-hye-s-impeachment-amid-corruption-scandal-1.3874624
[10] http://www.kookje.co.kr/news2011/asp/newsbody.asp?code=0100&key=20170509.99002203923
The views expressed here are those of the author, and do not necessarily represent the views of the Asia Pacific Foundation of Canada.