On a business trip to Hong Kong this past November, I was surprised to read that its Chief Executive, Leung Chun-Ying, believes Hong Kong can be the "super connector" in China's One Belt, One Road initiative.

Like many foreign observers, I felt a rush of nostalgia when Chinese President Xi Jinping announced the New Silk Road trade strategy in 2013, my brain racing to retrace the old trading routes from China leading west and conjuring up tales of adventure. To date, One Belt, One Road remains largely a vision comprised of two legs: the New Silk Road Economic Belt linking China and Europe and the Maritime Silk Road linking it to Southeast Asia, Africa and Europe. While we must wait for the finalization of China's 13th Five Year Plan this month for a clearer roadmap of policy initiatives and priorities, it is clear that the countries along the land and maritime legs will have primary roles to play and among those countries key players will materialize.

Hong Kong, like other interested participants, will gain access to the significant business opportunities represented by One Belt, One Road as a facilitator for capital formation and investment from the West.


TURKEY – A KEY PRIMARY PLAYER
In addition to its geographic positioning as the central land link between Europe and Asia, Turkey has a key role to play in the advancement of the One Belt, One Road in at least the following ways:
- As An Example to the Countries of Central Asia
In China's push west with the Silk Road Economic Belt it will first encounter the countries generally accepted as comprising Central Asia: Kazakhstan, Kyrgyzstan, Tajikistan, Uzbekistan and Turkmenistan – five republics of the former Soviet Union.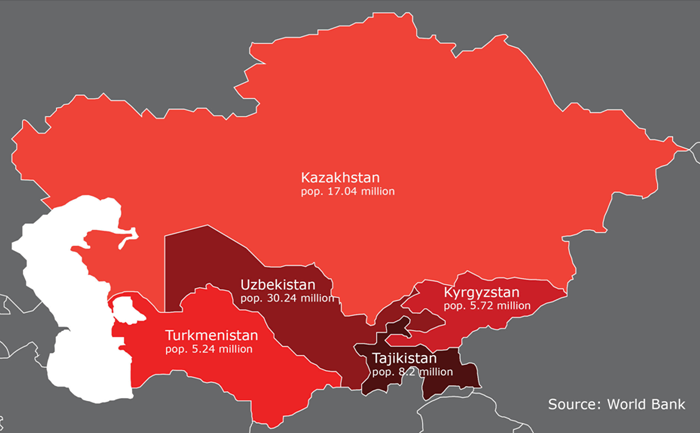 China faces a number of challenges in Central Asia:

• First, these countries, particularly Kazakhstan, are still strongly influenced by Russia which has invested significant political and economic energy through instruments such as the Eurasian Economic Union and the activities of four of its major oil companies: Gazprom, Lukoil, Transneft and Rosneft. China's Silk Road Economic Belt is certain to be viewed by Moscow as a threat to its dominant influence in the region and China should expect Russia's attempts to frustrate elements of the initiative.

• Second, while increasingly accepting of Chinese investment for infrastructure and financial aid and credits, each of the Central Asian countries has distrust of integration which may become heightened if China is aggressive in its advancement of One Belt, One Road.

In his recent commentary for the Centre for Eastern Studies, Russian foreign policy expert Dr. Marcin Kaczmarski points out that the "New Silk Road idea is a flexible formula used by China in its dialogue with many other countries. Its inclusive nature helps contribute to diluting the negative impressions caused by China's rapid economic expansion and assertiveness in foreign policy, especially with regard to its neighbours . . . and will be an alternative point of reference to the U.S. dominance and Russian integration projects." Strong bilateral ties between China and Turkey using the Silk Road Economic Belt as the point of reference can go a long way in demonstrating the benefits of the initiative and facilitating a coordinated buy-in from the countries of Central Asia.

Turkey shares common historical, linguistic, religious and cultural ties with the countries of Central Asia. It was the first country to recognize the independence of the five former Soviet Republics and established diplomatic relations and opened embassies in each country in the early 1990s. Turkey has signed numerous agreements and cooperation protocols with each of these countries and organizations such as the Islamic Cooperation Organization and Conference on International Confidence Building Measures in Asia can be utilized in the exercise of "soft power" to achieve collective support and multilateral agreements among the five Central Asia countries and Turkey in respect to One Belt, One Road initiatives where each is viewed as a voluntary independent participant in a collective initiative promoting economic advancement and security.

- As A Significant Market for Chinese Goods and Investment

To counter current domestic problems with overcapacity, China will look to utilize One Belt, One Road to access Western European markets. Turkey, along with Iran, possesses the demographic attributes that make it an attractive market for China's products as trade routes develop. Turkey has a total population of over 75 million, with half of its population under the age of 30. Turkey's population is increasing by approximately one million people every year, making it the fastest growing population in Europe.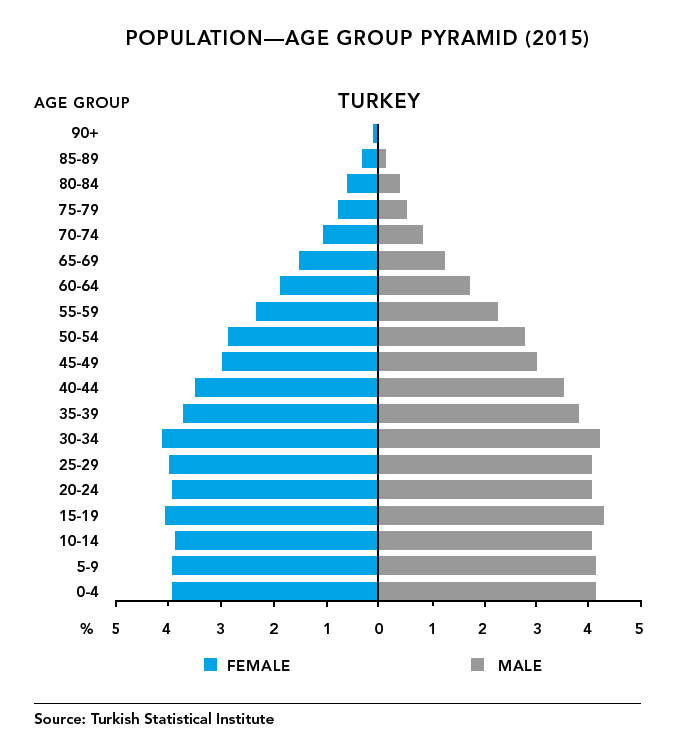 Turkey has a labour force of over 27 million people and is ranked as the fourth largest labour force in relation to European Union countries. Turkey's average per capita income exceeds US$19,000, having reached 60% of the European Union and Japanese average level of prosperity and continuing to grow. Turkey's GDP growth rate value represents 1.29% of the world economy with an annual growth rate estimated to be 4%.

Turkey boasts the second largest construction industry in the world. The industry is populated by large family-owned conglomerates that have diversified into other areas such as infrastructure, energy, mining and media. This business environment is conducive to the establishment of bilateral China-Turkey business relationships that can be promoted by China as One Belt, One Road success stories. A recent example of this is the US$940-million joint venture investment by China's Cosco Pacific in the Kumport Terminal in the Ambarli Port Complex on the northeast coast of the Marmara Sea. Cosco Pacific intentionally pursued this investment as a joint venture with Fina Liman Holding, the Turkish family business that has historically operated the port.


- As An Autonomous Regional Influence

We in the West take comfort in viewing Turkey from a Kemalist perspective. The new Turkish Republic formed by Mustafa Kemal Ataturk on the collapse of the Ottoman Empire at the end of the First World War is based on the proposition that in order to modernize Turkey would have to Westernize. In his influential book, The Clash of Civilizations and the Remaking of World Order, Samuel Huntington presents the following diagram to illustrate the possible responses to the advancement of Western Civilization and modernization: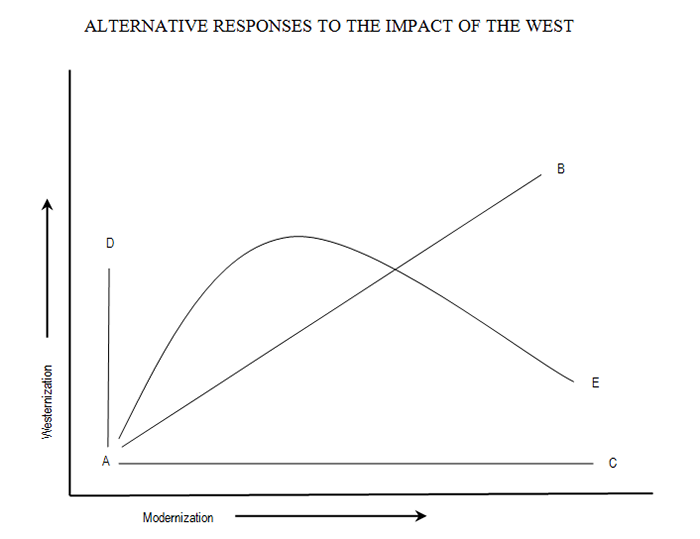 A= Rejectionist Response
B= Kemalist Response
C= Reformist Response
D= Cultural Westernization without Technical Modernization
E= Initial Westernization to cultivate modernization followed by move to preserve important elements of indigenous culture
Over the last number years I have been fortunate to make a number of business trips to Turkey and have formed long-term relationships with clients and professional advisors there. Based on my interactions with these people and in watching the recent local, presidential and national elections in Turkey, which ultimately placed Recep Tayyip Erdoğan as Turkey's first democratically elected President and restored his AKP Party's majority in Parliament, I am of the view that modern Turkey has moved off the Kemalist diagonal path (B) toward asserting itself as a strong core state within its geographic sphere of influence drawing upon its historic cultural underpinnings (E).

Viewed from this perspective, it cannot be assumed that what is good for the West will necessarily be aligned with what Turkey sees as its foreign policy objectives. The bilateral relationship forged between China and Turkey will become increasingly important and business interests seeking to capitalize on opportunities presented by the New Silk Road Economic Belt will have to include Turkey's interests in their analysis.


OPPORTUNITIES FOR SECONDARY SUPPORTERS

In anticipating business opportunities associated with One Belt, One Road it is important to recognize that it is tactile – the advancement of China's economic and foreign policy initiatives through the construction of physical infrastructure. This requires significant investment. In contrast, the Trans-Pacific Partnership is ideological – requiring the adoption of new rules for global trade and intellectual property protection. This requires acceptance by member countries of a largely U.S. set of standards in the hopes for expansion of access to Asian markets.

In 2014, China created the financial framework for One Belt, One Road with the establishment of the Asian Infrastructure Investment Bank (AIIB) and the US$40-billion New Silk Road Fund. In addition, Chinese financial institutions will play a lead role in financing One Belt, One Road projects. Bank of China and CITIC have committed US$100 billion and US$113 billion respectively and other Chinese commercial banks are also expected to finance One Belt, One Road projects. While China will put a substantial amount of money into One Belt, One Road this will admittedly fall short of what will be required to fund this ambitious program, often compared to the post Second World War U.S. Marshall Plan.

Given its flexible framework, bilateral infrastructure and supporting energy and resource projects can be undertaken by China with primary participant countries all in the name of One Belt, One Road. Think of it as potentially the world's largest collection of independent interconnected infrastructure projects.
Hong Kong, as a global trade and financial hub with a Western based legal system will, no doubt, figure prominently in the capital formation and deal structuring necessary to attract the foreign investment required to achieve China's lofty ambitions. In the majority of projects foreign investors will be faced with challenges represented by non-Western legal systems and ways of doing business. Deal security will be at a premium. To the extent that Hong Kong takes a lead role in building harmonized rules and systems that provide equal access and protection for foreign investment it can achieve the status of "super connector."

For our part, Canadian businesses should be on the lookout for investment opportunities that can be adopted as part of One Belt, One Road. Bombardier Inc.'s recent announcement that it plans to produce 80 high-speed trains for Turkey's state railway together with a C$100-million technology transfer investment in Turkey's high-speed rail project designed to enable Turkey to extend its high-speed network to 4,000 kilometers by 2023 (the 100th anniversary of the founding of the new Republic) is illustrative of such opportunities.

It is hoped that our new federal government will recognize that support for One Belt, One Road represents an opportunity for Canada to forge an independent path forward in foreign affairs lessening U.S. influence. I can think of no better starting point than Canada joining the AIIB.

Rod Kirkham is Counsel, McMillan LLP, and a foreign legal advisor to the Baycan Law Firm, Istanbul.