The case study of Nepal highlights the complexities and challenges of a developing country recovering from a large-scale natural disaster. This topic will be particularly relevant for students who are interested in student activism, social justice, and humanitarian aid. By learning about Nepal's post-disaster story, students will learn to think critically about the aftermath of natural disasters and to reflect on the importance of understanding the local context in co-ordinating international aid efforts.
The Scale of Devastation
On April 25, 2015, Nepal was struck by a 7.8-magnitude earthquake, followed by a 7.3-magnitude earthquake on May 12, 2015, killing in total nearly 9,000 people and injuring 22,400 (Nepal Ministry of Home Affairs). Also, more than 900,000 houses were damaged or destroyed. Out of Nepal's 75 districts, 31 were deemed "most affected," and out of that number 14 districts were "severely affected." These 14 districts have an estimated population of 2.8 million, out of which 1.1 million (40 per cent) are children. The Government-led Post Disaster Needs Assessment (PDNA) estimates that Nepal's financial losses from the earthquake are US$7.06 billion, which is 36 per cent of the country's GDP as of 2014.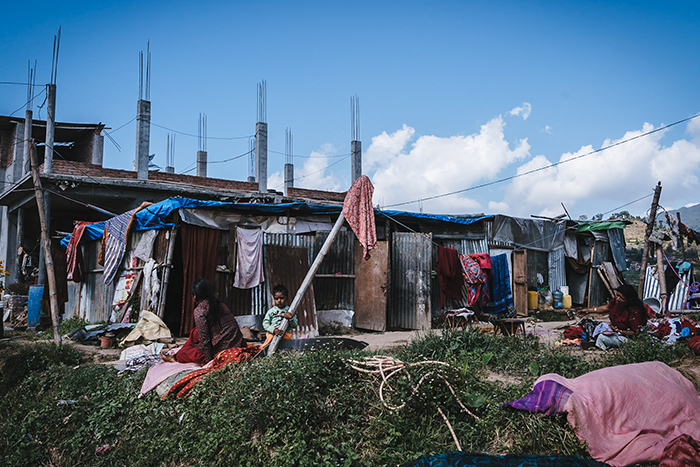 Damages of this scale would be devastating for any country; however, Nepal is severely limited in financial resources to support such a massive recovery program. Nepal's GDP per capita is US$701.68, one of the lowest in the world—neighbouring Bangladesh has a GDP per capita of US$1,086.81 and Sub-Saharan Africa has an average GDP per capita of US$1,792.17 (World Bank 2014 data). According to the World Bank, over 25 per cent of Nepal's population falls below the poverty line.
Immediately following the earthquakes, international volunteers from organizations such as the International Federation of Red Cross, UNICEF, and OXFAM provided much needed support for immediate health services, sanitation, drinking water, and psychosocial support to thousands of people in the most devastated regions. In addition, foreign governments, NGOs and international organizations pledged a total of US$4.1 billion for earthquake reconstruction in Nepal.
Border Blockade and Political Strife Stalling Reconstruction Efforts   
Despite this high level of international support, recovery and reconstruction efforts were stalled from September 2015 until February 8, 2016 by a border blockade along Nepal's main border crossing with India, which has restricted much-needed access to fuel, cooking gas, medicine, and other vital supplies. The Birgunj checkpoint on the Nepal-India border is particularly important for Nepal's international trade because trade with India accounts for more than 60 per cent of Nepal's total foreign trade and most of the trade occurs through this checkpoint.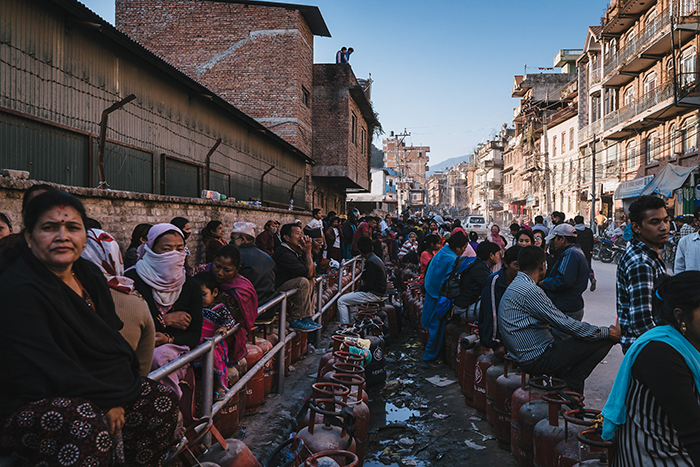 The blockade was caused by an internal political strife and has aggravated relations between Nepal and India. Ethnic Madhesi protesters blocked access across the Birgunj border to demand increased political representation in Nepal's parliament. The Madhesi communities, which make up about 30 per cent of the 27 million total population of Nepal, have complained that they have been discriminated against by the Napalese government because they are ethnically and socially similar to people living in the Indian states of Bihar and Uttar Pradesh. Nepal's government has also labeled this problem an "unofficial blockade" by India, suspecting that India is supporting the cause of the Madhesis. India has denied these allegations.
At the end of January 2016, Nepal's parliament passed a constitutional amendment in favour of giving the Madhesi more representation. The Madhesi protesters have responded by lifting the blockade after more than four months. However, they remain unsatisfied with the revised bill and have continued to demand more fair political representation. For now, the ending of the blockade is good news for the recovery efforts. However, Nepal's government will have to improve relations with the Madhesi groups to prevent another crisis.
Reconstruction Begins
On January 16, 2016, about a month before the blockade was lifted and nearly nine months after the earthquakes in 2015, Nepal finally began official reconstruction efforts. The delay was caused by political disagreement on the organization that will manage the enormous reconstruction projects. So far, the Nepal Reconstruction Authority (NRA), which is managing US$4.1 billion worth of international donations, has promised US$2,000 to each family that needs new housing. In addition, it will provide loans ranging from US$3,000 to US$25,000 to finance the construction. Apart from these promises, there are still many details to figure out in terms of effective management of resources, earthquake resilient construction, and a resolution to conflicts with ethnic minority groups.
The Nepali people have waited for months for the reconstruction to begin – millions have endured the harsh Himalayan winter in temporary shelters and families have tried to recover a sense of normalcy amidst hundreds of reoccurring aftershocks and earthquakes. We will have to continue to watch for new developments on Nepal's journey from recovery to reconstruction and resilience. 
---
Discussion Questions:
What do you think is the biggest challenge to the reconstruction efforts in Nepal (political conflict, poverty, other issues)?
What does the case of Nepal tell us about the limited impact that international aid and relief can have?
What can Nepal do to make itself more resilient to earthquakes in the future?
Suggestions for Classroom Activities:

A Picture is Worth a Thousand Words:
As mentioned in the beginning of this blog post, the Nepal story is an important case study of post-disaster management in Asia. Here is a classroom activity that uses the blog post and will help students learn more through photo analysis.
Pre-assessment: Before introducing the topic, ask students to brainstorm keywords and images that come to mind when they think of Nepal.
Class reading: Read this blog post together as a class.
Group discussion: Reflect on the blog post with discussion questions (some are suggested above). Also, ask students what they think of Nepal now. How did their impressions change or remain the same?
Group activity: Focus on the photos in the blog and analyze them together as a class. Why did the blog author choose these images? What kind of message is the photojournalist trying to send through the photos?
Individual Activity: Provide students time to do independent research and find an image that represents the Nepal post-disaster story for them. Some relevant online articles and reports are provided below.
Related News Articles and Photography:
PHOTOGRAPHS OF NEPAL AFTER THE QUAKE
PBS: Massive Earthquake Strikes Nepal
The Atlantic: Nepal After the Earthquake
Jun Michael Park: Crisis in Nepal
RECONSTRUCTION EFFORTS BEGIN IN JANUARY 2016
The Christian Monitor: Nepal Earthquake Survivors See Progress, but Can't Yet Taste it
ABC News: Nepal has New Earthquake Reconstruction Chief
The Hindu: Nepal to Begin Much-Delayed Earthquake Reconstruction
NEPAL SIX MONTHS AFTER THE EARTHQUAKE
BBC News: Nepal Earthquake: What is Life like Six Months On?
The Guardian: Nepal Earthquake Drives Aftershocks Through the Lives of Women
The Himalayan Times: Race Against Winter after Devastating Nepal Earthquake
South China Morning Post: Restoring Nepal's Monuments is a 'Race Against Time'

NEPAL'S FUEL CRISIS AND THE BORDER BLOCKADE
BBC: Nepal Border Blockade: Ethnic Groups Lift Roadblocks
The Indian Express: Who are the Madhesis, Why are They Angry?
WSJ: The Two-Month Blockade of Nepal Explained
Reuters: Nepal Quake Survivors at Risk as Fuel Crisis Deepens
NGOS WEIGH IN ON RELIEF EFFORTS
Oxfam America: Delays in Policy and Fuel Crisis Holding up Recovery Efforts
World Vision: Nepal Earthquake Survivors Face New Challenges
UNICEF: Reaching the Unreached, Nepal Earthquakes: Six Months Review
IFRC: Long-term Recovery of Survivors Must be Addressed
To view other teaching-related articles in this series, please click here.