Relations between Beijing and Seoul, which had become increasingly frigid with the so-called 'THAAD crisis' of recent months, have started to show signs of thawing. Last week, the two governments signaled their agreement to disagree about the THAAD issue. On October 31, the South Korean Ministry of Foreign Affairs, with its Chinese counterpart, announced: "the two sides attach great importance to the Korea-China relationship and decided to push for the further development of the strategic co-operative partnership." While the immediate resolution of tension is a positive development, the THAAD crisis points to some 'growing pains' in the region with the rapid rise of China as a global power, and provides us, across the Pacific, with a few items for further thought as we pursue an FTA with Beijing.
Background: What's in a Missile Defence System?
The 'THAAD crisis' refers to the rapid cool-down of relations between China and South Korea over the installation of a Thermal High Altitude Area Defense (THAAD) system as a response to the increased threat of nuclear missile deployment by North Korea. Beijing considers THAAD an encroachment on its "core interest," which is China-speak for crossing its red line. For Beijing, the deployment of THAAD in South Korea undermines China's missile deterrence system at a time when it's competing against the U.S. for greater regional influence. Further, the perception in Beijing is that South Korea, which had earlier demonstrated its willingness to strengthen its relations with China, is now shifting toward the U.S.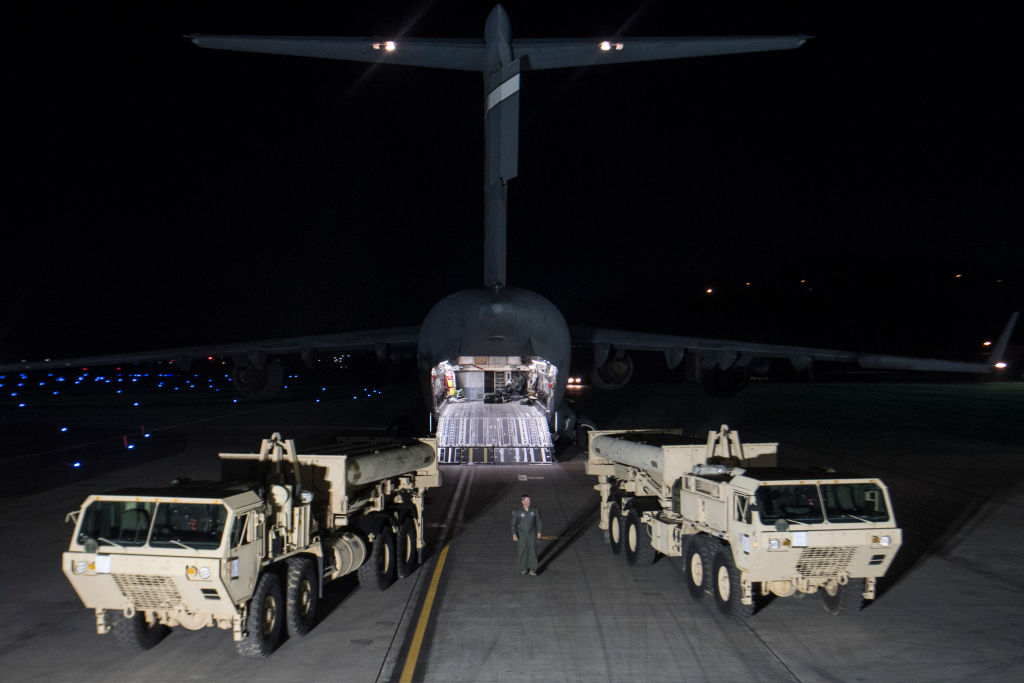 Trucks carry parts required to set up the Terminal High Altitude Area Defense (THAAD) missile defence system that arrived at the Osan Air Base in Pyeongtaek, South Korea on March 6, 2017. Photo by United States Forces Korea via Getty Images.
After the agreement between South Korea and the U.S. to install THAAD was made official in July 2016, the relationship between Beijing and Seoul quickly spiraled. Beijing implemented a policy known as xian han ling, which roughly translates to, "ban Korea order." South Korea's Lotte Group, which sold the land in Seongju where THAAD was to be installed, was forced to shut down its large department stores operating in China, and ultimately opted to sell all 112 of its Chinese locations this year. E-mart, a supermarket chain that had been operating in China for 20 years, also decided to pull out of the Chinese market. Hyundai Motors was rumoured to be considering pulling out of China as well, with their Chinese factories intermittently ceasing operations. In addition, Chinese group tours to South Korea, which had been a boon for the Korean tourist industry, were banned, and Korean TV content disappeared. According to the report submitted to the South Korean Ministry of SMEs and Startups, the economic damage of the THAAD crisis for Korean businesses is estimated to be around 8.5 trillion won (approximately C$9.7 billion).
Getting Over THAAD
However, expectations that the two governments would reach a THAAD detente of sorts started to grow around the time of China's 19th Party Congress. On October 12, the two countries renewed their US$56B currency swap, which was widely regarded as a barometer of the Sino-Korean relations in the 'new era' harkened by President Xi Jinping's second term. Scheduling of high-level meetings between President Moon Jae-in and President Xi followed, which added to the expectation of a 'thawing' of relations. Industries have started to respond to this restoration of relations: some of China's low-cost carriers have again started operating direct flights to Jeju Island, which had been discontinued with the THAAD crisis, and tourism businesses in South Korea, which had been especially hard hit with the Chinese government's banning of group tours, are now preparing for a fresh influx of youke (Chinese tourists). Stock prices of THAAD-impacted industries, such as cosmetics, have started to climb again. For instance, AmorePacific, a cosmetics giant that relies heavily on the Chinese market, has increased its stock price by 33 per cent since the end of October.
Why Did China 'Blink'?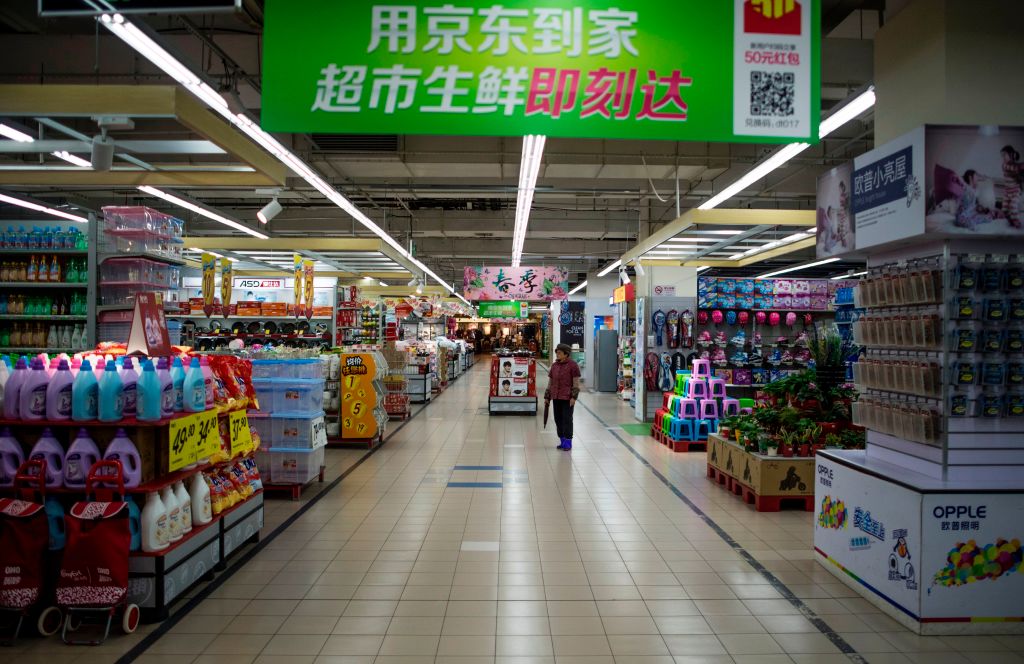 A woman stands in an almost empty Lotte Mart in Shanghai on March 13, 2017. Lotte faced heated opposition in China after signing a deal to provide land to host the THAAD system loathed by Beijing.  Photo by Johannes Eisele/AFP/Getty Images.
The détente suggests Beijing's recognition that pressuring South Korea will further strengthen the alliance between Seoul and Washington, especially in the context of North Korean missile threats. As China seeks increased regional influence, hostile relations with both South Korea and Japan goes counter to Beijing's interest. Further, as THAAD has now been deployed with South Korea having neither a realistic motive nor a route to pull it out, Beijing recognizes a further hardline stance would be counter-productive. For instance, xian han ling policy increased South Koreans' distrust of Beijing and pushed them to support the continued deployment of THAAD. In December 2016, only 33.8 per cent indicated their support for the deployment of THAAD; this number climbed to 71 per cent in August 2017. While this has to do with the increased threat from North Korea, it also points to a sentiment of distrust towards Beijing, fomented by its unofficial economic sanctions and harsh commentary from state media such as the Global Times ("have [Koreans] gone insane after eating rotten cabbage?"). In this political climate, especially with Pyongyang's continued provocations, it does not make sense for Seoul to pull out THAAD.
Further, the xian han ling policy has not been as effective as Beijing had thought and while specific numbers are not available, it has been acknowledged that a sudden interference in such an active trade relation has also damaged the Chinese economy. For instance, Dong bei guan cha, a Chinese publication that reports on Northeastern Asia affairs, compared the unofficial sanctions on South Korea to "killing 800 of one's own to kill 1,000 enemies," noting the damages to China's economy. As such, Beijing's decision to fold on THAAD seems to be a strategically pragmatic choice.
Growing Pains? Implications of the THAAD Crisis for China's Continued Rise to Global Power
While the conflict seems to have been put aside for the moment, both the Chinese and South Koreans believe that the THAAD crisis has inflicted irreparable damage to Sino-Korean relations. The re-integrative economic activities have not yet officially restarted. A Chinese official said that "there are too many hurt feelings" and that they don't think that Sino-Korean relations "can ever go back to the pre-THAAD era." Similarly, the Korean public remains distrustful about future engagement with China and continues to propose diversification of trade partners beyond China.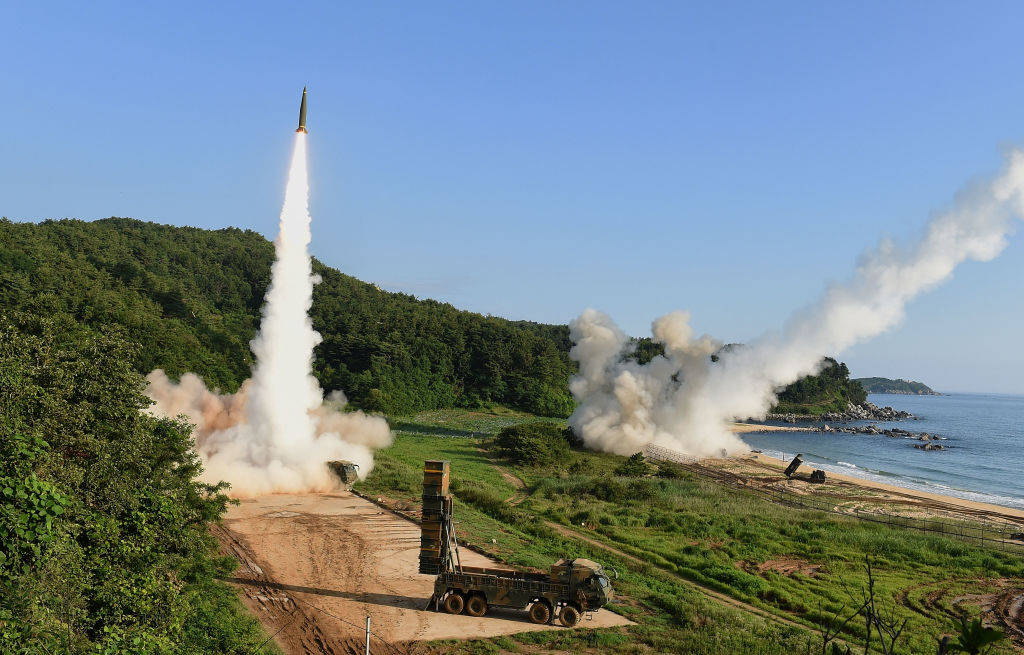 South Korea's Hyunmu-2 Missile System (L) and U.S. M270 Multiple Launch Rocket System (R) firing missiles along South Korea's east coast during a U.S./South Korea joint missile drill aimed to counter North Korea's intercontinental ballistic missile test on July 5, 2017. Photo by South Korean Defense Ministry via Getty Images.
Further, the THAAD crisis underscores the challenges faced by both China and its neighbours in engaging with China's increased economic and political prowess. For China that means assuming the role of global leader without provoking a sense of distrust and hostility. The retaliative measures in the THAAD case, which were aimed at Korean businesses, remind China's neighbours and economic partners that the line between the political and the economic is a blurry one at best, if not existent, for Beijing.

Finally, the THAAD crisis provides an especially relevant lesson for Canada, which is considering an FTA with China. While Canadians generally agree that China is an important, if not indispensable, trading partner, they are concerned about the pressure from the Chinese government. The THAAD crisis demonstrates that this concern is justified. Beijing does not necessarily distinguish the political from the economic, which means that Canada's domestic agenda, especially on issues such as human rights in which Beijing and Ottawa do not see eye-to-eye, could become more vulnerable to Chinese influence as economic dependence on China increases. This is not an argument for or against the FTA itself, but more so a point of consideration as we move forward. Again, Beijing is now learning how to navigate the intricacies of global governance, not as a follower but as a leader, and a smart, measured engagement from our end will give us the room to positively shape China's new role – and a Canada-China FTA could be a good place to begin, depending on how we play the cards.