Anyone familiar with Philippine politics knows that the 100-million strong nation is very passionate about holding elections. On May 9, 2016, more than 55 million Filipinos cast their ballots in what pundits have described as the most electrifying, fiercely contested, acrimonious, and politically significant electoral contest since the country overthrew the Marcos dictatorship in 1986. At stake were national posts such as the presidency and vice-presidency and membership in the bicameral legislature as well as local city and gubernatorial positions. As expected, political dynasties and members of the country's elite dominated the polls of Asia's oldest democracy with one glaring exception. Within less than a day after voting officially ended, maverick city mayor and political firebrand Rodrigo Duterte secured an overwhelming victory in the presidential polls with almost 40 per cent of the popular vote.
This single triumph of a relative outsider from the southern Philippines was a critical rebuke of the country's political establishment for failing to make democracy meaningful for ordinary Filipinos. Philippine democracy has neither matured nor collapsed but instead become trapped in a grey zone where weak political institutions coexist with widespread economic disparities, governability deficits, and lingering internal conflicts. Duterte's electoral mandate comes from the collective rage of Filipinos against the status quo but also from their unshakeable faith that as a catalyst for change, Duterte can provide decisive leadership to curb criminality, inequality, and corruption.
Can President Duterte deliver on these great expectations? Will he face an uphill battle against a disgruntled and displaced political class? Will his government implement major changes in domestic and foreign policy? How could he fulfil his promise to make democracy work for all Filipinos? This article attempts to address these questions by providing a brief overview of the 2016 electoral campaign and its main players, the causes behind Duterte's victory, and the implications of his presidency to Philippine politics and foreign relations. 
Election Context: Assessing the Aquino Presidency
Incumbent president Benigno Simeon Aquino himself framed the 2016 elections as a referendum on his administration's anti-corruption, transparency, and good governance policies. Aquino's package of "Daang Matuwid" (Straight Path) reforms improved the country's international credit ratings and political reputation and generated high economic growth rates unseen in years. But while it impressed foreign audiences, domestic opinion and critics could not help but notice the shortcomings of Aquino's leadership. His accountability campaign was selective – it severely punished his administration's enemies while its political allies were unscathed. Economic growth was deemed one of the highest in the region but its benefits were only felt by the top one per cent of the population, with the rest of the country remaining mired in high unemployment and poverty. This mixed appraisal of his legacy became the defining issue of the 2016 elections as they boiled down to a tight contest between four main candidates.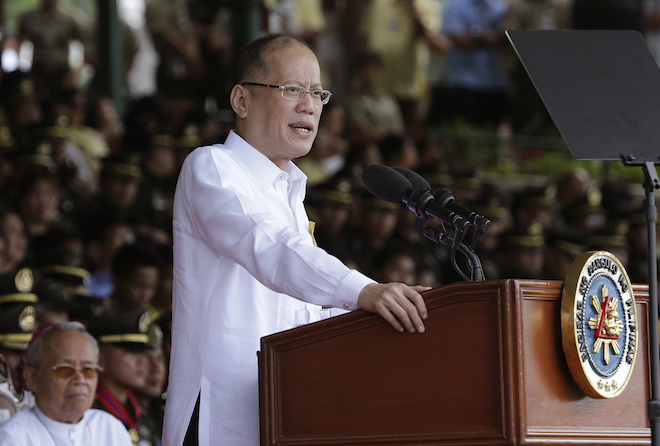 Many viewed the Aquino administration's insistence on maintaining the status quo as the biggest liability of its anointed successor's campaign. The administration's refusal to recognize its own limitations, especially its inability to mind what one political scientist referred to as "the gap between democracy and governance," ultimately played into its downfall. The democratic regime that Aquino promised to protect and nurture had not delivered basic public goods such as law and order, infrastructure, security, and social services. What seemed to be trivial concerns, such as traffic and crime, became major electoral issues as they created the perception of an unresponsive and careless government often caught unaware of the severity of governance problems that required decisive and swift action.
The Presidential Candidates: Personality Over Platform
Manuel Roxas II: Aquino and the ruling Liberal Party wanted to maintain their grip on power by guaranteeing continuity in governance. Veteran politician and heir to a powerful politic-economic family, Manuel Roxas II was chosen as the preferred presidential candidate of the incumbent administration. He had every conceivable advantage: impeccable pedigree (a grandson of a former president), a strong party machinery, economic wealth, local networks, and access to public resources. His campaign war chest was known to be the biggest among the candidates and his advertisements bombarded television and radio airwaves. But one thing that went against him was his lacklustre performance as a cabinet member in Aquino's government, and his inability to demonstrate effective leadership. It was a criticism that his highly paid spin doctors were unable to effectively neutralize.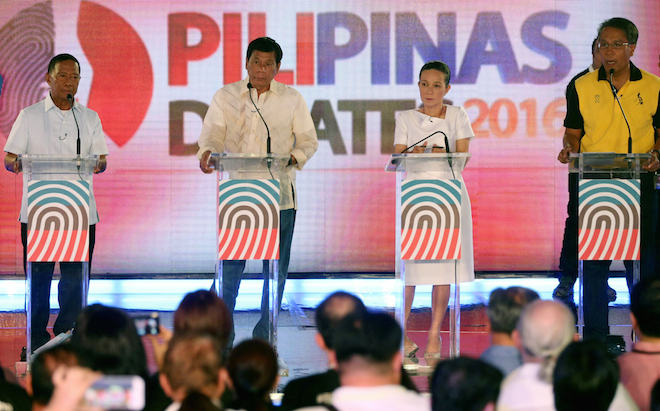 From left, Jejomar Binay, Rodrigo Duterte, Grace Poe, Manuel Roxas II | KJ Rosales/Philippine Star POOL Photo via AP
Jejomar Binay: Roxas's initial challenger was incumbent Vice-President Jejomar Binay. Known for his long stint as the mayor of premier financial hub Makati City, Binay was an unapologetic populist. This strategy historically worked well given the Philippines' prevalent poverty. He was carried by an alliance of small opposition parties, though he was part of Aquino's cabinet for several years. His rags-to-riches story also appealed to Filipino voters, with his humble origins a stark contrast to Roxas's elitist background. Binay's early lead in the electoral surveys dissipated rapidly once he and his family were linked to corruption scandals. Legislative investigations initiated by his political adversaries accused him of possessing ill-gotten wealth. Binay however did not use his electoral campaign as an opportunity to directly confront these allegations. The corruption scandals soon took a toll on his bid and his political allies deserted him. While he maintained core support from the poorest classes in the country, it was not sufficient to win the presidency.
Miriam Santiago: The lack of substantive choices compelled seasoned legislator and cerebral politician Miriam Santiago to throw her hat into the presidential ring. Known as being feisty, reform-oriented, and intelligent, the incumbent senator was idolized by students, the youth, and educated Filipinos. The lack of political support, her checkered past, and most important issues surrounding her health prevented Santiago from being a viable presidential candidate. While she made televised presidential debates interesting, it was not enough for her to garner votes.


Grace Poe: Until the last few weeks before the elections, the frontrunner in election polls was incumbent Senator Grace Poe, a daughter of a fallen presidential candidate in the 2004 elections. Poe had little political experience but had charismatic appeal to a Filipino electorate hungry for an inspirational leader. Her "government with a heart" campaign resonated with youth as well as ordinary Filipinos. While she is linked with the Aquino government, she explicitly pointed out its flaws and areas for improvement. Her campaign was centralized on her image and her refusal to be linked to any political party. Poe's momentum however was stalled after a gruelling legal battle on issues concerning her citizenship and right to run as president. Despite her excellent performance in the televised debates, she lost the top spot to Duterte in the surveys six weeks before polling day.
Rodrigo Duterte: To a large extent, Duterte represented the antithesis of Aquino and the political class that had long dominated Philippine politics. He is by all appearances humble, tough talking, inarticulate, not well born, foul-mouthed, and allergic to the politics in Imperial Manila. He is not the epitome of morality that is normally required by the Catholic Church, which continues to act as the country's moral compass. His alleged involvement in extra-judicial killings of criminals and drug lords in Davao and his intimate connections with the Marcos family generated apprehension among human rights and democracy defenders in the country. Aquino cautioned that Duterte constituted a serious threat to Philippine democracy. To educated Filipinos, he seemed simple-minded, inarticulate and therefore deemed unfitting to be head of state. This was all on public display when he cursed the pope, cracked jokes about rape, and made acerbic remarks to foreign envoys.
These controversial statements enabled Duterte to masterfully shape the contour of an intense and often mean-spirited electoral campaign with his opponents passively reacting to his next outrageous move. His campaign was criticized for having a myopic focus on "small town" issues such as criminality, illegal drugs, and economic inequality, and was chided as petty and unimaginative. Foreign and domestic media labeled him 'Duterte Harry,' the 'Beast from the South,' and the 'Donald Trump of the Philippines.'
The Road Less Traveled: Why Duterte Won (#Du31)
In spite of the long list of reasons why he should not become president, the Filipino electorate awarded Duterte a significant plurality. With 84 per cent voter turnout, one of the highest in the country's political history, Duterte clinched the Philippine presidency with an estimated 16.6 million votes (39 per cent of the eligible population). What are the factors behind his surprising victory?


An Incumbent in Denial. The set of reforms implemented by Aquino and the Liberal Party might have convinced some Filipino voters, but the dissatisfaction with an ineffective government set a more piercing and resonant tone for most. Aquino's amazing trust ratings must be put into the context that his immediate predecessors were disgraced, incarcerated, and/or convicted of plunder. The debacle over the national government response to Typhoon Haiyan, the Mamasapano Massacre of elite police officers in Mindanao, and the scandals surrounding the realignment of the national budget without congressional approval, were some of the shortcomings that negatively affected the Roxas campaign. The more Roxas championed Aquino's legacy, the more he became unpopular to Filipinos. The large campaign kitty of Aquino's party, access to state resources, and Roxas' pedigree, were not enough to address a basic flaw – the message of continuity was insensitive to prevailing realities. In the end, the incumbent failed to appreciate that poverty, inequality, corruption, lack of order, and criminality were true facts suffered daily by ordinary Filipinos.
Clear Purpose: Conviction and Concern. Among the candidates, Duterte was the last one to formally engage on the electoral battlefield. As a hesitant candidate, he was the most ill prepared and lacked the linkages with local and national politicians. His small party, the Partido ng Demokratikong Pilipino-Laban ng Bayan (Filipino Democratic Party-Struggle of the People) was divided and had very weak machinery. His running mate was adopted from another party that also supported two other vice-presidential candidates. His core financiers were Davao's small economic elite and a few tycoons. The odds were clearly stacked against him.

However, he was a new face to the national electoral landscape and his larger-than-life personality peaked the curiosity of Filipino voters from Mindanao to Manila. His governance track record spoke for itself, though it was three decades in the making. During the campaign, Duterte pounced on his opponents over their lack of concern with basic, visceral issues that affected all Filipinos. He promised to crack down on crime and illegal drugs but at the same time offer a hand of peace to communists and Muslim rebels. As a candidate from the margins of society ignored by the political establishment, he wanted to develop the outer regions of the Philippines by shifting to a federal system of government. These visions of change fascinated voters across socioeconomic classes.
Army of True Believers. The most surprising element of the 2016 elections was the emergence of a citizen movement that championed Duterte's presidential bid. The weaknesses of his political machine were filled by the countless uncoordinated actions of support by his league of fans and unrelenting supporters. This cross-class coalition of conservative Filipinos, overseas labour migrants, the educated middle class, the urban poor, and informal workers, became the lifeblood of the Duterte campaign. Criticized and ridiculed by media and elites as "Duter-tards," this grassroots "army of true believers" voluntarily lent their time, money, and energy to campaign for their candidate, even without orders from the party's central command. They also embarked on a massive social media campaign that galvanized support in a country where social media usage and activity have beaten global records. Duterte's campaign events across the country were highly attended and images of vast crowds and packed parades were diffused throughout the Internet, virally shared by members of this grassroots movement. The 2016 elections showed new dimensions to political campaigning where the pressing of palms is as critically significant as the sharing of tweets and Facebook posts.
The Duterte Presidency: Prospects and Challenges
Duterte's victory was a revolt against a regime that stubbornly remained elitist, exclusionary, and unresponsive to pressing problems faced by the populace. As the dust from the bitterly fought electoral campaign has settled, what can now be expected from a candidate who promised that "Change is coming!" to the country?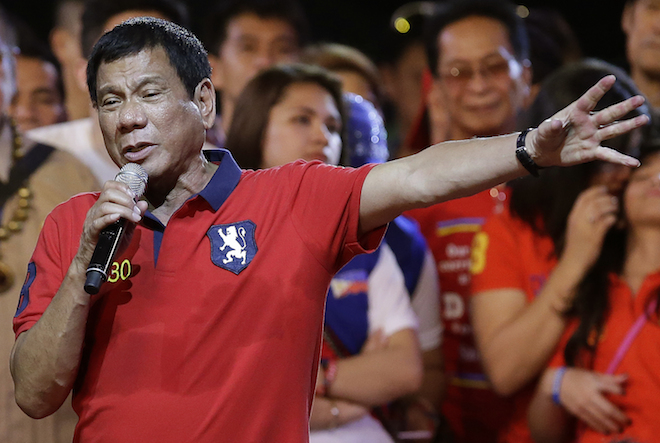 New Approaches to Governance Problems. The incoming government will face tremendous political and economic challenges. It will inherit the problems left by the outgoing Aquino administration – public infrastructure, criminality, and corruption. Given the country's weak bureaucracy and party system, Duterte had to dig deep to find suitable cabinet officials and appointees with proven competence and integrity. His government promised to emulate the composition of Canadian Prime Minister Justin Trudeau's cabinet. Though it was not quite what others had hoped for, the inclusion of appointees from previous administrations, retired military officials, and progressives endorsed by the communists is an interesting mix of characters that hopefully can bring in wisdom but also innovative solutions to critical problems.
Peace and Development. As a previous mayor of a highly complex and diverse city, Duterte recognizes the importance of sustainable peace among all relevant parties. He promised to reach out not only to Muslim separatists but also communist rebels, an approach by a president unseen since the 1990s. A self-confessed leftist, Duterte immediately asked the help of the exiled members of the Communist Party of the Philippines to recommend cabinet officials. He moreover did not waste time in discussing his desire to change the 1987 Constitution to allow for a shift to a federal system of government. For him, this is the sole political arrangement that could deliver peace and development in Mindanao and the rest of the country. It will allow the Muslims to exercise autonomy as well as give opportunities for the regional governments to make fiscal decisions without intrusion from the central government. Though prior attempts at constitutional change have always failed, Duterte seeks to use his political capital to carry out this endeavour and clarified that he will not politically benefit from any of the changes in the charter. Apart from federalism, perhaps an open discussion of a constitutional overhaul will include other political reforms that could improve the country's democratic regime.
His concern for bringing development to the countryside is echoed in his pragmatic approach to dealing with China, especially given the current sour relations with the Philippines over territorial disputes in the South China Sea. While he insisted on waiting for the decision of the arbitration case filed by the Aquino administration, Duterte maintained that this territorial squabble should not define Philippine-China relations. During the campaign, Duterte even hinted that he wants China to build a train system that will link the entire country.
Human Rights and Democracy. Foreign media wasted no time in treating Duterte's victory as alarming and a backward step for Philippine democracy. There is a worry about how his brand of leadership could undermine human rights and threaten political institutions. This despite the fact that a lot of politicians have already forsaken their party affiliations by swearing fealty to the incoming president to the degree that he instantly enjoys a legislative majority. A firm commitment to respect and protect human rights should at least be reassured by the Duterte administration. However, as experience in other countries has shown, hard-hitting campaigns against criminality and lawlessness often significantly undermine civil rights and political freedoms. In addition, Duterte is also inclined to fulfil his promise to give a heroes burial to the late dictator Ferdinand Marcos, and also to free former president Gloria Arroyo from arrest – both in the spirit of political reconciliation. These undertakings will be litmus tests for the country's democratic institutions, as well as its robust civil society.
Despite fears and some exceptions, the 2016 elections were conducted in a free and honest manner with decisive results. Though there is an issue with regard to the results of the vice-presidential elections and an electoral protest filed by Ferdinand "Bongbong" Marcos Jr., this will not radically change the overall positive evaluation of the elections.
Implications for Philippine-Canadian Relations
The Philippines and Canada have had strong relations over the years. Filipinos comprise one of the largest diaspora communities in Canada. Almost 69 percent of Filipino absentee voters in Canada voted for Duterte and a lot of them will definitely support the new president's policies and advocate for stronger and deeper relations with Canada. Furthermore, Prime Minister Justin Trudeau has made a great impression in the Philippines, particularly when he visited Manila during the 2016 Asia-Pacific Economic Cooperation Summit. It will be beneficial to both countries if good relations are continued.
However, the Duterte government must assuage fears that it will undermine human rights and democracy, principles that are highly valued by Canada. Both countries should also work together in assuring peace and stability in the highly volatile strategic environment of the Asia Pacific, particular given the territorial disputes in the South China Sea. Given the current superpower rivalry between the United States and China in the region, it is in the interest of the Philippines to nurture diplomatic relations and foster deeper economic, political and security co-operation with middle powers such as Canada. Duterte's appointment of an anti-mining advocate to handle the environment and natural resources cabinet portfolio might endanger the interests of foreign mining companies from Canada and other countries. Finally, Canada's experience with federalism and its highly evolved political set-up can serve as a template and guide to the Duterte administration and its drive to institute changes that will realize the Filipinos' aspirations for equitable development and inclusive democracy.