The Asia Pacific Foundation of Canada (APF Canada) and The Institute for Peace & Diplomacy (IPD) are pleased to co-host the second annual East Asia Strategy Forum (EASF 2022) on November 1-2 in downtown Ottawa.
EASF 2022 is a multi-disciplinary conference that will foster the exchange of knowledge and actionable policy recommendations on geopolitical and geo-economic developments in East Asia, and Canada's foreign policy and defence approach to the region. It will attract a specialized in-person audience of around 200 participants, including academics, researchers, policymakers, defence and strategy experts, former military officials, current and former diplomats, and business leaders.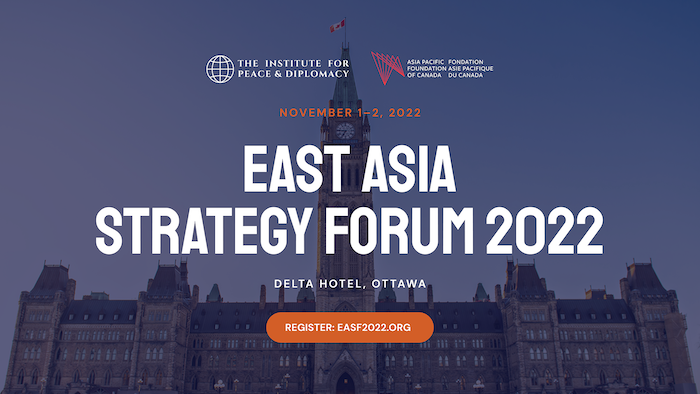 With support from the MINDS program at the Canadian Department of National Defence and the Canadian Association of Petroleum Producers, this two-day conference will be hosted in a hybrid format, convening in-person and virtual keynote speakers, deep-dive panels, and networking sessions. The program will engage around 45 expert speakers from Canada, the United States, and the Asia Pacific. Experts will engage in constructive discussions on East Asia's strategic environment, alliances, energy security, maritime security and law, economic regionalism, proliferation, and cybersecurity.
This is a timely event as the Government of Canada shapes, and will likely soon announce, an Indo-Pacific Strategy to inform Canada's engagement with the region in the coming years.
The following APF Canada-affiliated speakers will be presenting at this forum:
Jeff Reeves

, Vice-President, Research & Strategy, Asia Pacific Foundation of Canada

Fiona Cunningham

, John H. McArthur Research Fellow, Asia Pacific Foundation of Canada

Jonathan Fried,

Distinguished Fellow, Asia Pacific Foundation of Canada

John Knubley

, Board Member, Asia Pacific Foundation of Canada

Stéphanie Martel

, Distinguished Fellow, Asia Pacific Foundation of Canada

Elina Noor

, Distinguished Fellow, Asia Pacific Foundation of Canada