ABOUT
The Asia Pacific Foundation of Canada and Canada's APEC Business Advisory Council (ABAC) members are pleased to welcome members of the APEC China Business Council  delegation on their inaugural visit to Vancouver on July 14, 2014 and Toronto on July 16, 2014.  Members of the APEC China Business Council represent some of China's largest private and state-owned enterprises including Baidu, Industrial and Commercial Bank of China, Tongfang Co. Ltd, YOFOTO Co. Ltd, Huaren Century Group Co., Ltd, S.F. Express, and Jiangxi Lisan Estate Investment Group Co., Ltd, among others.  
As the Secretariat of the APEC Business Advisory Council for Canada, APF Canada is coordinating this visit with the APEC China Business Council. 
Canada-China Executive Forums
Canadian business leaders are invited to participate in the Canada-China Executive Forums in Vancouver and Toronto.  These one-day forums will provide a unique and unprecedented opportunity to meet and network with senior business executives from China.  The invitation-only, high-level dialogue will engage C-suite executives for strategic discussions about trade and investment policies between Canada and China, as well as offer extensive business-to-business meetings.
DATES
Vancouver - July 14, 2014
Toronto - July 16, 2014
ATTENDING
Attendance at the Canada-China Executive Forum is by invitation only.  If you would like to receive an invitation, please email kerri.parker@asiapacific.ca or 604-630-1543. Due to limited space, we are not able to accommodate all requests.
FORUM AGENDA
REGISTRATION FEE
C$775.00 + tax
Registration covers admission to full-day forum which includes breakfast, plenary discussions, lunch, business-to-business meetings, networking opportunities, and dinner.
HOTEL INFORMATION
Vancouver:
The Forum will be held at the Four Seasons Hotel Vancouver. A special room rate of $215.00 CDN (plus tax) is available based on hotel availability. Room rates include a $20 voucher to Yew Restaurant. Please click on the below link to access the rate:
Book Accommodations: www.fourseasons.com/vancouver
Special Corporate/Promo Code: PC0712ASPF
Address: 791 W Georgia Street, Vancouver, BC, V6C 2T4

Toronto:
The Forum will be held at the Shangri-La Hotel, Toronto. A special room rate of $285.00 CDN (plus tax) is available based on hotel availability. Please click on the below link to access the rate:
Book Accommodations: www.shangri-la.com/toronto/shangrila/
Special Booking Code: C12835869654
Address: 188 University Avenue, Toronto, Ontario, M5H 0A3
PARTNERS
For partnership inquiries, please contact: lauren.chang@asiapacific.ca
VANCOUVER PARTNERS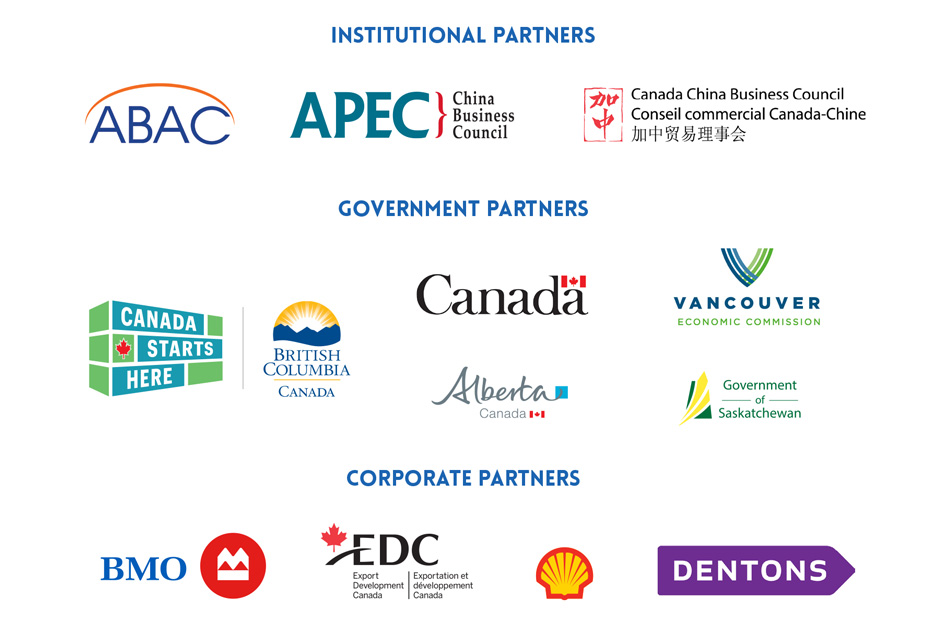 TORONTO PARTNERS