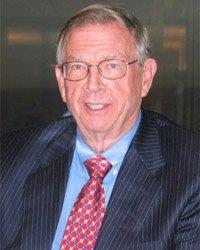 A world-renowned business educator and global business advisor, Dr. John H. McArthur's nine-year term as Board Chair of the Asia Pacific Foundation of Canada comes to an end on June 30, 2015.
Fellow Board Members describe Dr. McArthur as a remarkable Canadian, and praise his leadership and service to APF Canada, a not-for-profit organization focused on Canada's engagement with Asia.
"Space does not allow a full accounting of [John's] contributions, but suffice to say that through his leadership, the Asia Pacific Foundation now enjoys new leadership, new focus and a record endowment," said APF Canada Director Kevin Falcon, Executive Vice-President of Vancouver's Anthem Capital and British Columbia's former Deputy Premier and Minister of Finance. "Whatever contribution the Asia Pacific Foundation has made to encouraging Canadian trade and cultural exchange with Asia, is in no small part due to John's dedication and commitment."
From a delivery boy in Burnaby, B.C., to the long-serving head of Harvard Business School, McArthur's career journey includes senior roles at the World Bank, the Canada Development Investment Corporation, and seats on numerous boards, including Development Gateway, BCE Inc., Duke University Medical Center, and Thomson Reuters Founders Share Company.
In 2013 he was appointed an Officer of the Order of Canada, one of the country's highest civilian orders. Over his career, McArthur has been awarded honorary doctorates from six different institutions along with multiple awards, most notably the Canadian Business Leadership Award, from the combined Harvard Clubs of Canada, and the Lifetime Achievement Award from the National Association of Corporate Directors in 2010.
APF Canada Board Member George Heller, a Senior Director with Hudson's Bay Company, said McArthur's ability to build the best possible teams to get the best possible results really set him apart.
"As Chair of APF Canada, John is leaving behind a far better organization than he found nine years ago," said Heller. "A great Chair has to do three exceptional things: build and communicate the vision behind the organization; guide, mentor and monitor the management team; and, build a powerful Board with the skills matrix such that it helps propel the organization forward."
Added Heller: "I was fortunate enough to be part of John's team – my leader, my friend, a job exceptionally well done, we all owe you a debt of gratitude."
McArthur's outstanding service and dedication to APF Canada prompted the establishment this year of the John H. McArthur Distinguished Fellowship, a new senior research fellowship created in his honour.
The Fellowship is supported by individual and corporate donors, and will be awarded to an accomplished Asia Pacific thought leader from business or academia to conduct research, elevate the work of the Foundation and honour McArthur's legacy.
"This Fellowship honours John, but it also reflects the valuable work he has done for us as Chair of the Foundation's Board for the past nine years," said APF Canada President and CEO Stewart Beck. "Each Fellow will make a significant contribution to APF Canada and global development through policy-focused research, stakeholder engagement and by mentoring our next generation of Asia Pacific leaders."
Beck said McArthur created lasting friendships and legacies throughout his career, in both the boardrooms of business, and the halls of academia.
"During his tenure as Chair, John reached out to businesses, governments and academia to solidify the Foundation's position as a thought leader and agent of action in Canada's evolving relations with Asia," said Beck.
The Honourable David L. Emerson will be assuming the role of Board Chair, effective July 1, 2015.