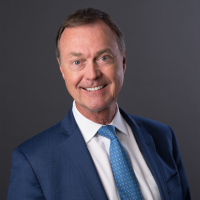 Don Lindsay
Former President and Chief Executive Officer, Teck Resources (Canada)
Don Lindsay is the former President and Chief Executive Officer of Teck Resources Limited. Mr. Lindsay currently serves on the Board of Directors for BC Children's Hospital Foundation, Alpine Canada, York House School, and is an Honorary Governor of the Royal Ontario Museum. He was the Chair of the Business Council of Canada, Chair of the International Council on Mining and Metals, as well as Chair of the Board of Governors for Mining and Metals at the World Economic Forum. Prior to joining Teck, Mr. Lindsay was President of CIBC World Markets Inc., led the bank's Investment and Corporate Banking Division, the Asia Pacific Region, and was founder of CIBC's Global Mining Group. He is a graduate of Queen's University (B.Sc., Hons.) and Harvard Business School (MBA).
Don has received a number of accolades and awards, including the Nature Trust of British Columbia Conservation Champion Award (2014), the British Columbia Community Achievement Award (2014), the CIM Distinguished Service Medal (2014), the Business in Vancouver CEO of the Year Award (2014), and the Mining Association of British Columbia's Mining Person of the Year (2009). He also received an Outstanding Volunteer Fundraiser Award (2017) from the Association of Fundraising Professionals for his work with BC Children's Hospital Foundation.
In 2012, he received the Kathleen Beaumont-Hill distinguished alumni award from Queen's University, and he has been the recipient of an Honorary Doctor of Laws from the University of Windsor (2018) and Honorary Doctorate of Technology from the British Columbia Institute of Technology (2013).
Awarded the Queen Elizabeth II Golden Jubilee medal in 2002, Don was honoured again with the Queen Elizabeth II Diamond Jubilee medal in 2012. He was named to the Order of British Columbia in 2014.