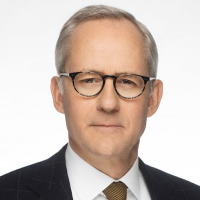 Gordon Fyfe
Chief Executive Officer and Chief Investment Officer, British Columbia Investment Management Corporation (BCI) (Canada)
Gordon J. Fyfe is the Chief Executive Officer and Chief Investment Officer of British Columbia Investment Management Corporation (BCI). BCI is one of the largest asset managers in Canada and manages $174.9 billion on behalf of British Columbia's public sector.
Gordon has a strong and extensive investment background with more than 30 years in the investment and finance industry. Prior to joining BCI in July 2014, he served as the President and Chief Executive Officer of the Public Sector Pension Investment Board (PSPIB) in Montreal, Canada for 11 years. Gordon started his career with JP Morgan in New York and London, and then moved to senior executive positions at TAL Global Asset Management and Caisse de dépôt et placement du Québec, both large Canadian institutional investors.
Gordon holds a degree in Commerce from the University of British Columbia and an MBA from INSEAD, France.