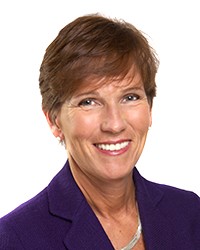 Sue Paish
Chief Executive Officer, Digital Technology Supercluster (Canada)
Sue Paish is the CEO of Canada's Digital Technology Supercluster, where organizations from across Canada come together to solve some of society and industry's biggest challenges through the development, deployment and scaling of Canadian-made digital technologies. Through the Supercluster, handheld ultrasounds are providing fast access to essential care in remote communities and Canadians of diverse backgrounds are acquiring job-ready, digital skills. These are two examples of achievements by our 65 projects since the Supercluster launched in 2018.
Sue led three leading Canadian organizations prior to joining the Supercluster. As the Managing Partner of Fasken, one of Canada's most respected law firms (2000 to 2006), Sue grew the firm from one office in B.C. to nine offices on three continents. As the CEO of Pharmasave, Canada's largest chain of independent retail pharmacies (2006 to 2012), Sue helped to introduce industry-leading technologies for online medication management. As the CEO of LifeLabs, Canada's largest diagnostic lab (2012 to 2017), Sue led the introduction of online access to test results and pioneered the roll-out of non-invasive pre-natal genetic testing. In each of these roles, Sue mobilized diverse teams to drive business growth, implemented large-scale organizational change and developed and implemented transformational technologies.
Sue chairs the boards of the CORIX Group of Companies and Canexia Health and serves on the boards of Own the Podium and Stemcell Technologies. She is the Co-Chair of Canada's COVID-19 Testing and Screening Expert Advisory Panel, a member of the Expert Panel on Housing Supply and Affordability and the Government of Canada's COVID-19 Supply Council. Sue is also the past Chair of the Business Council of British Columbia.
Sue has been recognized for her community and business leadership, with an Honorary Doctorate of Technology from the British Columbia Institute of Technology, designated Queen's Counsel, the Distinguished Alumni Award from Faculty of Law at the University of British Columbia, the University of Victoria Distinguished Entrepreneur Award, the YWCA Woman of Distinction Award, Canada's Top 100 Most Powerful Women – Hall of Fame, and the Influential Women in Business Lifetime Achievement Award.